MEANING OF MOON CARD IN TAROT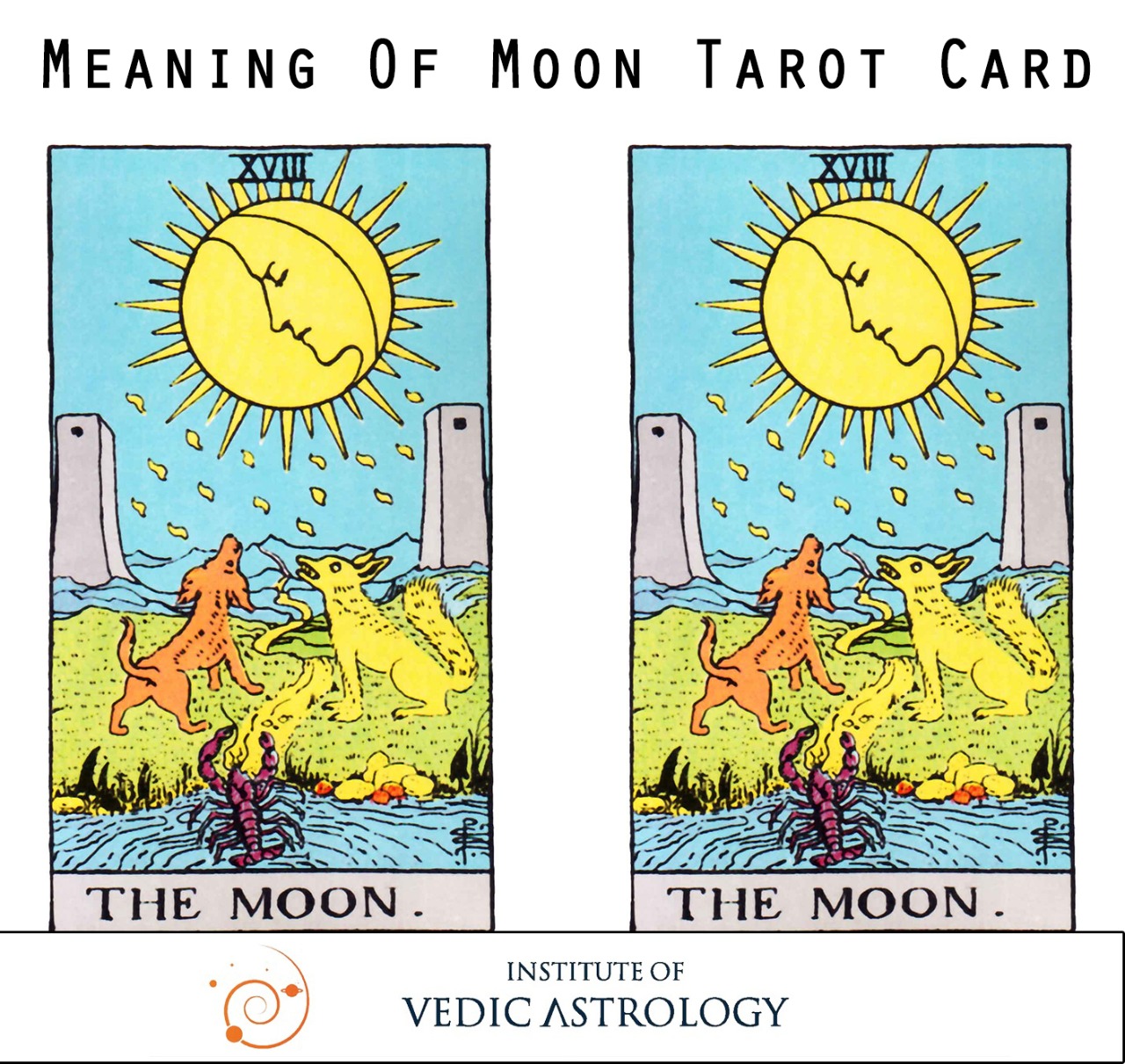 By Institute Of Vedic Astrology
Sep 24 2020
Tarot cards are one of the most popular and strong tools for divination. Many people think that tarot cards as usual cards with different characters and sketches but it's not true because tarot cards are the true storybook of our lives. They reveal everything about us and help us to find inner peace and calmness. Tarot cards exactly tell us what to do and a reason to do. They give solutions related to our problems about every area of our lives whether it is a problem related to our work, studies, relationship, and family, etc. The 78 tarot cards are meaningful as well as important to understand. Each one of them tells a different story of life. In this article we are going to tell you about one of the most important tarot cards, the Moon Card, and what is the meaning of the Moon Tarot Card in every aspect of our lives. The Moon is one of the most important cards among all these as well as its role in our life. So, let's start understanding it but first let get a quick read about tarot cards.
What are Tarot Cards
Tarot cards are one of the ancient ways of playing cards in most of Europe. Tarot cards are meant to be the true divination tool. There is a total of 78 cards which have been divided into two arcana. The first one is a major arcana which includes 22 major cards and the second is a minor arcana which holds 56 cards. Cards of the major arcana are considered more important as they have a great impact on our lives and teach more lessons, while the cards of minor arcana represent the specific events of lives. The Moon Card is the eighteenth card in major arcana that means it is important to understand its meaning as it impacts our lives. To know more about other cards like Five of Wands, Five of Pentacles, Fool Tarot Card, etc read the articles with links given.
How the Moon Tarot Card looks and its symbol?
The Moon Tarot Card presents a full Moon rising in the middle of two large towers. The two towers are considered as the good and evil forces, also the Moon represents the intuitions and subconscious mind. There is a small pool too in the card with fish crawling in it, the small pool shows the subconscious mind and the fishes resolve the consciousness. The dog and wolf on the grass show two aspects of the human mind civilized or wild animalistic.
Meaning of upright Moon in every aspect of life
When the Moon Card turns up it means things are going to be in a different way rather than to be in your ways. It also means you are going to face some issues regarding illusions that can block the path of success if you make decisions based on them. Don't make decisions based on your illusion, it may damage your life just follow your intuition and be calm.
In love and relationship, if the Moon Card turns up it means you need to be more cautious before trusting anyone else as if any other can use your true love for just their own benefits. It also means that you are facing some problems in your relationship regarding trusting each other. Don't do anything in a rush, take your time, and then come to a conclusion.
In career and business opportunities, the upright Moon indicates confusion and concerns regarding your future and goals. It can also create miscommunication between you and your workmates, so don't take any decision without complete information as someone can take advantage of it to pull you down.
Want to learn more about Tarot Cards
If you want to know more about tarot cards and its importance, keep updated with our blogs and articles and to learn about Tarot Cards the best platform is THE INSTITUTE OF VEDIC ASTROLOGY, INDORE. The Institute provides best known Online distance learning course and video course for Tarot card reading which you can join and learn comfortably from your home. You can also contact us on our websites https://www.ivaindia.com
Search
Recent Post
Monthly Archive