Five of Wands, Tarot Card-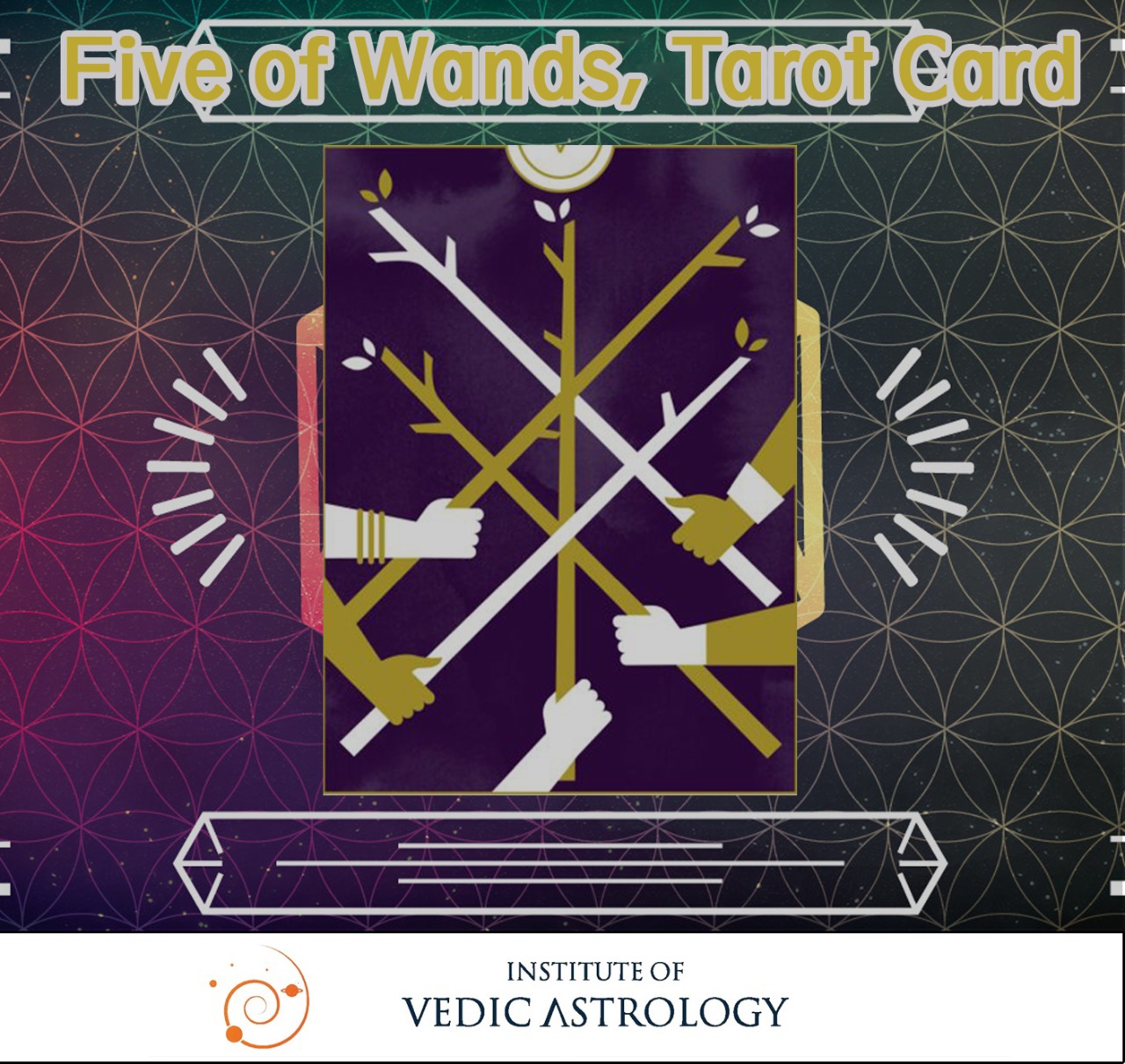 Tarot_cards

By Institute of Vedic astrology

Jul 10 2020

People always face different kinds of struggles and difficulties in their life but the problem arises when they don't know the signs of the upcoming problems in their life. It is really very difficult to know no about the different problems and struggles which are coming towards your life and how will you going to face them. But the tarot card is always here to help you. The tarot card reading is almost responsible to show you the right path in your life. Tarot cards can help you to know the major problems and struggles of your life through its reading.

There are some cards which are particularly designed to show you the particular things and struggles of your life like conflicts, disagreements, struggles, aggression, lack of control, etc.

The five of wands card is specially designed in the group of minor arcana cards which is capable to show you the struggles and conflicts of your life. This card will tell you your present and the upcoming struggle of your life. In a general context, five of the wands represent arguments, conflicts, fighting, and disagreements. It signifies a struggle, opposition, battles, aggression, and high temper.

Symbolically this card represents 5 people who have wands in their hand and they are fighting with each other this shows that everyone has got their own struggle in their life.
These minor arcana cards represent the clashing of personalities or egos. You can expect a lack of cooperation, lack of control, Chaos, and unruliness when it appears in your reading.

The reading of tarot cards comes in two ways which are reversed and upright.

1. Upright Card-

we have discussed that this represents the fights of every person in their individual life. But no one is listening to them. When everybody has a different opinion but no one is talking to hear each other out misunderstandings and conflicts naturally happen. If you have got the upright card in your reading then it shows that the five of wands are encouraging and giving you the enthusiastic approach to change your life. the transition or transformation is coming in your life whether you like it or not but you can change everyone's perception and the way of dealing with the shift constructively and positively. The five of wands also represent the diversity and differences of opinion. the way you deal with people from different cultures and backgrounds and you struggle to accept them in their way of living.

2. Reversed Card-

The Reversed card shows you that you are facing some internal conflicts in your life or you will going to face it soon. You may have navigated personal issues such as whether to stay or leave a particular situation or person. Just the point when you think you have a clear perception in your life someone will come and change it. This process is beneficial and will help you to do the battery search and to have better thoughts and viewpoints in your life. The five of wands reversed position suggest that you have the tendency to ignore and avoid the conflicts wherever you have seen them but this can increase your struggle in the future so it is better you should stay calm and fight your own struggle with confidence and better strategies.

Consider whether always ignoring such discomfort is the best way if you are finding yourself compromising is what is important to you.

To know more about different Tarot cards and their meaning you can also learn tarot card reading from the Institute of Vedic Astrology. the online distance learning course of the Institute of Vedic astrology will help you to become a good Tarot Card reader their online distance learning course and online video course with easy and authentic study material.
Search
Recent Post
Monthly Archive