Ways To Improve Vastu Of Existing Home Without Making Architectural Changes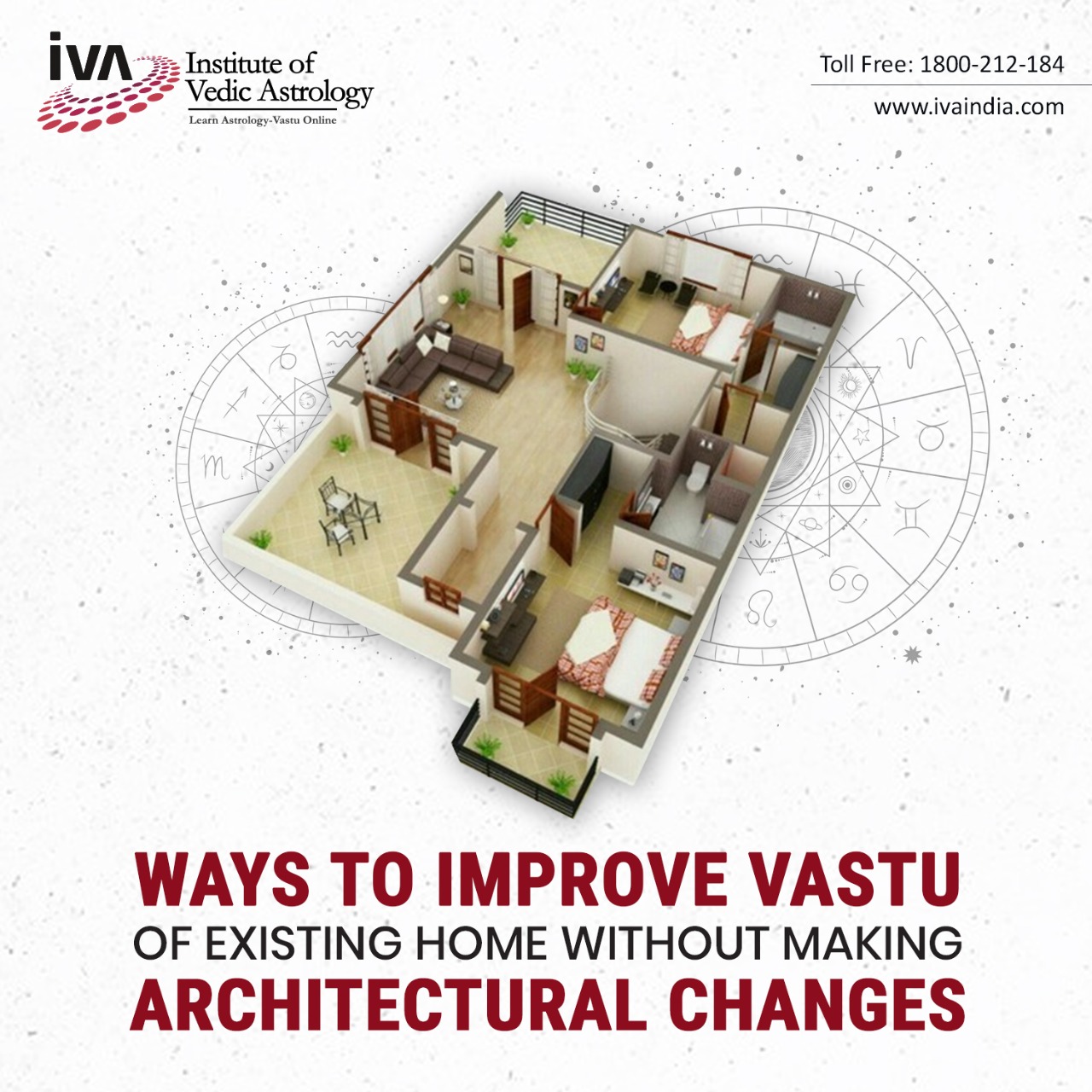 By Institute Of Vedic Astrology
Dec 12 2021
Once a home, always your home - do you think the similar way? Do you find your home to be a permanent structure that, once made cannot be redone or improved? Rebuilding your home is a daunting task-both monetarily and for the family. Lots of restructuring, the debris, the noise and most importantly the emotions that fade away with such things.
Well, here's a thing - with technology and flexible Vastu experts, you can always alter your home and that too without making architectural changes. Yes! You read it right!
Read on to know more…
Ever since the construction industry has existed, Vastu complaint spaces are something every builder seeks to take care of Vastu Shastra has solutions to all major or minor issues regarding the construction of any space. It is a science that has been there since ancient times. With evolved understanding and flexible vastu experts, you need not worry if there was anything missed or you recalled a few Vastu directives later. Now you may ask whether at all this is necessary. But then with the turn of events in life, nothing is certain. Also, you might have missed a few places thinking that was okay. There can be tons of such scenarios and reasons as to why one should improve your home without making any fancy or architectural changes.
You can refer to the following ways that will help you enhance the positive vibes and amp up your energies, without making significant architectural changes.
The Basic Do's and Don'ts:
These are a few tips that can help you figure out on your own. According to Vastu, your space should have ample natural light. Recheck your windows, their direction, what's blocking the natural light and you should be able to resolve the light issues. One's house must have ample water resources but avoid leaking taps too.
Colours are an important aspect too. Look at your room's colours and redo if they aren't Vastu compliant. There are room specific colours as per Vastu to amplify the vibes. Consult your Vastue expert to get the colour palette.
Face your best: As per the Vastu, there are a host of different directions while you sleep, eat, be a host, are working, studying, praying, etc. Ensure your furniture allows you to face the same.
Spot places: According to Vastu, there are spots at your home that needs to be either empty or decorated in as a minimalist way as possible. Ensure those spots aren't cluttered.
Avoid these: One must not keep prickly things like a cactus in the house. Avoid cranky doors that need regular oiling.
Directions Are Crucial:
Directions can invite or deviate the energies of your house. If one looks carefully at the logic of Vastu Shastra one can easily find the major ones addressing directions. There are two categories of directions for Vastu compliant homes-one that pertains to the placement of things while the other that deals with you while using that appliance or furniture. Look around your house and shift the placement of appliances, furniture or anything that redirects your positive energies somewhere else. For example, aquariums need to be in the north-east direction and when any guest visits your home, you should be facing in a particular direction.
Placements Are a Thing Too:
Everything has a decided direction and place in your house, according to the vastu. Adding or removing a few things can be quite beneficial. A sweet family picture, wall hangings like a dream catcher or windchimes, little pots, and aquarium-anything that can ooze positive energies. Their placement like in the corners, north-east direction, one facing the main door is crucial. The point is to enhance the existing energies in which placing things at their designated space and direction.
Check For Room-Specific Rules:
Every room is meant for oozing out a type of energy. One needs to ensure that while being in that room, one feels and is on the positive side. There is no point studying in a study room if you do not feel that intensity and sincerity. Likewise, you need a serene environment or calmness while praying.
So, for the bedroom, electronic equipment is not preferred, for the living room, they should be placed in the northeast direction. The door of our bedroom should open around 90% only.
Your kitchen should not have a mirror in it and the drinking water should be placed in the northeast direction. One must always keep the bathrooms/toilets' doors closed to avoid negative energy flow. The windows must open outwards.
Speaking of a garden, your garden need not have tall trees that would be little your house. If you adorn your garden with a Tulsi plant, it should be just about 1.5 meters and face the northeast direction of the house.
These were a few of the many rules that can help you elevate and turn your house into a fully vastu-compliant home. After all, even you are working optimally at your workplace, doing well in other aspects of life, little recurring non-vastu compliances can drive you out of the positive energies. Later, you might draw the conclusions of the tiny mishaps, which attribute to Vastu Shastra.
These little things might seem trivial initial but they do make sense if one begins at the big picture. You may find sense in this ancient old tradition and its logic. So, get going, do a deep analysis of your house and try noting down a few things. At the very least, it will save you from all the mishaps and challenges of doing architectural changes. Also, read 'Vedic Vastu Tips for a Happy Home & Guidelines for Prosperity'
You can learn Vastu Shastra from the Institute of Vedic Astrology and can always seek guidance from experts of the IVA India and ensure how these changes can be incorporated. Ultimately, happiness with loads of positive vibes is what everyone seeks at the end of the day.
Visit our website today: https://www.ivaindia.com
Or Call us at (Toll-free India):1800-212-1184
USA (International Toll-free): +1 206 452 3451
Search
Recent Post
Monthly Archive