Vedic Vastu Tips for a Happy Home & Guidelines for Prosperity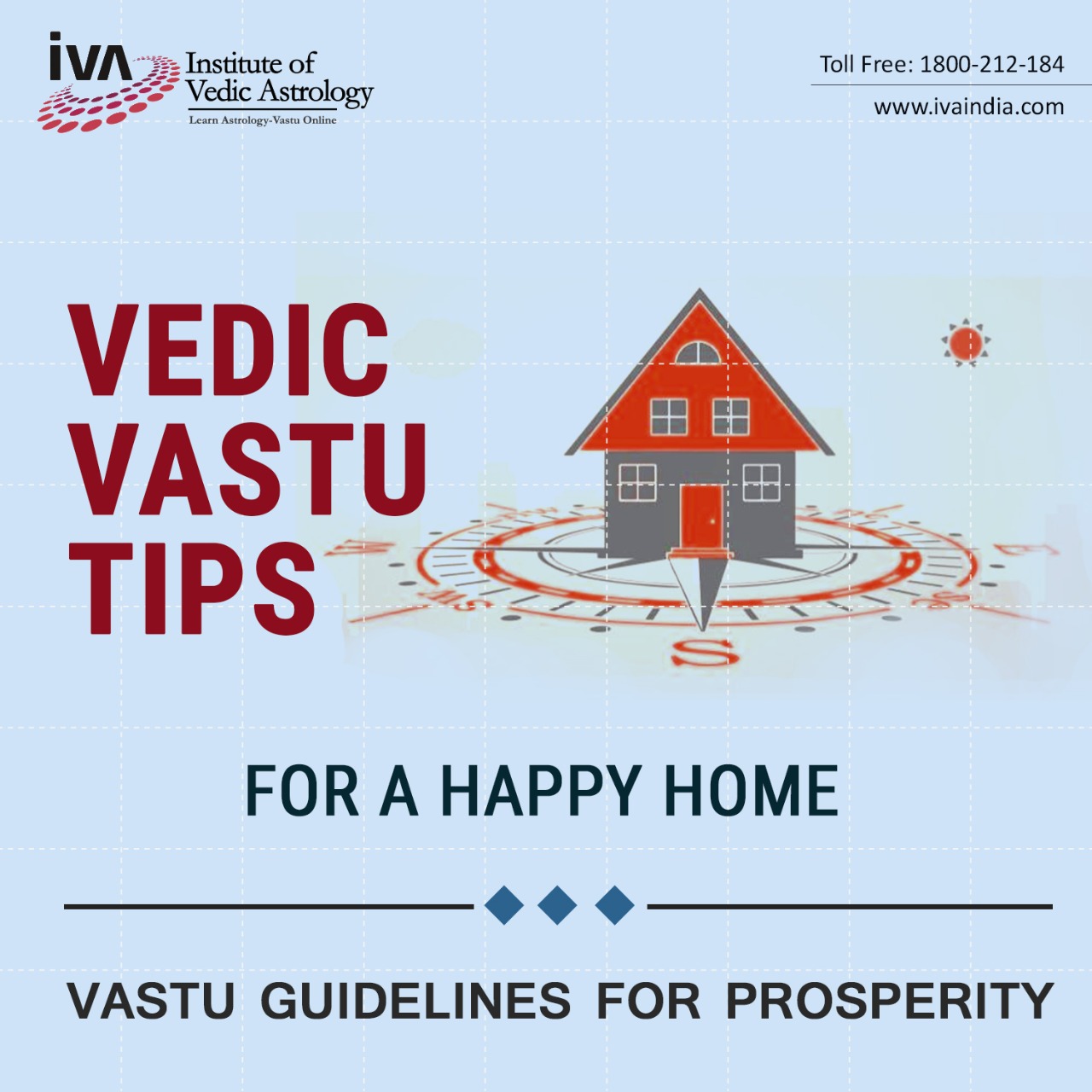 By Institute Of Vedic Astrology
Oct 20 2021
A happy home is a dream for every other person. It is something close to everyone's heart and a lot of emotions come into play while building it and of course living in it. People bond over certain spots of the home, celebrate occasions and find their favorite spots. As life passes over the fortunate and unfortunate events, one can clearly look for a pattern of the turn around of the events-good and bad. It is then when we try our best possible ways and means to get to a happier life. Here is when one must also pay heed to the Vastu shastra, particularly Vedic Vastu.
Even before we realized, we are peddling on the cycle of globalization and the newer world, there existed this ancient old system of Vastu or the old age architectural norms. The forms might have varied, the practices differ but the core values of constructing houses that are Vastu compliant remained. They prevented the family members from unfortunate events to a certain degree and averted so many losses. Having said that, it is not the case that this ancient old tradition has lost its importance today. Builders and architects do keep in mind important Vastu tips even today. This is helpful in getting more positive vibes to your place and adding prosperity.
To make your house a home in its truest form we have got Vedic Vastu tips for happy home. We have divided these tips into 4 major aspects that will amplify your prosperity and get your place super happy vibes. Read on to know more…
Different Rooms, Different Logics:
According to Vastu shastra, every room has a different logic and different aspects to be looked into. One has to keep in mind the specifications. Let us delve into each room's logic.
● Living room or drawing room: When one enters the home, usually it is the drawing-room or living room in the front. This room acts as a centerstage to all the energies being received or like any other Vastu tip, two aspects are important in here-direction and placement. The living room must bein the north direction so that it redistributes energies whenever any guests arrive. They must be seated opposite the host.
● Bedroom: A very important personal space that ought to be filled with only positive vibes. As you share all your intimate moments and talks in this space, you need to be always pumped up with positive vibes only. While the bedrooms for sons or male family members should be towards the west and the bedrooms of daughters or female family members should face south or south east direction. However, the master bedroom should face southeast. Following these directions amplifies your personal space with power on all fronts-economic, relationships, etc.
● Kitchen: Food fuels the body, scientifically but it acts more when made with a positive and calmer mind. In the kitchen, water and fire need to be placed in a particular direction for the optimum flow of energy. South-west or north-west is usually the direction that is ideal for the kitchen. The wash area should be farther from the main kitchen area.
● Prayer room: The prayer room should be facing west and if anyone is into idol worship, the height should lie between 2-9 inches. It should not be near the bathroom or any negative space of the house and be clean, hygienic. Preferably it should near the kitchen so that one entering and leaving the space is pumped up with positive energies only.
1) Interior: Apart from the directions, the colors of the walls, upholstery and furniture do matter. Any such color that prevents the positive cosmic energy or limits the existing one should be avoided. For example, one should avoid black colored furniture for the kitchen and certainly not allow dim lights in the house. The material of the things places also matters, for example, iron or copper vessels or artifacts to be placed in a certain direction.
2) Placements of things: Apart from the furniture, there are a lot of things that we place casually or thinking which is the best fit, aesthetically. But there are the right places to place things as per the science of best Vastu shastra course. For example, electronic items need to be in a certain direction to foster opulence. Also, the locker box or money box needs to be on the south wall or in the southwest direction.
Actually, two directions are important-one that prevents the negative energies, and the second fosters the existing vibes and adds to them.
General tips: Apart from the direction and placement of things at specific places, it is critical to follow a general set of tips. While one is sleeping the head must face southwards for a calmer mind and better sleep. To study, one must face the north-eastern direction. One must avoid prickly plants in the interiors. These factors are generic ones and may not be applicable for a specific case wherein there is some challenge in the positioning of stars. Then another tip is to avoid clocks that are not functioning, as it hinders prosperity.
Must Read: 10 Ways To Boost Positive Energy by Vastu Shastra
Every direction, angle and placement matter as per Vedic Vastu. Since this science can help you redirect the energies flowing into and out of your house, it makes a lot more sense to follow the above-mentioned tips. After all, even if everybody is happy but it is the positive energies, happy vibes emanating from the house and people that binds into oneness. This is what brings prosperity into the house. Ultimately everyone wants peace and a life full of happiness. Ofcourse, there would be moments of grief and pain but once the family has a positive aura, it gets strength to deal with it.
Get complete details and learn more about Vastu Shastra –
Join Vastu courses in our Institute of Vedic Astrology (IVA India) to become a certified Vastu Consultant and dive deep into the world of Vastu.
Call us at(Toll-free India): 1800-212-1184
USA (International Toll-free): +1 206 452 3451
‍
Search
Recent Post
Monthly Archive