10 Ways to Boost Positive Energy by Vastu Shastra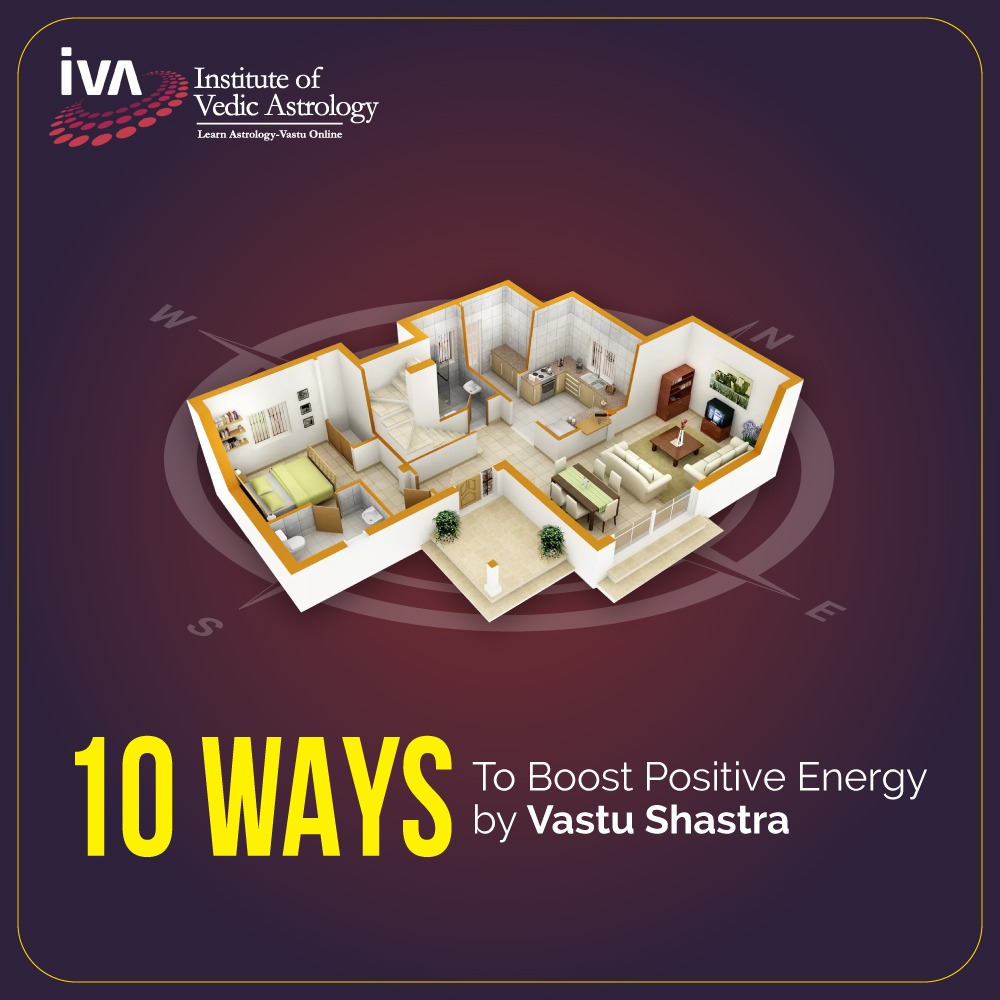 By Institute Of Vedic Astrology
Sep 20 2021
People construct houses, but it's the energies that make it a home. Ever felt that difference amongst homes and the vibes they carry? At one you would feel the positivity while at the other even if the people behave nicely, there seems to be something lacking. All of this is related to the energies of that place, which is dominated by the inter play of a lot of factors. Vastu Shastra has solutions to many such factors. Let us know 10 ways to boost positive energy by Vastu Shastra.
1. Houses that are Vastu compliant:
The first step should always be to look for homes that are made covering all the major aspects of Vastu Shastra. Even if you are not a firm believer, think of the energy flow once you begin living there.
Everything on this planet is influenced by the position of fellow planets and stars, be it your home. It is hence crucial to align the construction with principles of Vastu Shastra.
2. Correct your main entrance:
Going by the logic of Vastu Shastra, one's doorway should open to one of these directions-east, north or north-east. So, if your house is not constructed in such a way, do consider changing the main doorway.
3. Avoid these at the entrance:
There is a list of things to avoid for the main door such as shoe racks, fountains, dustbin, darkness, etc. Try avoiding these negative elements as they obstruct the positive energies to step in.
4. Watch your space:
When we say watch your space, it means having a clean, hygienic and decluttered interior. Many times, people tend to over-decorate their interior or try to execute everyone's idea of a good interior, only to make it look messier. Vastu Shastra will always suggest to keep your interior decluttered, radiating positive energies. \
5. Ample light:
Your house can either be made in such a way or the interiors could be at fault, to limit the light entering our space. Darkness or limited light never equals a pool of positive energy. Ensure that ample natural light enters your space.
‍
6. Directions are crucial:
Astrology and Vastu Shastra always signify directions. It will make sense if you speak to Vastu Shastra experts while waking up to a direction or opening a door at a certain angle and direction. The directions would not only limit the negative energies but amplify your existing positive energy pool.
‍
7. Placements are a thing:
A home is obviously made up of corners, pillars, sections and a lot of such construction-related stuff. According to Vastu Shastra, the placement of physical things matters and is related to energies. Every room has its own logic to be followed. Learn and know the art of placing major things like religious settings, places to eat, to wash, etc., as per the principles of Vastu Shastra.
‍
8. Add ons:
The science of Vastu Shastra does help you to rectify your decisions. There are a lot of idols, artificial showpieces that are based on the principles of Vastu Shastra. They amplify your space's positive energies to a great extent.
‍
9. Talk positive:
There is a popular belief that goes along Vastu Shastra, which makes your home too a living entity. Vastu tathastu is a popular saying to signify the same, meaning your home as a living entity can bless you with what you say. So, this is yet another positive way to boost positive energy in your space-be it residential or commercial.
‍
10. Plants can help:
Nature has solutions to everything. There is a certain category of plants that help in boosting positivity. One can pot them in your home.
Energies need to be balanced, especially in one's home, as they influence our moods and behaviors too. These are some of the basic tips which all should follow to improve positivity in their houses. Also, to learn the Vastu Shastra course online while sitting at the comfort of your home through our Distance learning courses and video courses specially designed by our experts of the Institute of Vedic Astrology (IVA India). Explore our website for more details: - https://www.ivaindia.com
Or Call Us at (Toll-free India): 1800-212-1184
USA (International Toll-free): +1 206 4523451
Search
Recent Post
Monthly Archive