Vastu Shastra - Tips To Bring Good Luck For New Home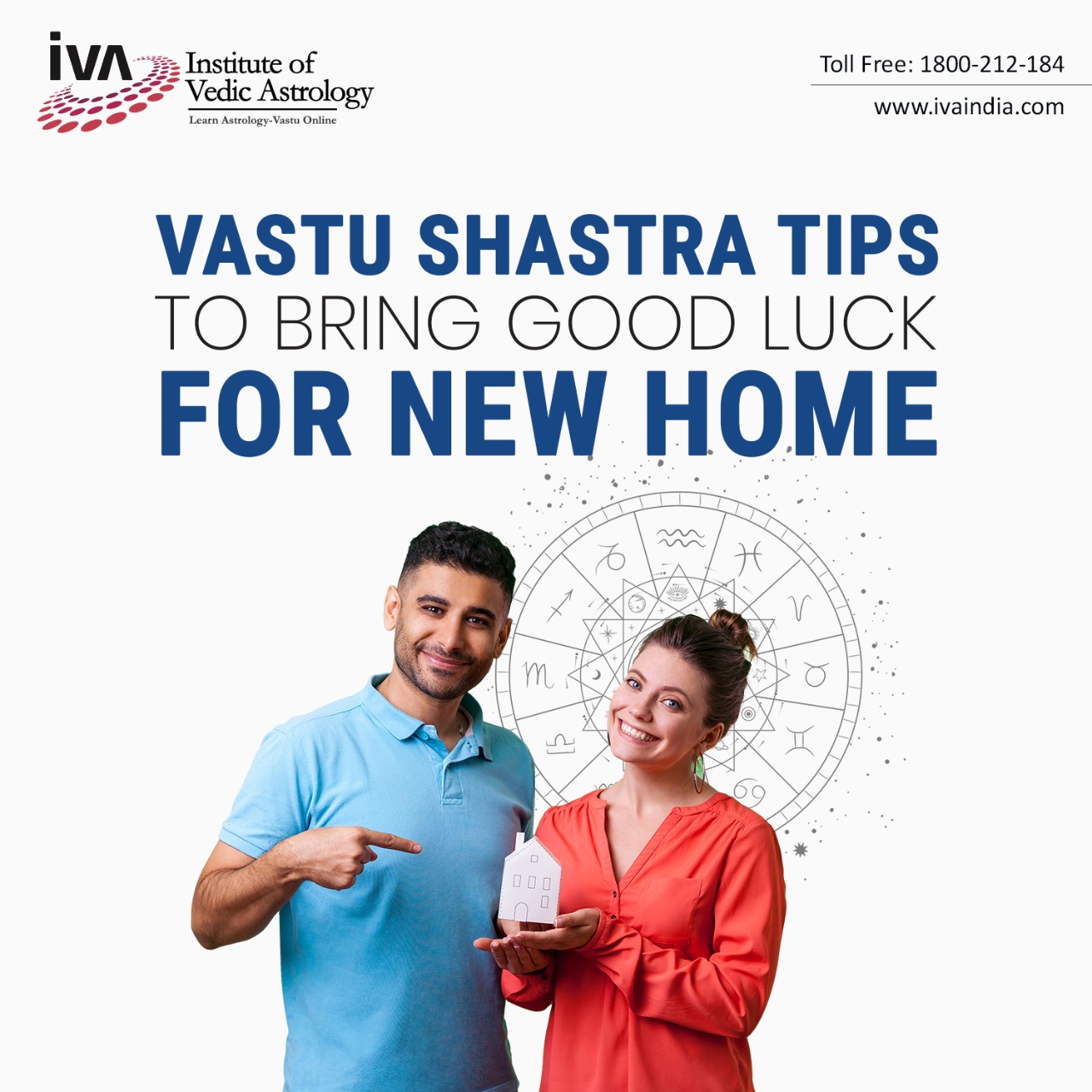 By Institute Of Vedic Astrology
Dec 13 2021
We all love designing our homes & getting the best interiors for every room as per the room owners' wish. But there is an upsurge among the new generation to move into Vastu-friendly homes for having uninterrupted good luck.
For Your Information:
Vastu Shastra; also known as, the SCIENCE OF ARCHITECTURE describes the principles of design, layout, measurements, ground preparation, space arrangement, and spatial geometry.

German architect Klaus-Peter Gast says that the principles of Vastu Shastra are witnessing a major revival & wide usage in the planning & design of individual homes, residential complexes, commercial & industrial campuses, along with major public projects in India. With the use of ancient iconography& mythological artwork incorporated into the Vastu vidya architectures, India ranks at the top of the charts in believing & following the Vastu Shastra.
Given the stress levels and negativity that we face daily; it is essential to build Vastu compliant homes as they bring peace, prosperity, and in-general happiness.
Making a house Vastu friendly is not that tough. There are a few alterations that are to bed one, and not the whole house needs to be turned upside down.
‍
Check out the below suggestions to get right on into it.
1. Clean Beautiful Entrance
The main entrance door is an important element in Vastu. All the doors in the house especially the main door of the house should open inside; so that the energy of the house remains inside. Do take care that the hinges of doors should not make any noise. Lubricate them periodically to keep them noise-free.
A beautiful clean entrance feels welcoming and spreads good vibes. Getting a clean &beautiful entrance will act as a magnet for positive vibes. Try & keep your entrance bright, well organized, and well-lit at the times of festivals; let alone not always.
According to the Vastu study, north or east can be the best direction for your entrance door to face. Keep the path clear, avoid keeping shoes and shelves which can block the way. Anything in the way is believed to attract negative vibes. A neat &clean foyer paves the way for good vibes, always!
2. Sunlight Spaces
Vastu experts say that direct sunlight is greatly essential for the well-rounded health of the home. It also acts as a natural disinfectant for your home.
According to some studies done; sunlight not only brightens up your home but also kills most of the germs & negativity that lurks around. Leave open spaces in all corners& try not to have common walls with another home to avoid a clash of energies.
A tip: The northeast direction of the house should be kept closed (there should be no entry or exit doors on the northeast part of the house). Also; keep the northeast space more open & lighter. For heavy items, south or may be southwest is an ideal direction. Keep that in mind.
3. Aquarium
The stress of daily lives is taking a toll on our health, enormously. By simply observing the water and fish in the aquarium can calm our moods, automatically. Keeping colorful fish can really enhance positivity & boost prosperity &wealth.
An aquarium should be placed in the living room & preferably in the North-East or South-East direction of the room for all the calming effects to work.
A Tip: It's good luck to bring & keep a goldfish as a pet.
4. Thorny Plants
Don't keep thorny plants like cacti & other shrubs at home be it any place in the house. This is surely going to attract negative energies.
Also, decorate your homes with real flowers instead of plastic or fake ones, this will also help in keeping the place full of life. Also, this will help in making a lot of difference in filling up your homes with good energies.
Also, make sure there is not even a single dead plant or tree right in front of your home. Uproot them immediately!
5. Stone Pyramids
Get some stones &create stone pyramids to correct any Vastu defects in addition to the points mentioned above to further cleanse your home and fill it with positivity. Stone pyramids should be at the center of the home or even could be kept in pooja rooms of the house. Experience absolute bliss with stone pyramids!
6. Wind Chimes
Wind chimes are used as a sound aid to cure & correct the path of energy flow & to remove various blockages, thereby improving the overall well-being of the household.
There are usually two kinds of wind chimes available; wooden and metal. Metal wind chimes should be placed in the West & North directions, while wooden ones should be placed in the East or South direction. Both have different effects on the positivity levels of the home & setting them up in a specific direction will help them create profound effects on the positivity level of your home. Six-rod chimes can be used for luck enhancement where four & five rods should be used for treating illnesses, quarrels & domestic clashes.
7. Keep Things Crystal Clean
Since cleanliness is one of the important ones which adds to everything to its surroundings; also helpful in maintaining the flow of good energies; crystal clean windows &doors attract positive energy at home & into your life. If possible, try installing a small water fountain near your window or in your common area as well. Flowing water symbolizes the flow of energy which brings prosperity.
Vastu shastra is not very difficult to follow & does not require a major chunk of your daily routine. You can take simple steps like these which are mentioned above towards building a happy & prosperous Vastu-compliant home. Along with that, you should also check out your own office spaces if they are Vastu compliant or not.
Keeping the vibe earthy will always attract positivity in your homes and it will make the best of what you have got at your place. Make sure that every natural source of energy like sunlight, fresh air, etc. has interference in your daily lives. This will automatically lift up your dull mood and dying out vibes and mend it, automatically.
To read more about Vastu and related suggestions, Read our other Vastu related Blogs
To learn Vastu Shastra through our Distance learning courses and video courses visit our website: https://www.ivaindia.com
Or Call us at (Toll-free India): 1800-212-1184
USA (International Toll-free): +1206 452 3451
Search
Recent Post
Monthly Archive