Solution For Student's Poor Academic Results By Vedic Astrology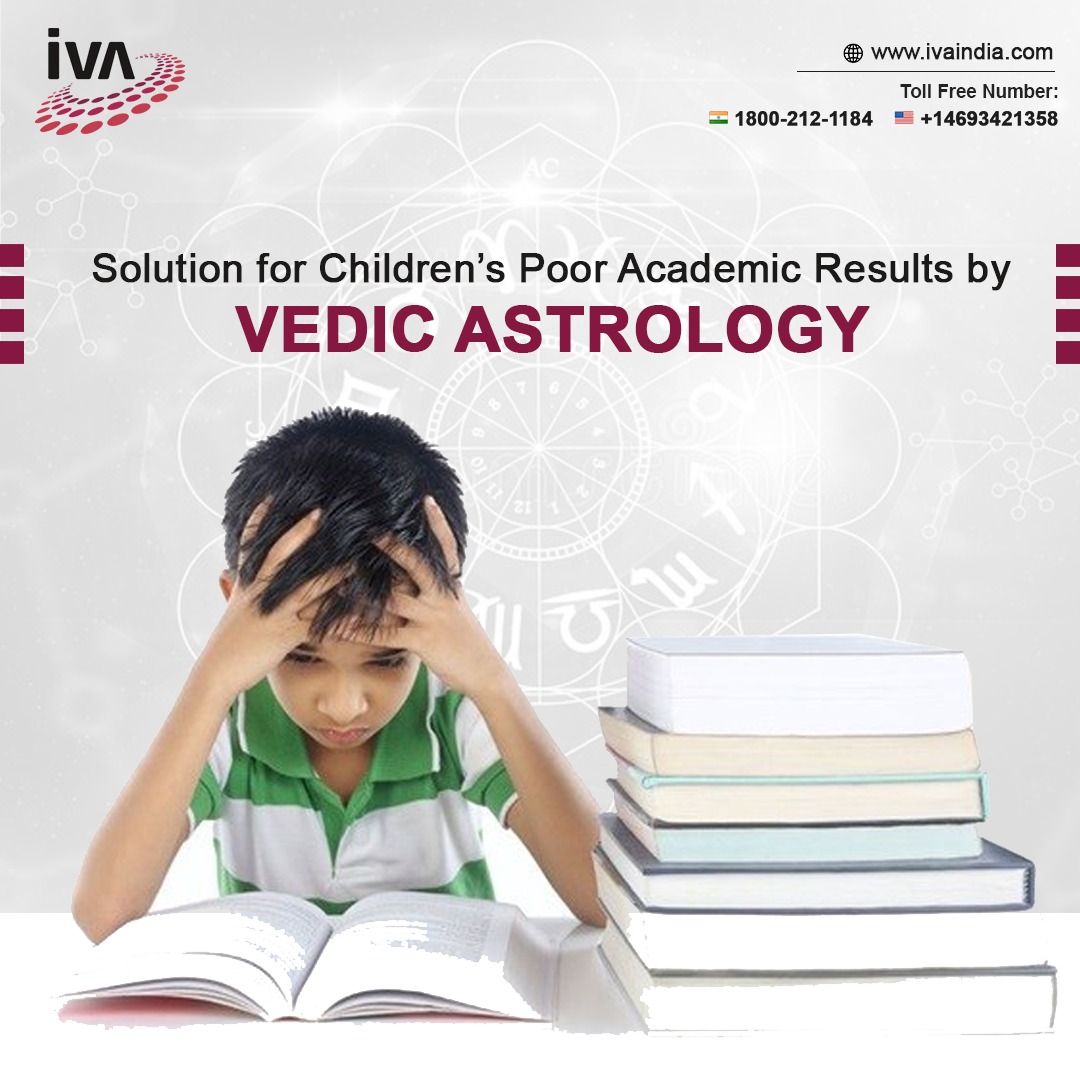 Vedic_astrology,vedic_vastu,vastu_shastra,Astrology

By Institute of Vedic Astrology

May 30 2022

If you are a parent, you must understand and look out for articles like this that can help you solve your children's academic problems like not being able to perform in an examination. Concerned parents might take help from sections like astrology for the solution. That might sound confusing and unusual for many first-time readers, but this is reality. Astrology has helped many deals with problems like this.

Let us understand a bit about the term Astrology, which you might have heard somewhere but never got to know much about in detail.
What is Astrology?
Astrology is actually a pseudoscience concept that tends to discern informative details about the Human affair and terrestrial events happening around. It has its roots in the calendrical systems.
It actually works after observing the relative position of the fixed stars, which tends to discern the sort of information that a human may ask for after he or she has experienced challenges in their life. Through Astrology, the astrologist tries to answer or figure out the earthly affairs that affect the destinies of individuals, groups, and Nations.
Where concepts like Numerology can sometimes come to a point where it actually works on or utilizes the principles of western science, astrology completely opposes the principles and theories of western science.
It is more defined as a practice of predicting mundane events, with the belief that the celestial bodies and other planetary objects like stars, the sun, and the moon, this way or another, affect the ongoing events in the world and in an individual's life.
The relationship between all the motion and celestial objects can be so complex sometimes, which can make a human mind go crazy at the beginning of studies or understanding; therefore, for those who are interested in learning astrology, there are astrology courses in colleges, which makes you ready to start your career in the field of Astrology.
The increase of interest in the field of Astrology
In the last few years, the population that is becoming interested in concepts and studies like this has grown immensely, making the educational institutes and other institutes quite interested in introducing the best online Vedic astrology courses or best online astrology courses in India.
The sudden increase in major astrology colleges, especially in India, is due to the fact that with the coming days and each day passing by, people are getting more interested in knowing themselves and increasing their level of self-awareness of things happening around their close ones.
Astrology has become a medium for them to understand the events happening in their lives and the challenges they are facing at the current times.
For parents, the most challenging and beautiful job is to take care of everything their children need. Therefore, they become more stressed when their children are not able to perform well in their academic results.
In the past two years especially, parents have been becoming more interested in distance learning astrology courses in India because of the reasons we also explained above.
Attributing to the increasing demand for astrology courses, many sites are also conducting courses that offer astrology classes for interested ones. In fact, there, you might find astrology courses online for free.
The studies made in recent times also suggest that Astrology has a much bigger influence on people's lives; it makes them more aware of themselves and events happening around them and also has the potential to influence the self-concept of an individual.
In fact, the very ruminative nature of astrology encourages self-reflection, which also is enough reasons for people's valuable engagement.
The sudden rise in the popularity of astrology concepts and increased available offline and online courses like Jaimini astrology courses, Vedic astrology distance learning courses, and many others can also be attributed to pop culture. If you are a follower of the pop star, you suddenly will start having a lot of influence from the life and habits they possess.
And this is very certain that if a star mentions astrology in an interview and explains their interest and activities influenced by those astrological solutions, you also have the thing in your heart to try it once in your life, and that's how you start believing in concepts like these.
However, the time has been proof that astrology and its practices have actually helped people in need and helped an individual restore peace and calm in their minds and life.
Not just for usual problems only, but these days you will witness people looking out for ways in astrology that can help them become healthy and their loved ones physically fit and healthy.
Also, isn't it interesting that you have to correlate your activities with those of the stationary celestial objects and objects in motion, to which you certainly can't have any access?
It is also believed that the whole concept of astrology is making a western comeback in the twenty-first century because millennial wants to pursue studies and operation in astrological practices along with western science.
In this era of utmost uncertainty, people also believe that the need to become more self-aware is necessary. The practice of astrology is also believed to be making people more physically, mentally, and spiritually healthy.
The practices involve the planetary objects or starts, which also give us our zodiac sign, and as we look deeper inside and try to improve and ultimately understand ourselves, our zodiac signs provide a template to comprehend who we are and what we need on a deeper and more meaningful level.
To know more such information regarding concepts like astrology and Vedic astrology, keep reading our blogs as we pledge to provide you with the limited but enough information relating to your queries which can also make you more clear on your stands in life and whether you want to go ahead with such practices or not.
Search
Recent Post
Monthly Archive