Place Mirrors according to Feng Shui in your Home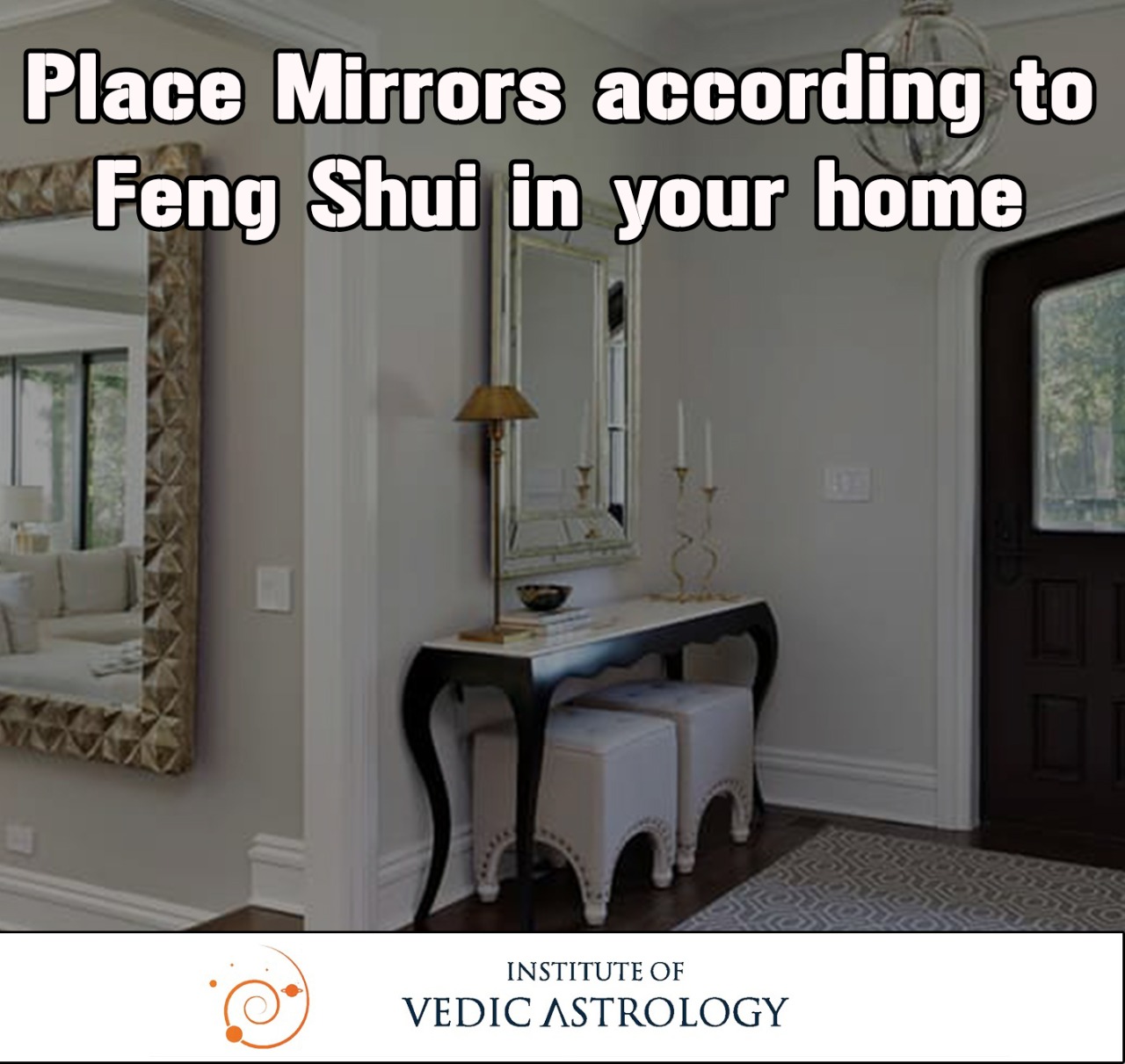 By Institute Of Vedic Astrology
Jul 30 2020
One of the best things you can do in your house to make it look more beautiful and attractive is placing beautiful and attractive things in your house. Putting eye-catchy things in your house will make it look more attractive and energetic in the eyes of the guests, family members, etc. One of the ways to maintain positivity in your house is to make it more energetic and attractive by putting various things in it.
The best eye-catchy thing in this world is the mirror! The mirror is the only thing that catches everyone's attention quickly and easily. But did you know that placing mirrors incorrectly in your house can also lead to various problems and negativity in the house?
It is always good to place the mirror in your house to make it look more vibrant and attractive. But one should always remember and understands that mirror should always be placed in the right position or in the right direction of the house to avoid negative effects formed due to it.
The best thing you can do to place your mirror in the house is according to feng shui. Feng shui is one of the most frequently used art and science in mankind which has created a different environment in every person's house. If someone is applying feng shui in his house then he will surely have positive experiences in his house after applying it. Just like the Indian Vastu Shastra feng shui also helps to balance every element in the house to make it positive and happy to live.
Mirrors are widely used in Feng shui applications. The mirror comes under the element of water. The water element cultivates wisdom and introspection. Water gives the feeling of kindness and coolness together so the mirror can also be used as a substitute for feng shui cures in your house.
Water is formulas and it can shape according to the shape of the container given to it. Because of this, mirrors are also used in Feng shui so that they can also reflect without judgment or obscurations. Mirrors can expand your view as well as focus on positive energy in your house.
The best work mirrors can do is to invite energy into your space. The strategically placed mirror can reflect the view of an element that is seen through a window into a room. For example, if you are placing a mirror in front of any window or gate it can reflect the things coming in the direction of the door or window. Like trees, water elements, sky, birds, etc. Some reflections may lead to enhance the positivity in your house.
Another best thing can mirror do is to enhance the light and sun rays in your house.
What mirrors can do?
- Mirrors in your house can invite friendship and close relation with people.
- It can help you to double your wealth.
- It can increase harmony in partnerships.
- it can increase positivity in your house.
- It can promote good health and wealth in your house.
Here we are sharing some tips related to mirrors according to feng shui, which will help you to understand which mirror is beneficial for your house and which is not.
While choosing a regular mirror for your house you should prefer regular shapes such as round, oval, rectangular, or square.
A convex mirror can give you a larger view which will be white and you can view more around yourself. If you want to have wider views you can place this mirror in your sitting room.
A concave mirror is useful for deflecting sharp energy because it can take an image and make it smaller and can easily flip it upside and down.
Bagua mirror is the most commonly used mirror according to Feng shui. These are the special mirrors that have an octagon-shaped border with the diagrams radiating and framing around the mirror. These mirrors are used for the exterior protection of the house according to Feng shui. This mirror should be used under the Feng shui consultant supervision only.
If you are using mirrors to enhance Feng shui in your house then you should avoid mirrors that are cloudy, broken, obscured, or distorted. This may lead to do broken relationships, frequent quarrels in the house, loss of wealth, poor health conditions, etc.
When it comes to a mirror, it's just a mirror but one should always know what to prefer. so one should highly avoid shop mirrors that can cut someone or that have a finished and dangerous edge around it.
According to Feng shui mirrors can be used to strengthen any weak or missing areas of the Bagua map. If you are following Feng shui in your house according to the Bagua map on your space then it can cover your missing or weak area by placing a mirror in that space which will increase energy and strengthen the missing or weak area of the house.
Convex mirrors are particularly useful for the desk and stove. These are simple to attach to the store for the computer.
To increase friendship in your life you can place a large mirror that reflects in it and the image of your dining table so that you can double your friendship circle and social contacts.
The small round mirror is especially useful for focusing your energy when placed on the ceiling above you at the time of meditation for any kind of practice.
If you want to know more about Feng shui please like our Facebook page & keep reading our blogs. Also, you can learn Feng Shui and become an expert master in the same with the help of the Institute of Vedic Astrology's online distance learning course in Feng shui in Hindi & English language. This will help you to know the detailed information about feng shui art which will help you to make your house more positive and attractive and can also work professionally.
Search
Recent Post
Monthly Archive