Palmistry: This Line in Your Palm Tells About Your Future and Fortunes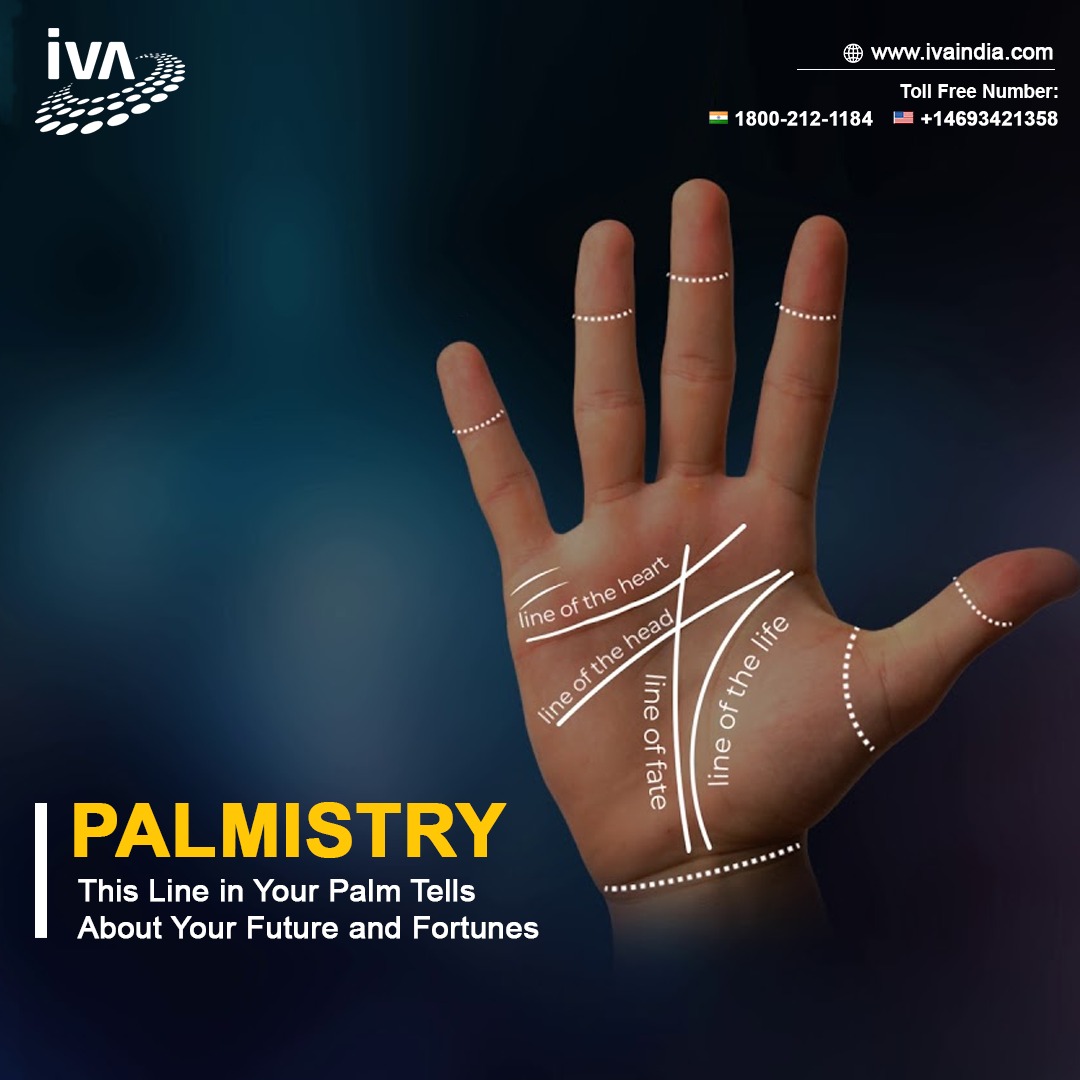 palmistry_certification_course,palmistry_classes_online,palmistry_courses

By Institute Of Vedic Astrology

May 22 2023

Palmistry, also known as chiromancy, is an ancient practice that aims to decipher the lines and features on a person's palm to reveal insights about their personality, character traits, and even glimpses into their future. For centuries, people have been fascinated by the idea that the lines on our hands hold the key to unlocking the mysteries of our lives and people start learning and exploring more about it with help of palmistry course. One particular aspect of palmistry that captures attention is the "line" in the palm, which is believed to provide clues about a person's future and fortunes. In this article, we will learn more about the world of palmistry and explore the significance of this line in your palm. However you can explore more about it with online palmistry course or easily attend the palmistry classes online.
Line in Your Palm & Their Significance
The line we refer to is commonly known as the "lifeline," it is one of the significant lines analyzed in palmistry that you get to know if you attend online palmistry course or explore by reading this article till end. Contrary to popular belief, the lifeline does not indicate the length of a person's life but provides insights into their vitality, energy levels
, and overall well-being. It begins between the thumb and index finger and curves around the base of the thumb, often extending towards the wrist.
In palmistry, the lifeline's length, depth, and various characteristics are considered when interpreting its meaning. A long, well-defined line generally suggests a robust constitution and a healthy, energetic individual. Such individuals are believed to possess stamina, resilience, and a vital life force.
On the other hand, a shorter or faintly marked lifeline may indicate a more cautious or reserved individual who may need more time to recuperate and recharge. However, it is crucial to remember that palmistry is not a precise science and should not be used as the basis for making predictions or life-altering decisions.
Apart from the length, the lifeline's quality is also considered. A deep and clear line is considered a positive sign, indicating vitality and good overall health. Conversely, a shallow or fragmented line might suggest a person prone to fluctuations in energy levels or experiences health challenges.
The lifeline is not just limited to revealing physical vitality; it also offers insights into an individual's emotional well-being. For instance, a smooth and unbroken line is often associated with emotional stability and resilience, while a wavering or interrupted line might indicate emotional upheavals or periods of intense sensitivity.
It is essential to note that palmistry does not provide specific predictions about events or outcomes. Instead, it offers a general overview of a person's inclinations, potential, and possible paths based on their character traits. It is up to the individual to use this knowledge as a tool for self-reflection and personal growth.
While the lifeline is a significant line in palmistry, it should not be considered in isolation. Interpreting a person's palm involves analyzing multiple lines, mounts, and other hand features to create a comprehensive understanding. The various lines, such as the heart line, the headline, and the mounts, representing different qualities and attributes, collectively contribute to a more holistic reading.
Moreover, it is crucial to understand that the lines on our palms are not fixed and unchangeable. They can evolve and shift as we navigate life, responding to our experiences, choices, and personal growth. While palmistry provides valuable insights, it is not a rigid or definitive map of our destinies. It is a tool that can help us better understand ourselves and make informed decisions.
Palmistry & Its Science
It is also worth mentioning that palmistry is only sometimes accepted or recognized as a scientific practice. Skeptics argue that the interpretations of palmistry are subjective and lack empirical evidence. However, for many individuals, palmistry offers a unique perspective and a source of introspection and self-discovery. Whether you believe in the accuracy of palmistry or approach it with a skeptical mindset, there is no denying the intrigue and fascination surrounding this ancient practice. Palmistry has captivated people from different cultures and backgrounds for centuries, offering a glimpse into the mysteries of the human psyche and the possibilities that lie ahead.
Beyond the lifeline, palmistry also explores other significant lines on the palm, each with its symbolism and interpretation. The heart line, for example, is believed to represent emotions, relationships, and matters of the heart. Its length, depth, and curves can provide insights into an individual's capacity for love, emotional expressiveness, and approach to romantic relationships.
The headline, on the other hand, represents intellect, communication, and thought processes. It reveals a person's cognitive abilities, problem-solving skills, and mental agility. The shape and length of the headline suggest a person's inclination towards logic, creativity, or practicality.
The fate line is another famous line in palmistry, often associated with a person's career, achievements, and life path. It is not present in everyone's palm, but when it appears, it can provide insights into a person's vocational prospects and the potential impact of their choices and efforts.
In addition to these primary lines, various secondary lines, such as the sun, health, and travel lines, among others, contribute to the comprehensive reading of a person's palm. Each line offers its own nuances and insights, providing a more intricate tapestry of information to explore.
It's important to note that palmistry is not solely reliant on the lines on the palm. The mounts, which are fleshy pads on the palm corresponding to different planets, also play a significant role in palmistry. The mounts are associated with qualities such as courage, intuition, creativity, and ambition. Their prominence or lack thereof can shed light on an individual's strengths, weaknesses, and potential focus areas.
Summing Up
While palmistry can be fascinating and insightful, it is crucial to approach it with an open mind and a healthy dose of skepticism. It is not a definitive science, and its interpretations should not be taken as absolute truths. Rather, palmistry serves as a tool for self-reflection and personal growth, allowing individuals to understand themselves and their potential better.
It is also worth noting that palmistry has evolved, with different cultural and regional variations. The interpretations and symbolism associated with the lines and features of the palm can vary among palmists. Therefore, it is essential to consult with an experienced and reputable palmist if you seek a palm reading.
Ultimately, the true value of palmistry lies in its ability to spark self-reflection and introspection. By examining the lines and features of your palm, you may discover hidden aspects of your personality, uncover potential strengths, and gain insights into areas of improvement. It can be a powerful tool for self-awareness and personal development.Even if you don't believe in the mystical aspects of palmistry, you can still appreciate the art form to understand human nature. The lines on our palms reflect the complex web of experiences, choices, and influences that shape our lives. By exploring the interpretations of palmistry, we engage in a deeper exploration of ourselves and our journeys.You can go for palmistry certification course if you want to pursue your career with same profession.
In conclusion, palmistry offers a unique lens through which we can explore our personalities, potentials, and possible futures. The line in your palm, particularly the lifeline, can provide insights into your vitality, energy, and emotional well-being. However, palmistry is not an exact science, and its interpretations should be approached with an open mind and a sense of self-reflection.
Search
Recent Post
Monthly Archive