Lunar eclipse – 8/11/2022 Dosh Shanti Puja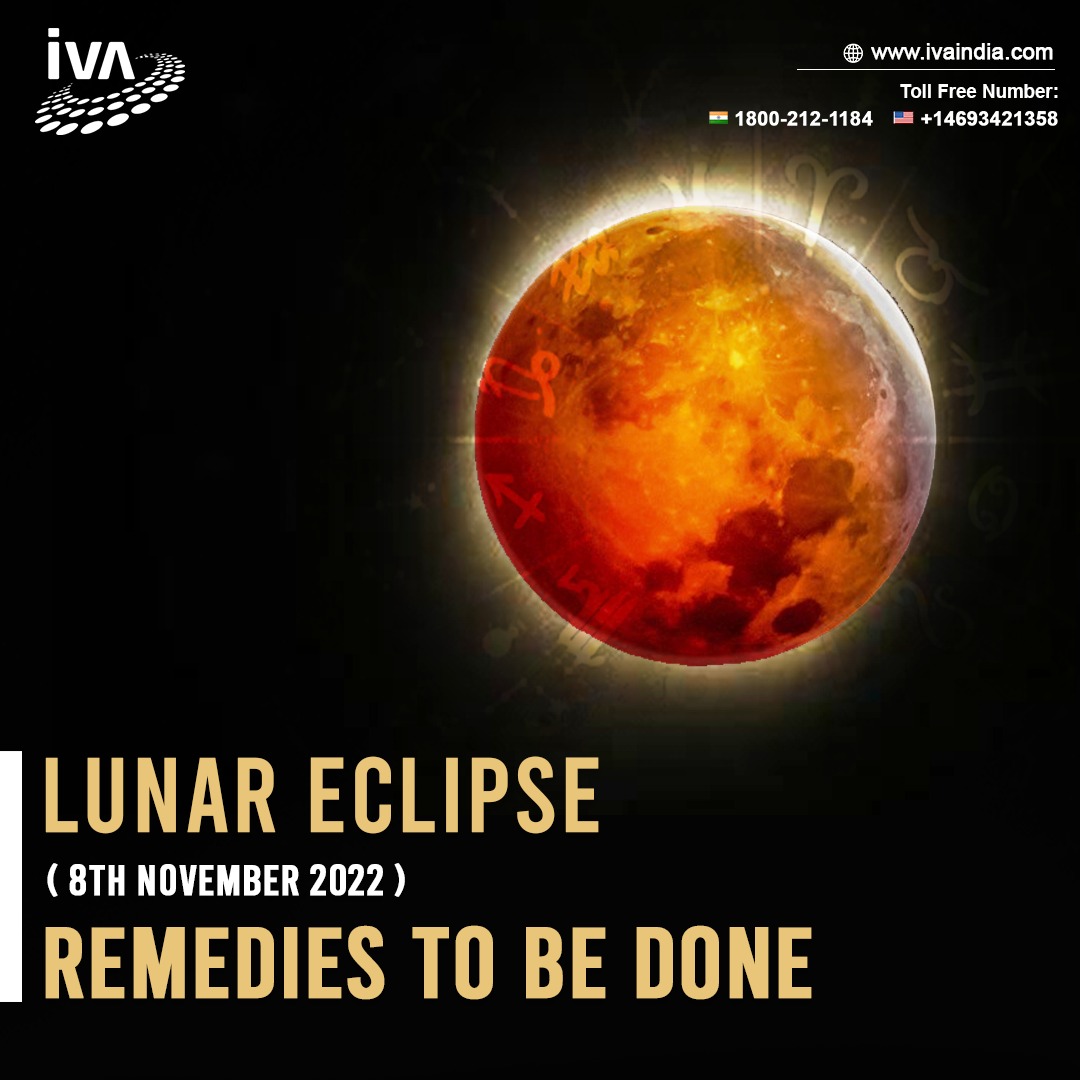 Lunar_eclipse,Dosh_Shanti_Puja

By Institute of Vedic Astrology

Nov 03 2022

This year lunar eclipse will fall on 8 November 2022, Tuesday, Shukla paksh (bright half) month Kartik, on Purnima (full moon day). The nakshatra (constellation) will be Bharani and Rashi (zodiac sign) will be Aries.

Shanti Puja can be done for those natives who have lunar eclipse yog in their horoscope. That day 5:39 am the sutak ( A period when ritual purification is prohibited) will start. Expert advise to keep Tulsi leaves in food and drinking water. One should avoid eating during this time. Mandir or prayer places are kept closed in sutak period. Kitchen and Pooja room must be clean and the natives should take bath after completion of eclipse. Donations brings auspicious results after eclipse. The time of sutak for children and aged people is 11:39 a.m. on 8th November 2022.

In Indore, the time of lunar eclipse is expected from Tuesday 2:39 pm noon to 6:19pm evening. As the sun must have been already set so The grahan will be not visible. During this time Mantra Jaap is suggested, it is 24 lakhs times (1 purush charna) more effective then normal days. The auspicious place for jaap is the bank of river, but if it is not possible then it can be done at home.

The natives who have solar eclipse yog in their house of are suggested to chant using sandalwood beads mala, while who have lunar eclipse yog should chant with pearl beads. The native should sit on the kush aasan. Taking bath immediately after the completion of eclipse is must.

Mantra for moon – Om Som somaya namah, ॐ सोम सोमाय नमः ( chant it 11000 times)

Mantra for Sun – Om ghrni suryaay namah. ॐ घृणि सूर्याय नमः (chat it 7000 times)

One or more family members or Pundit can join the chanting, if it is not possible for one person. If chanting is performing by pandit Ji on the behalf of native then before sutak mala and aasan must be given. After taking bath next day dakshina should be given to pandit ji.

For accurate information about lunar eclipse check the morning newspaper.

Suggestion for unmarried and pregnant women.

Solar eclipse is not auspicious for pregnant women and unmarried boys and girls. They must not see the grahan. A closed room with dark curtains will be good place for women. To avoid the effect of negative energy produced in the atmosphere by eclipse pregnant women should keep a coconut with them.

The recommendations during eclipse.
Avoid travel.
Do not eat Anything .
Don't use Scissors.
Don't make hair, clean clothes or brush teeth.
Don't take out milk from buffalo.
Don't speak Harsh language.
Sleeping is prohibited during eclipse.
Do not Pluck flowers from plants.
Search
Recent Post
Monthly Archive