Lost your valuables? Find them through Numerology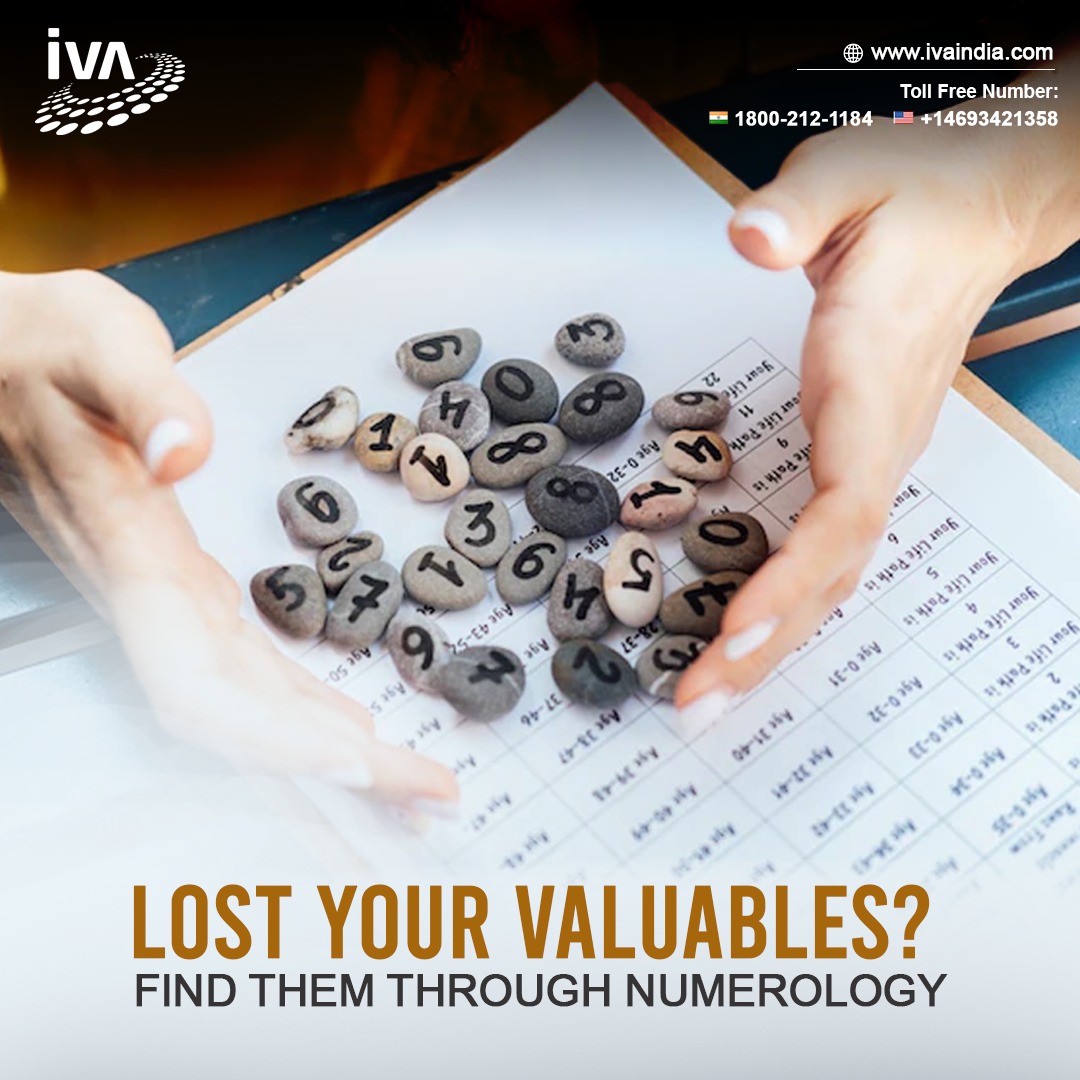 Numerology,Numerology_courses,online_numerology_courses

By Institute of Vedic Astrology

Nov 01 2022

It's always a nightmare when you lose your valuables. Whether it's your phone, wallet, or keys, it's always a significant inconvenience. And, of course, there's always the worry that you won't be able to get them back. Here are a few tips that will guide you with the steps you need to follow if you lose your valuables. Losing your valuables is always a significant pain. But, with the help of Numerology, you can increase your chances of getting them back and one can learn about it through plenty of online numerology courses.

Numerology is the science of numbers, and it is believed that these numbers directly correlate to different life events. This belief says one can use their name, birthdays, and other significant numbers to calculate destiny. One can use Numerology to make decisions, understand our personalities, and predict the future.

Numerology can be a helpful tool when you've lost something essential and are struggling to find it. By looking at the numbers associated with your lost possessions, you may get clues about where to look or what to do next. For example, if the number of your missing item is 4, this could represent stability and security. Therefore, checking safe places like your home or office would be a good idea. Alternatively, if the number is 8, this could symbolize power and success. In this case, you should look in places where you're likely to succeed, such as your place of work.

Numerology is inclined toward numbers and their meanings. Each number has its vibration and energy. When you connect with the energy of a certain number, it can help you to find what you're looking for. Here we are sharing valuable tips on how to use Numerology and find out your lost things:
How to Find Valuables Using Numerology Science?
Write down where and when you lost the item.
Look up the meaning of the number corresponding to the month and day you lost the item.
Focus on that meaning and connect with the energy of the number.
Visualize yourself finding the lost item.
Ask the universe or your higher self to help you find the lost item.
Be open to receiving guidance from your intuition or other signs.
Trust that you will find what you're looking for.
Take action steps to find the lost item.
Be grateful for what you find.
Repeat the process as needed.
Different Numbers and Their Meaning in Numerology
The first five numbers, 1-5, aren't used in numerology, and the number afterward, 5 till 81, holds a different meaning and indicates where you can find your missing valuables. The vital meaning and signs that these number resembles are as listed below.
Six: It indicates the presence of your lost valuables around cleaning materials or door mats
Seven: Number 7 indicates that you can find it nearby clothing items
Eight: Number 8 will reveal that a person you won't like will bring you lost things.
Nine: Number 9 says someone is keeping it purposely; however, once they admit and realize their mistake, they will give it back to you as a present.
Ten: Number 10 suggests you leave the items at the place where you spend most of your time outside the home.
Eleven: Maybe you lost it somewhere near to water bodies you come across
Twelve: You will find it when you are looking for something else; instantly, there is no gain in searching for them.
Thirteen: The object is lost in the safest place.e, almirah, wardrober, or an organizer
Fourteen: The object disappears underwater, and you need a plumber's help to get it back.
Fifteen: You will get the things back with the help of the child as it somewhere near their toys
Sixteen: Oops! You have lost the item permanently.
Seventeen: Find the items in a place where you keep all your expensive pieces of stuff.
Eighteen: It will be close to the things you use daily; once you find it and lose it again, you are not getting your things back.
Nineteen: Find your belongings in a dry area nearby house.
Twenty: Look in the bathroom or area close to the water for your valuables.
Twenty One:Try to search for your lost item in small storage cabinets or briefcases
Twenty Two:You will get the sign that locates the object in dreams
Twenty Three: It might be lost nearby the furniture
Twenty Four: You might keep and lost in the place where you used to keep it earlier
Twenty Five: It is nearby and is covered with some source of light
Twenty Six: May any older person might get the item but wasn't aware that you are searching for it
Twenty Seven:The items have accidental damage; you can still find them near the garage or car
Twenty Eight: The one who found it is the new owner
Twenty Nine: Someone close to you will find it and return it to you
Thirty: You will find it near children's art and drawing things
Thirty One: The object is closer to you, and you will find it
Thirty-Two: You can find it in a place with some heights
Thirty-Three: You might find it nearby your pooja room
Thirty Four: You might be left it in the workplace or your house near the source of light
Thirty-Five: You can find it nearby running water bodies in the house
Thirty-Six: You can find it in the wardrobe and storage place of other people you share your home or room with
Thirty-Seven: Find the eastern religious spots to look for missing items.
Thirty-Eight: It is lost at the place where you often visit
Thirty-Nine: The item is nearby the things that are related to art & craft
Forty: You can find it safe in some soft packaging material
Forty-One: You might find it under the space of your wardrobe where you keep footwear
Forty-Two: You will find it in the kitchen of the cafe & restaurant that you visit most often
Forty-Three: It is under the furniture where you rest most of the time
Forty-Four: You might get lost in the dirty and dusky place of the house
Forty-Five: You might pass through the way daily where the item is
Forty-Six:You can find it with the help of your co-worker.
Forty-Seven: Question people around you and observe the person around you as someone know about your whereabout
Forty-Eight: You can find it with stored alcoholic beverages.
Forty-Nine: There might be only a 1% chance of getting your things back safely, so it would be helpful if you stop bothering about it.
Fifty: You can find your lost items in vehicles.
Fifty-One: You might find it in a spiritual or healing place like a temple or hospital.
Fifty-Two: Someone whom you don't know but close to your known has your lost items
Fifty-Three: You won't be able to find the object, but you will get it back soon
Fifty-four: The thing isn't nearby and carried, which makes its recovery more time consuming
Fifty-Five: You will find it where you least expect it
Fifty-Six: You need to observe the place you visited as you cross the area where the object is now
Fifty-Seven: You will find it your sports clothes or the field where you play
Fifty-Eight: You lose your valuable items because of someone's greed
Fifty-Nine: You will find things easily in a dry place
Sixty: You lose your valuable items permanently
There are various understandings and predictions for other numbers that one can learn by completing a numerology certification course or opting for the best numerology course online. These reveal much about the science and working of numerology that allows you to learn numerology online and predict different things with its help.
Summing Up
Numerology connects with numbers, their meanings, and how they affect our lives. It is an astrological science that can be used to help us understand ourselves and our lives better. One can use it to learn about our past, present, and future and help us make better decisions and choices. Numerology courses can be taken online or in person, and one can learn about it quickly in a local community college or university; many books and resources are available online that reveal the secrets of Numerology. Numerology can be a fun and exciting way to learn more about yourself and your world.
Numerology also plays a vital role while making decisions in your life. However, there is no correct or wrong way to interpret things through Numerology, and it is essential to remember that it is just one tool in your toolbox and should not be relied on to make significant life decisions. Numerology is a great way to find things that may be hidden from you. Using numbers to look for clues, you can often find what you are looking for. Using Numerology to find lost things, you may be surprised at how well it works. Give it a try and see whether it comes out beneficial for you or not.
Search
Recent Post
Monthly Archive