Importance of Different Planets in Horoscope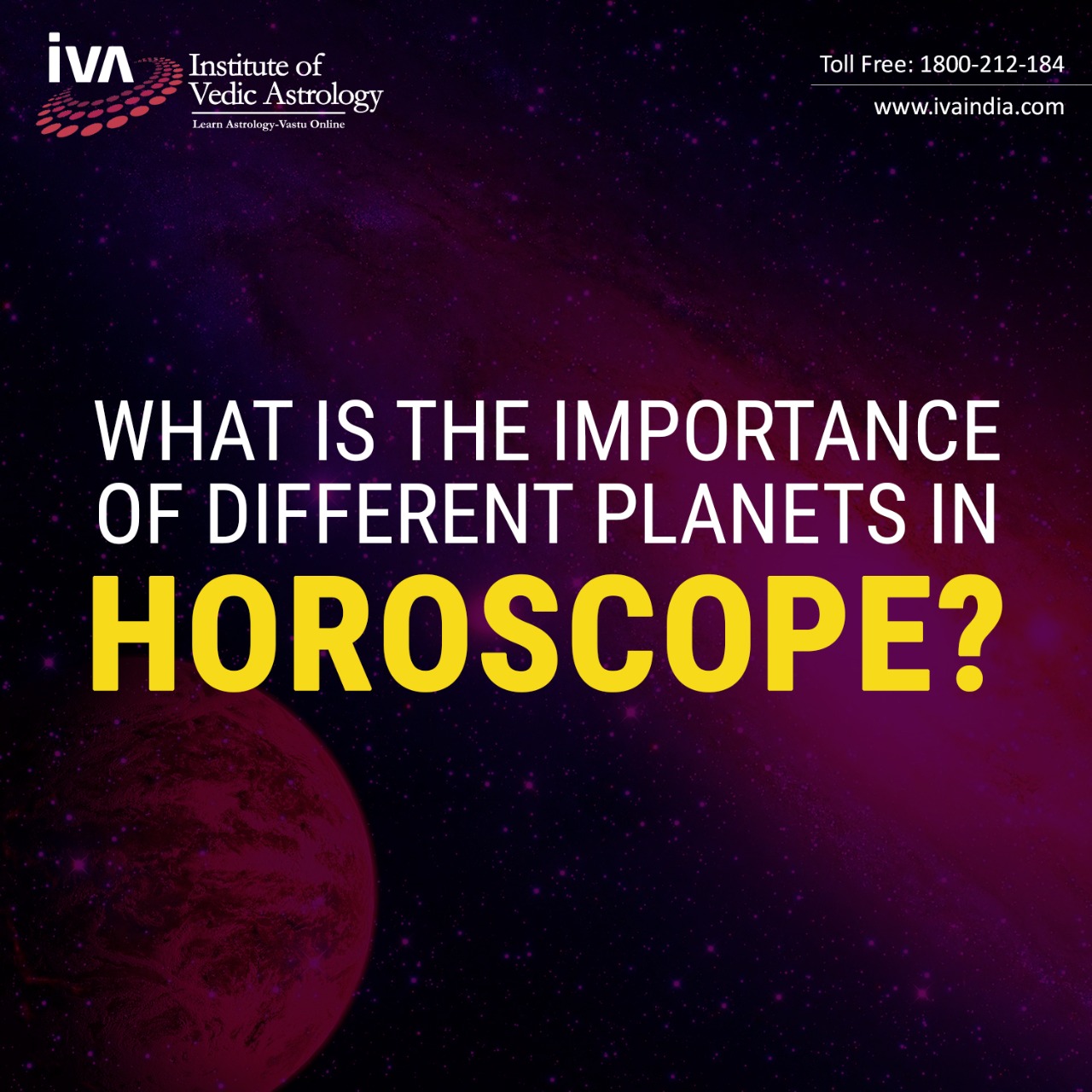 By Institute Of Vedic Astrology
Dec 29 2021
For centuries, mankind has looked up to the sky for guidance. They observed the patterns and the impact of the Sun and Moon on our daily lives. These ancient studies understood the importance of celestial energy and crafted studies that could bring people to lead lives with the help of ancient wisdom.
Human beings are built of the same atoms as the planets and are held together by the universal force. So undoubtedly, the other celestial beings have a huge impact on our lives. Planets, for instance, are widely studied by astrologers to determine their effect on individuals and humanity as a whole.
Vedic Astrology consists of 9 planets or grahs called Navgrahs. These include - Sun (Surya), Moon (Chandra), Mars (Mangal),Mercury (Budha), Jupiter (Brihaspati), Venus (Shukra), Saturn (Shani), Rahu(North Node of the Moon) and Ketu (South Node of the Moon). Each planet has a different personality and impacts the different areas of our lives.
Sun - Surya
The Sun is the ultimate energy source of our solar system. It is seen as the soul of our universe, transmitting its energy to everything around us. As the planet is the centre of immense power and energy, its influence is remarkable on our lives.
Just as sunshine is associated with hope and happiness, the Sun is considered a positive planet. It represents life, energy and power. The sun pairs the planet Mars, Jupiter and Moon. A favourable position of Sun in the birth chart makes a person confident, powerful and wealthy.
However, Venus and Saturn are the enemy planets of the Sun. If paired together, they can make a person pessimistic, arrogant and stubborn.
Moon - Chandra
Just as the Sun represents power and energy, the Moon represents the emotional strength of a person. It is considered a feminine planet responsible for nurture and growth. The impact of the moon decides how much a person is connected to their emotions.
Moon is ruled by the zodiac sign Cancer and heavily influences the sign Taurus. It pairs well with the planets Jupiter and Mars. Moon with Jupiter brings immense wealth and prosperity to a person.
Well-position moon brings out the charm in someone's personality and makes them mentally stable. On the other hand, an afflicted moon can distraught a person's emotional health and make their healing slow.
Mars - Mangal
Mars is another masculine planet known for its dynamic and ferocious nature. A strong Mars indicates strength, leadership and the ability to sail through tough times, while an afflicted Mars can make a person less temperamental, irrational and aggressive. Planets like Jupiter, Sun and Moon are considered beneficial to this planet. Whereas Saturn, Rahu and Ketu can be destructive if paired with Mars.
Mercury - Budh
Mercury is closest to the Sun and is filled with immense positive energy. It represents the wisdom, wit and communication of a person. Mercury's impact is dependent on the house it dominates. Its friendly planets are Sun, Venus and Rahu, and the enemy planet is Moon. A favourable positioning makes a person a good communicator. It is most suited for those involved in sales, trading etc. An afflicted Mercury can make a person moody, less trustworthy and a liar.
Jupiter - Brihaspati
In Vedic Astrology, Jupiter represents wisdom, intellect and education. It is seen as the Guru of the solar system given to its greatness. It is the ruler of Sagittarius and Pisces. A favourable Jupiter position represents strong leadership, wisdom, compassion and guidance. On the other hand, afflicted Jupiter suggests carelessness, irresponsible, debt-ridden and illiteracy.
Planets like Sun, Moon and Mars are friendly planets. Whereas, Venus and Mercury can result in destruction.
Venus - Shukra
Venus is a feminine planet that represents love, attraction, luxury and all materialistic gains. As it is a highly beneficial planet, it holds major importance in Vedic Astrology. It rules over the Zodiac sign Taurus and Libra. In addition, Venus pairs well with Mercury, Saturn and Rahu. However, both the Sun and Moon are destructive planets for it.
A suitable Venus positioning indicates attractiveness, happy marriage, comfortable life filled with materialistic luxuries. As Venus is the planet of love, its afflicted position can reduce one's chances of getting married or leading a happy married life.
Saturn - Shani
Saturn is infamous for being a malefic planet in Vedic astrology. However, it just reflects the karma of the universe. It punishes the people who perform wrong deeds and rewards those who do good. For this reason, Saturn is also seen as a teacher and a balancer between good and bad. It governs the sign Capricorn and Aquarius.
A well-positioned Saturn denotes hard work, morals and success. Whereas, an afflicted Saturn becomes a source of Misery, despair, poverty and laziness.
North Node of Moon - Rahu
Unlike all the other celestial bodies with mass, Rahu and Ketu are imaginary points in the sky. They are known to be malefic yet strong invisible planets causing destruction. In Hindu mythology, Rahu and Ketu were formed when a demon deceived the gods and drank the nectar of immortality. This deception was caught by the Sun and Moon who informed lord Vishnu and the demon was killed by his chakra. However, the head of the demon became immortal and became Rahu and the torso became Ketu.
Rahu represents deception and power. Although it rules no house, it has a significant effect on the Taurus sign. Its enemy planets are the Sun and Moon, and friendly planets are Saturn, Venus and Mercury.
People with a suitably positioned Rahu are wealthy, powerful and manipulative. However, afflicted Rahu can cause mental and emotional distress, poverty and laziness,
South Node of Moon - Ketu
Although Rahu and Ketu are parts of the same demon, they both are worlds apart. Ketu represents spirituality and karma. A person with dominant Ketu is gifted with spiritual wisdom. Just like Rahu, Ketu is also enemies with the Sun and the Moon and brings immediate wealth and prosperity if favourable.
On the other hand, an unfavourable position of Ketu can cause despair, depression and poverty.
To conclude, every planet has a certain role and balances out universal energy in its way. On one hand, the Sun brings power and prosperity and Venus denotes materialistic gains. On the other, Saturn deals with Karma and Ketu nurtures spirituality. In this way, every planet fulfils its role of balancing the universe.
‍
To know more about planets in horoscope and related suggestions, Click Here!
Call us at (Toll-free India): 1800-212-1184
USA (International Toll-free): +1 206 452 3251
‍
Search
Recent Post
Monthly Archive