Exploring the Powerful Connection between the Law of Attraction and Astrology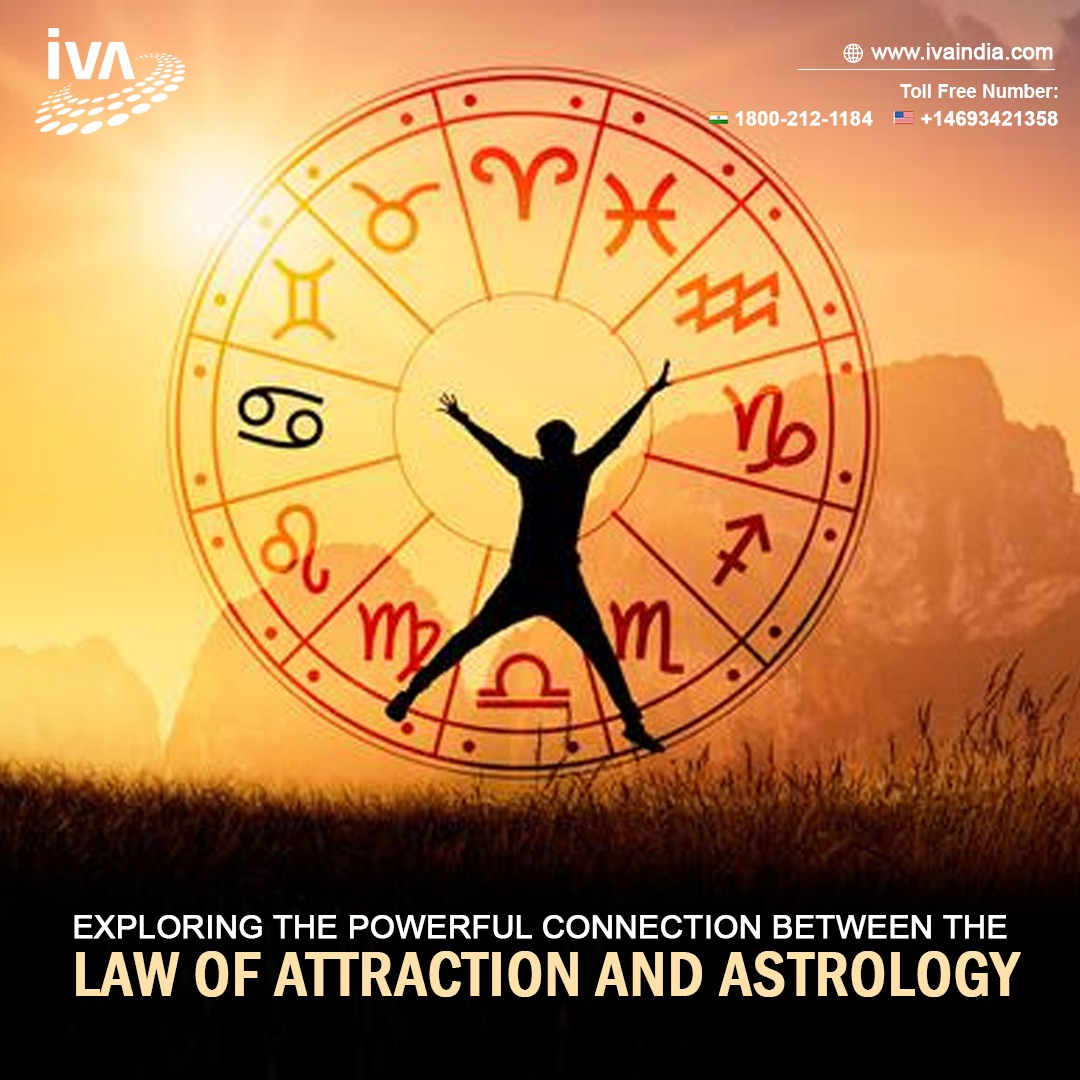 best_online_Vedic_astrology_course,Vedic_astrology_institute,Vedic_astrology_courses_in_India

By Institute Of Vedic Astrology

May 29 2023

The Law of Attraction and Astrology are two fascinating fields that explore the mysteries of the universe and the potential influence of cosmic energies on our lives. Both offer insights into the interconnectedness of the universe and the power of intention and manifestation. In this article, we will delve into the connection between the Law of Attraction and astrology, exploring how these two disciplines complement and enhance each other. By understanding their interplay, we can harness the power of both practices to manifest our desires, align with our true purpose, and create a life of abundance and fulfillment. One can understand and learn more about it through the best online Vedic astrology course or by joining the Vedic astrology institute.
The Law of Attraction :
The Law of Attraction is a universal principle that states that like attracts like. It suggests that our thoughts, beliefs, and intentions shape our reality and influence the events, circumstances, and experiences that manifest in our lives. According to this law, we can attract and create our desired life through our emitted vibrational energy. By focusing on positive thoughts, feelings, and beliefs, we can align ourselves with the frequency of our desires and magnetize them into our reality.
Astrology and Cosmic Energies:
Astrology, conversely, is the study of the celestial bodies and their influence on human life and events. It recognizes that the positions and movements of the planets and stars at the time of our birth can reveal unique energetic imprints that shape our personality traits, strengths, challenges, and life experiences. Astrology suggests that these cosmic energies can influence various aspects of our lives, including relationships, careers, health, and personal growth. One can join Vedic astrology classes online and learn more about it.
Astrology teaches us that the planets and celestial bodies emit specific energetic vibrations that interact with our energetic blueprint, as our birth chart depicts, and to understand them well, one needs to learn more about it either by attending the best vedic online astrology course or by distance learning astrology courses in India. Each planet represents different archetypal energies, and their positions and aspects in our birth chart offer insights into the potential challenges and opportunities we may encounter. Understanding these cosmic influences allows us to navigate life with greater awareness and make conscious choices aligned with our true purpose.
Alignment and Intention Setting
The Law of Attraction and Astrology share a common thread regarding alignment and intention setting. Both emphasize the importance of aligning with our desires and setting clear intentions to manifest them effectively.
In the Law of Attraction realm, alignment harmonizes our thoughts, emotions, beliefs, and actions with the desired outcome. It involves cultivating a positive mindset, practicing gratitude, and visualizing the desired reality as if it has already manifested. By aligning our energetic frequency with our desires, we send a clear and powerful signal to the universe, attracting the people, circumstances, and opportunities that support our manifestations.
Astrology offers a complementary perspective on alignment by highlighting the importance of understanding our birth chart and the energetic influences that shape our lives. By recognizing our strengths, challenges, and purpose as depicted in our birth chart, we can align ourselves with our true path and make choices that harmonize with our unique energetic makeup. Astrology empowers us to embrace our authentic selves, align with our natural talents, and make choices that resonate with our soul's journey.
Intention setting is another area where the Law of Attraction and astrology converge. Both practices emphasize the power of conscious intention in manifesting our desires. Setting clear and specific intentions directs our focus and energy toward our desired outcomes. The Law of Attraction teaches us to visualize and emotionally connect with our intentions. At the same time, astrology encourages us to work with the planets' energies and align our intentions with cosmic timing and cycles.
Enhancing Manifestation with Astrological Timing
Astrology provides valuable insights into the cyclical nature of life and the energy fluctuations that occur as planets move through different signs and aspects. By aligning our manifestations with astrological timing, we can enhance the effectiveness of the Law of Attraction.
Each planet has its own unique qualities and influences, and its transits through the zodiac signs can create specific energetic currents. For example, when a planet is in a harmonious aspect to our natal planets, it can support the manifestation of our desires. On the other hand, challenging aspects may require us to exercise patience and adjust our approach.
By paying attention to astrological transits, we can identify auspicious periods for initiating new projects, taking action, or making significant life changes. For instance, if we seek to manifest a career opportunity, we may want to wait for a favorable alignment between the planets that govern career and success in our birth chart.
Additionally, the lunar cycles in astrology offer a powerful framework for intention setting and manifestation. The New Moon represents new beginnings and is an ideal time for setting intentions and planting seeds for our desires. As the Moon waxes and reaches its fullness during the Full Moon, it amplifies the energy and allows us to see the results of our manifestations. The waning phase of the Moon is a time for releasing what no longer serves us, making space for new intentions during the next New Moon.
We can optimize our manifestation practices by combining the principles of the Law of Attraction and astrology. We can align our intentions with the energetic currents of the planets and utilize the power of astrological timing to enhance the manifestation process. This approach increases the likelihood of success and deepens our connection to the larger cosmic forces.
Self-Reflection and Personal Growth
Both the Law of Attraction and astrology promote self-reflection and personal growth. They invite us to explore our beliefs, emotions, and behavior patterns and make conscious shifts to align with our highest potential.
The Law of Attraction encourages us to cultivate self-awareness and examine limiting beliefs or negative thought patterns blocking our manifestations. It teaches us to take responsibility for our thoughts and emotions, recognizing that we can shape our reality through conscious choices.
Astrology, emphasizing self-understanding, complements this process by providing a deeper understanding of our inherent strengths, challenges, and life purpose. It encourages us to embrace our authentic selves and work with our natural inclinations and talents. By recognizing the energetic influences in our birth chart, we can make conscious choices that align with our true path and accelerate our personal growth.
Conclusion
The connection between the Law of Attraction and astrology is powerful, and one knows and understands it better by attending Vedic astrology courses in India. By combining the principles of manifestation and the cosmic insights offered by astrology, we can create a synergistic approach to shaping our lives. Aligning our thoughts, beliefs, and intentions with the universal energies and utilizing astrological timing, we amplify our ability to manifest our desires and live in alignment with our true purpose. As we deepen our understanding of these interconnected practices, we tap into the profound wisdom of the universe and embark on a transformative journey of self-discovery, empowerment, and manifestation.
Search
Recent Post
Monthly Archive