DHANISHTHA NAKSHATRA, ACCORDING TO VEDIC ASTROLOGY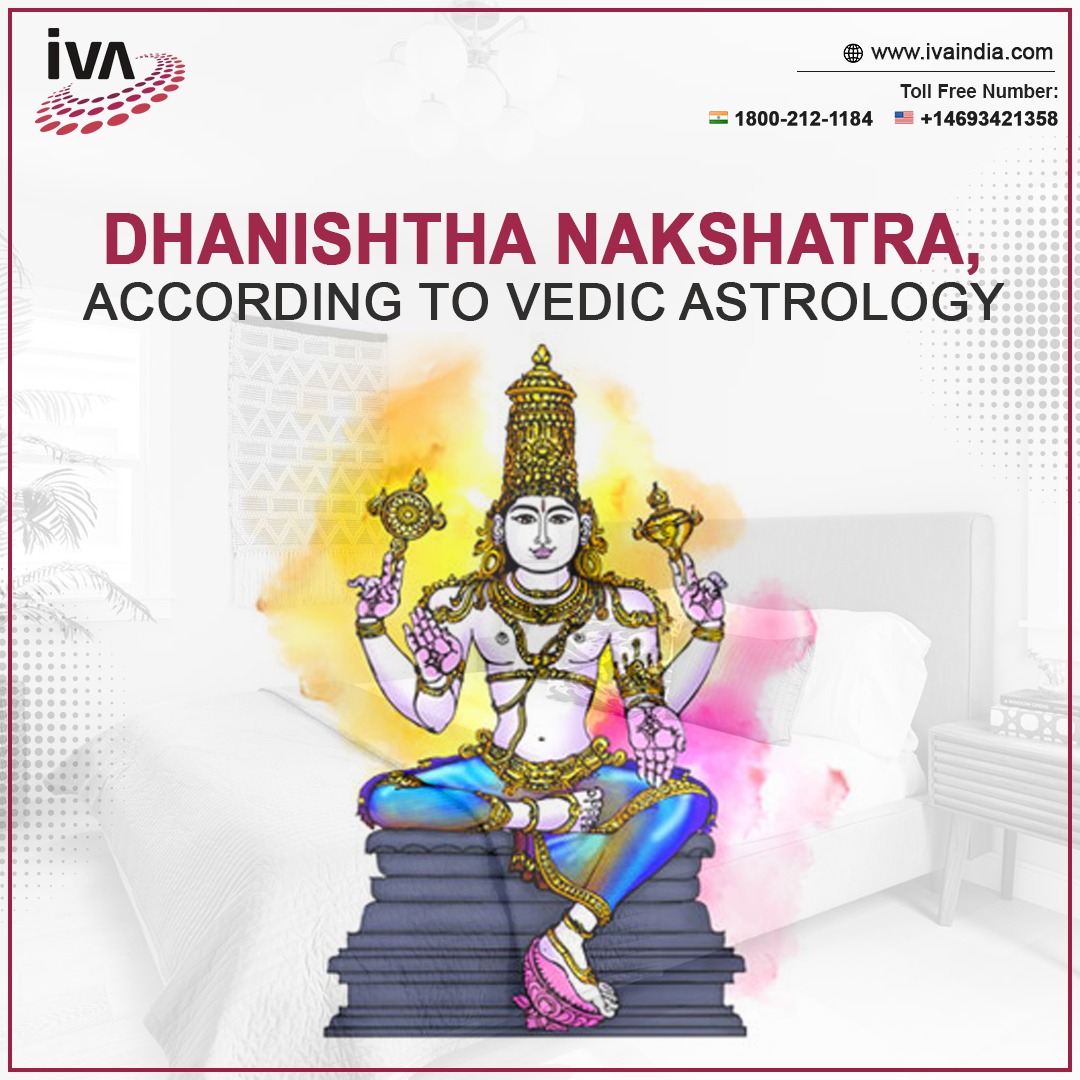 astrology_courses_online_in_India,best_online_Vedic_astrology_courses,Vedic_astrology_online_course,best_Vedic_astrology_course_online

By Institute Of Vedic Astrology

Dec 20 2022

Nakshatras are small constellations of stars through which the moon travels orbiting the Earth. In English, the constellations are known as "lunar mansions."The 27th and 23rd nakshatras are Dhanishtha. If during your birth, the moon was between 23:20° Capricorn-6:40° Aquarius, then this guide is for you. You will learn about your strengths, weaknesses, compatibility, ideal career, and more. You can pursue the best Vedic astrology course online.
Overview of Dhanishtha Nakshatra
Each Nakshatra has its undeniable qualities. It includes planetary rulers, constellations, zodiac signs, deities, symbols, and powers. Below are the features of Dhanishtha:
Sanskrit name:
धनिष्ठा (धनिष्ठा) comes from the Sanskrit words धन (wealth) and tisthati (abode). One of the meanings of Dhanishta, as the name already suggests with its initial word dhan indicates good fortune, resilience, and a strong character. You can find Vedic astrology online course.
Planet owner: Mars
People worshiped Mars as the God of war, and one can find its roots in the scriptures of Vedic India. Mars is associated with masculinity, strength, vitality, courage, and struggle.
Constellation Group:
Demonic. The constellations are divided into three classes – demons, humans, and deities. Dhanishtha is a demonic constellation. People in this group are usually spontaneous, strong-willed, and outspoken. They may have very high anger and violence.
Zodiac signs: Capricorn (1st and 2nd quarter) and Aquarius (3rd and 4th quarter)
People who have a Capricorn zodiac sign are strange and capable of doing challenging tasks. They are blessed with sharp minds, intelligence, and thoughtfulness, which makes them careful while making decisions.
A person with the Aquarius zodiac sign is intelligent, romantic, determined, and philosophically inclined. They are often involved in social work or other spiritual or humanitarian endeavors.
Deities: Eight Vasus.
In Vedic theology, Vasu presides over the elements. In ancient history, known as Mahabharata, Pitamah Bhishma was an incarnation of Vasu known as Dyu.
Symbol: A drum.
It represents rhythm, dance, music, divine timing, and significant influence.
Shakti: To purify. People born in Dhanishtha Nakshatra can save and use things that others have discarded or considered to be worthless.
Resonant syllable: In India, the birth star is traditionally used to choose a child's name. The corresponding letters for the four stages (padas) of Dhanishtha are Ga (गा), Ghee (गी), Gu (गु), and Ge (गे). If the time of birth is unknown, the syllable of a person's first name is sometimes used when calculating astrological charts.
Strength Or Power:
Dhanishtha Jatakas are honest and straight people. They radiate confidence and can overcome any obstacle between them and their desired objectives. They are resourceful, capable, and brilliant, and these supreme qualities make them excellent problem-solvers – ideal people, no matter the situation.
The people born in Dhanishta Nakshatra enjoy the adventure. The thrill of venturing into the unknown and facing unexpected challenges brings them joy. They are kind-hearted and take pleasure in giving to others. They don't hesitate while hanging out with a new friend or even a stranger in need. There are so many best online Vedic astrology courses.
They are musically inclined and have multi-tasking abilities. They are good at extracurricular activities and have many aspirations in life. And you will somehow find a way to fulfill them, especially if you align yourself with God's blessings.
Dhanishtha Career:
Individuals born in Dhanishta may do well in careers in performance or entertainment or those that allow them to exercise their innate helpful nature.
Some ideal businesses include:
Musician, dancer, artist, or entertainer
Doctor, nurse, herbalist, or therapist
Nonprofit workers or philanthropists
Real estate agent, seller, or investor
Weaknesses:
Sagittarius's luck, confidence, and outgoing nature can sometimes make them cocky. You must be careful to develop a humble and kind character actively. Otherwise, you can become highly opinionated, argumentative, and boastful. These symptoms can drive away friends and community members who care about your well-being. People can find astrology courses online in India.
Dhanishtha natives may be indifferent to the feelings and needs of others. They may even resort to violence when opposed by others. They can be pretty ruthless if their patience is pushed to the extreme. In addition, their fearlessness can cause them to behave recklessly, indulging in narcotics, narcotics, and other dangerous substances. If they do not practice sobriety and self-restraint, they may become addicted to one of these substances.
You are getting value more than you think, so that you may resort to deceit or dishonesty. However, remember that the end doesn't always justify the means. Actions have consequences, often much worse than we initially imagined. The satisfaction provided by a noble, moral life far exceeds anything that comes from fame or money.
Other personality traits:
There are so many Vedic astrology courses in India.
You are a talented musician and artist. You have a perfect sense of aesthetics and a keen ear for music and rhythm. You can make a career in any of these fields, provided you can plan ahead and manage your finances responsibly.
You do well in the limelight. You are a natural entertainer. You love to please people, make them laugh, and be the center of attention.
You may choose the wrong people for friendship. You are only sometimes able to differentiate between true and false friends. You may make mistakes while choosing your partner and become embroiled in troubling romantic affairs.
You can be a volunteer. You like helping others, but sometimes there is an ulterior, selfish motive. You have difficulty setting aside your self-interests and making sacrifices for one another.
Dhanishtha compatibility:
The symbol of Sagittarius's sexuality is a female lion. In terms of physical compatibility, this makes them an ideal match for individuals born in Purva-Bhadrapada Nakshatra.
Based on the overall match, Dhanishtha is most likely to find happiness in a long-term partnership with the following:
For Capricorn natives (1st-2nd quarter)
Kritika in Taurus
Rohini
Ashlesha (for male natives)
Uttara-Phalguni in Virgo (for female natives)
Visakha in Libra
Uttarashada in Capricorn (for female natives)
Shravan (for female natives)
Pre-Bhadrapada in Pisces (for male natives
For Dhanishtha natives in Aquarius (3rd-4th quarter)
Rohini
Humid
Punarvasu in Gemini (for male natives)
Poorva-Phalguni (for female natives)
Swati (for female natives)
Visakha in Libra
Four quarters of Dhanishtha (feet):
Each Nakshatra is divided into four stages of 3:20 degrees, also called padas. These quarters are based on the 1/9th Mandala chart, Navamsa in Sanskrit.
The moon's position at birth determines in which quarter you are born.
First Quarter (23:20-26:40 Degree Capricorn): Leo. You are highly ambitious and an expert in material matters. You are world-minded and sensual. You may have marital difficulties.
Second quarter (26:40-30:00 degree Capricorn): Virgo. You are talkative and friendly. You quickly adapt to different situations, are naturally extroverted, and lead a carefree lifestyle. However, you don't hold grudges against those who have misbehaved or let you down.
Third Quarter (0:00-3:20 degree Aquarius): Libra. You are creative and incredibly skilled in music. You are righteous and dignified. However, you may act recklessly and without adequate forethought.
Fourth House (3:20-6:40 degree Aquarius): Scorpio. You have immense power and energy and can easily overpower your opponents. You have a sixth sense and an extreme intuition power. You are actively interested in mysticism and spiritualism. However, you are egotistical and may adopt unfair means to achieve your goals.
Dhanishtha in Election Astrology:
In election astrology, Dhanistha, also known as Muhurta, Nakshatras. It helps determine the important dates for significant events and ceremonies such as marriage, buying a new house or vehicle, starting a project, or conceiving a child.
The electoral nature of Dhanishtha is variable, "mobile." Dhanishta is an excellent Nakshatra:
Buying a Vehicle
Changing housing, jobs, or other life changes
Beginning of Pilgrimage
Plantation or gardening
Travel
Search
Recent Post
Monthly Archive