Cancer Zodiac Sign – Personality Traits and Sign Date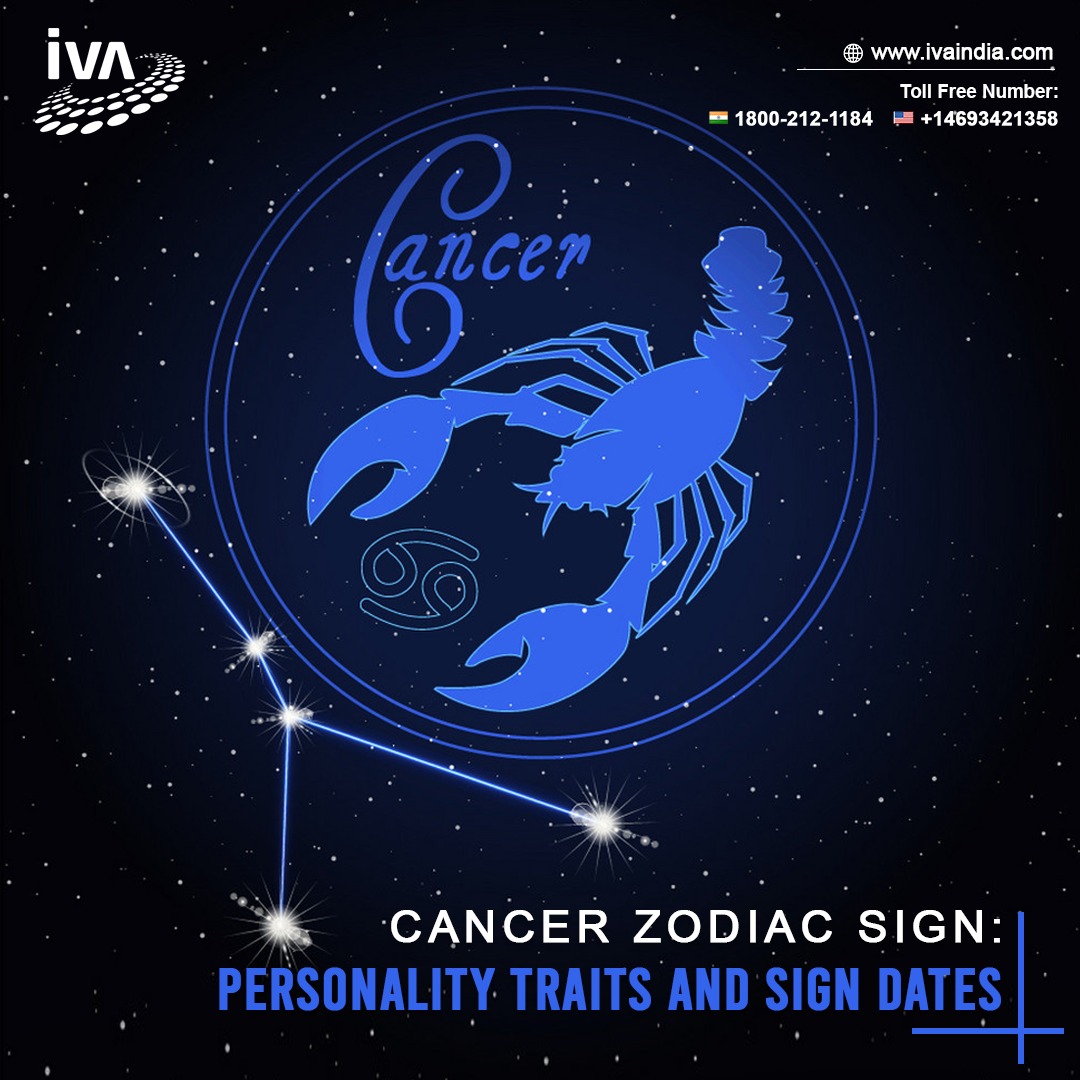 Astrology,Cancer_Zodiac_Sign,vedic_astrology,vastu_shastra

By Institute of Vedic Astrology

Apr 30 2022

As a human being, many questions arise related to the self-Zodiac sign. The most common curiosity among us is What are the traits related to my zodiac sign are they relatable? Along with this what are the positive and negative effects of the same? While this gives Astrology an interesting fact; in Astrology, there is no wins and there are no losses. It's a magical, mysterious, knowledgeable domain that gives us more reason to be esoteric.

Every sign is powerful and puzzled and has its own orra. And all contain all the four signs- air, water, fire, and earth signs which work togetherly in a comprehensive manner and show up their unique personality traits.

Over the decades every zodiac sign has developed its mystical truths, and myths including numbers, colors, animals, strengths, weaknesses, and gemstones. Every zodiac sign is elemented with its strong point of view and complete power pack traits.

Now let's take its details to the next level. There are 12 zodiac signs which are layered with Astrological concepts. As we go through these 12 zodiac signs concepts deeply, we start layering them into concepts more deeply as it is very fascinating, as each sign has its unique personality.
Let's take a jump to Cancer Zodiac Sign and its uniqueness, traits…
Zodiac Sign – Cancer (June 21 – July 22)
Personality Traits – Cancer Zodiac -
The Strength- They are highly imaginative, loyal, emotional, and attachable.
The Weakness – Insecure, moody, overprotective.
Element – Water
Colour – White, Pastel Blue
Lucky Numbers- 2,7,9
Date – Monday & Tuesday
Compatible Sign – Virgo, Taurus, Scorpio
Lucky Gemstone – Pearl
Get every bit of detail about every zodiac sign-on -on horoscope-free daily zodiac astrology!
Cancer is the 4th Zodiac sign! Its symbol is a crab. It is most challenging for Zodiac to get to know. Cancerians are the most caring of all. They can do anything to make you feel relaxed and comfortable. They will motivate you always and will be happy for your appreciable success journey.
Its symbol crab is loyal and very protective. Same like shells of crabs they will protect you from anything. The crabs' shells are open-minded and non-judgemental rather they prefer to support and believe in helping. Zodiac horoscope today tells you about your daily sustaining, guiding you to the lucky number and color to make your day.
Cancer Love-
Neither or fewer Cancerians are very protective and extremely devoted in any kind of relationship. They will show their feelings without even thinking of getting hurt. In terms of partners, they will choose someone who understands them with their actions. They are always ready to share equal responsibilities with their partners a build a new love and an aura.
Cancer Family and Friends –
Cancerians are more protective of their family terms and members. They don't leave a single chance to engage with them and maintain them forever together bond. They love to make and create little moments with family which is very joyful for them. When they are making the right thing happy all of the care, and respect they give.
About friendship, Cancerians are very glad to accept very up and fall on all terms. They are highly sensitive and be your best motivator. They make you feel so comfortable in their friendship, also they are very socially active and cheerful people.
Cancer Money, Fame, and Career –
They are very passionate about their work and highly devoted. They will give their best in every field and make their point relevant which makes sense. They will tie a knot and roll up the sleeves to give their superlative performance.
The finest career option they can opt for is as a nurse, event coordinator, social activist, influencer, or politician.
Cancerians make money by giving their best in any field in which they go, as they are highly active and enthusiastic people.
This is a dedicated sign, who is ready to go for unhealthy things to make them healthy without thinking of getting hurt. They are rooted in family, friends, and sensitive vibes. They do not entertain extra interruptions in their work.
What's Does Cancer Horoscope Predictions Means for You in 2022!
Here it is –
Welcome to the horoscope prediction of 2022, Cancer!
This year you will find peace in your relationships and friendships. The happy and positive vibes will flow, and your loved ones will express them for you more and more. You will be more compatible, independent, and burnt out this year. You will be confident enough to make and set the boundaries for yourself. Your continued relationship will face some significant changes but you both gonna make it. It's the year of communication, the more you will communicate the more you feel upbeat. Plant your seeds, set your intentions but have patience you're the driven results. Focus on your goals, avoid the drama, and have a joyful 2022!
An online astrology course is the best way to grab knowledge about the astrology field and the know-how every zodiac sign keeps emerging energy in its place.
Astrology courses in Indian Universities hold and guide your best methods and techniques that teach you in-depth knowledge about Zodiac signs and their traits!
Search
Recent Post
Monthly Archive