Astrology As A Historical And Cultural Phenomenon: what is it?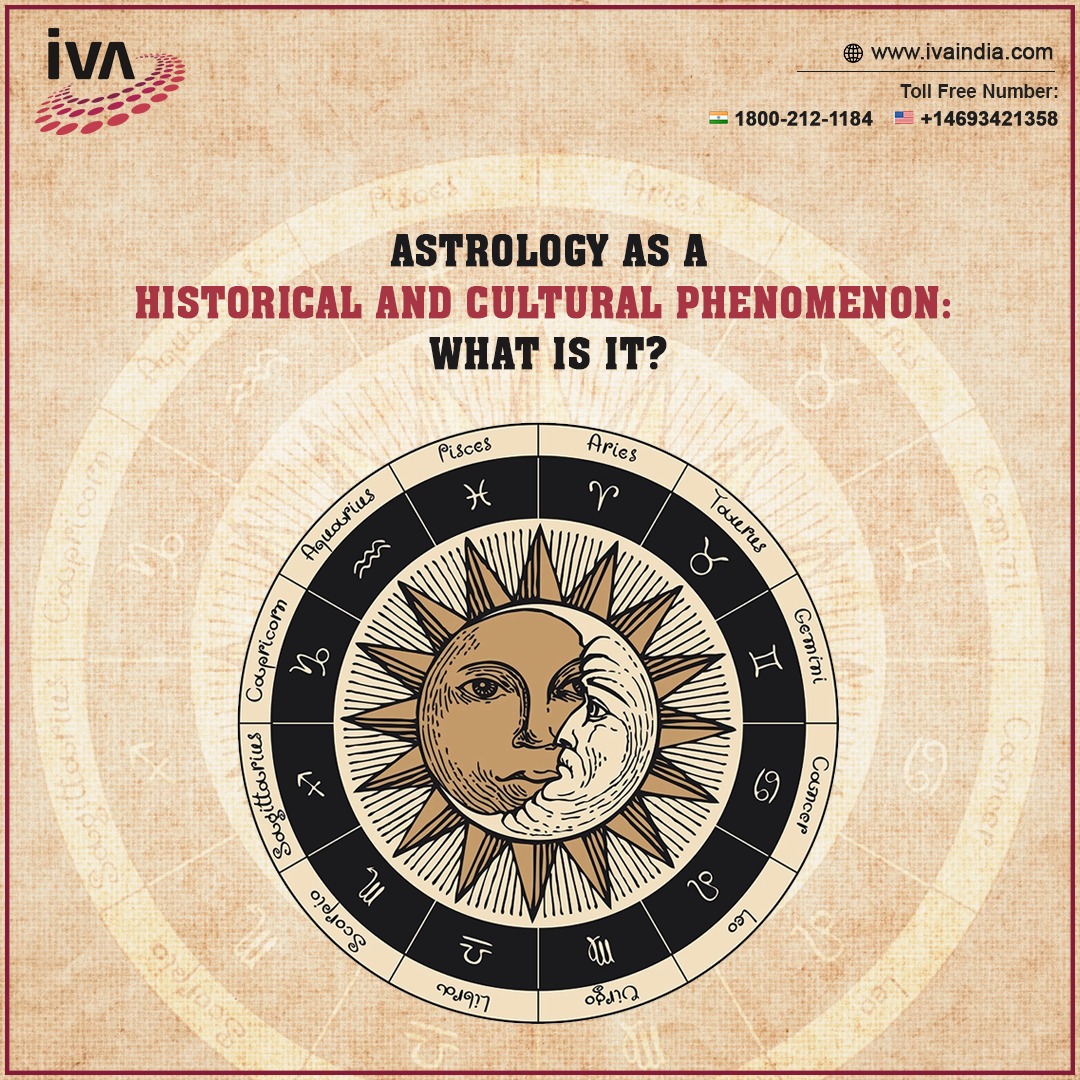 Astrology,vedic_astrology,astrology_classes_online,astrology_course

By Institute of Vedic Astrology

Aug 03 2022

We all know that astrology has been followed by kings and their associates from ancient times. They believed it because of its results before any kind of event and first took the suggestions of the RajPurohit. They were responsible for any spiritual organization or events related to programs. Rajpurohit had all types of knowledge associated with Pooja or Jyotish; they were accountable for kundali making, Grah Shanti, or the condition when some natural disaster came to their kingdom. To avoid any pre-knowable trouble, they arrange a different kind of Pooja like Yagya, Hawan, etc.

The origin of astrology relates to the deities of our Hindu culture. When we talk about our ancient cultural books, we will find many examples which will explain the link of astrology between humans and god. The most relevant example we can see from our epic Ramayana is the most beautiful thing about this epic is it was written before the actual event occurred, and the great writer was Maharishi Valmiki. All the chapters were written with accurate predictions. Secondly, if we talk about Krishna Leela, there were many more vivid examples of forecasts at that time. It was called "Akashwaani" because, before the birth of Lord Krishna, there was a prediction about the death of many devils, and they were all known because of forecast or Akashwani they tried many times to avoid the birth of Lord Krishna. Whatever the prediction about the Krishna Leela occurred later as the projection was. There are distance learning astrology courses in India available.
Astrology And Its Importance
Astrology has held a lot of importance in India since ancient times. It is best at what time there is a possibility of trouble in whose life, what can be the situation to get out of that trouble. To know about astrology, we can go to our ancient texts; our ancients can go to the Vedas and learn about it; we can understand that there is a college and school to know this science, which is providing education about it nowadays. Astrology is also considered an integral part of literature. We have been told about the events of the astrological disciplines that have been said about them. Only after reading them can we understand their calculations, and we can only provide information about astrology and fruits and future, understanding their phenomenon so much. It is not easy. For this, we need to know and understand all about it. You can do face reading courses also.
Mystery or Truth Behind The Astrology
By the results of this ancient occurrence, we can understand the truth behind astrology; usually, the prediction of astrology we can't negate because we all know it depends and predicts based on the calculation of stars and planets, which relates to the birthdate and birthtime of every person if someone talking birth in a specific time there is a particular planet responsible for him. Regarding the position of those planets, we can say the situation of the person for every planet there is a route from which route this planet came from explaining the past, in which way is it traveling it can explain about the present, Which path it will go and which planet come to obstruct the route of following planet it also helps in predicting the future. You can also do a jaimini astrology course.
Contribution of Maharishi Jaimini To Astrology
There has been an outstanding contribution of Maharishi Jaimini; he developed the Jaimini astrology, there are 11,000 sutras, and he said the complete statement of fruit in straightforward words. All these formulas have met the test of practicality. Maharshi Parashara also contributed a lot of effort to developing astrology, but the prashari system is quite different from the jaimini astrology. There are some simple practice rules which Maharshi jaimini has rendered.
The basic rules:
The astrology of Maharshi jaimini is quite different from the thoughts of Maharshi Parashar. In Parashari astrology, Dasha is based on constellations. Nakshatras do not have any importance in Jaimini astrology. In this system, all astrology is based only based on zodiac signs. Jaimini also mentions that more than one condition is found. The variables Dasha, stable Dasha, pada Dasha, navamsha Dasha, etc., are mainly used. Out of these also, the variable dasha is used the most. You will be first introduced to the Chara Dasha in the following lessons. Char Dasha is the main dasha of the Jaimini system.
In this dasha, you will learn about the subjects of Jaimini karaka, fixed factor, aspects of zodiac signs, Dasha karma of zodiac, duration of Dasha karma, jasmine yoga, karakas Lagna, pada or arudh Lagna, upa pada Lagna, etc.
Jaimini Karak in Jaimini Char Dasha:
A total of nine planets are found in Bhachakra, including Rahu/Ketu. In Jaimini astrology, except Rahu/Ketu, all the other seven planets are written in descending order based on their degrees, Kala and Vikala. In this way, we get seven factors.
In Jaimini Astrology, all the planets' degrees, art, vikala, etc., should be calculated thoroughly.
Write a table by writing all the seven planets in descending order of their degrees (in descending order). If the degrees and phases of a planet are equal, then you should decide by looking at the planet's value which planet will come in which order.
The planet with the highest degree should be written at the top of the table. After that, the planet with a lesser degree should be written, and in the same way, all other planets should also be written in sequence.
As we know, there are many ways to see a person's situation in astrology; there are many branches of astrology like palmistry, Numerology, Vastu Shastra, Face reading, etc. Face reading is also very famous your face can define your future or current status each person have different shape of faces another type of nose, chin, eyes, eyebrows, lips, mouth, etc. and each difference says something about the particular person the first thing to know about the shape of face it can be any type of shape let's know about it
If someone has round shaped face cut, it shows that this person's nature is emotional.They are too caring and susceptible.
If someone has an oblong face and, with it, they have a muscular body, we can identify as a very hard-working person.
If triangular, the person is very creative and may have angry nature.
Squire's face shape shows an intelligent personality; they have a quality of analysis and dominant behavior.
Rectangular face type of personality has the quality of good leadership also they are very humble and honest.
Same as the shape of the face, we can predict after seeing the nose if it is lined, then it explains about independent, strong willpower personality.
If the personality has wide eyes, it defines that the person is open-minded, tolerated, and respected by others.
Small eyes personality shows the small and narrow mindset of a person.
Uneven eyes indicate that the person has a different view of other aspects.
The face reading techniques are the part of the Astrology of Samudrik Shastra now days it is not quite challenging to learn these face reading courses we can take the help of books which is written by the great astrologer, if you don't like to reading the better option is internet where we can easily access the knowledge of face reading techniques with the easy access of internet the study became very simple and with the help of internet we can learn anything even many aspirants are relying on online survey because it is time saving and easy access at anywhere the universities are also providing better study material and good education with the certificate which will allow you to enter in the profession of astrology it have the system of regular and distance learning classes means if you have no time to attend the classes regularly you can choose distance learning courses it will provide you all kind of study material books, lectures in video format and notes for self studying that will help you to gain good knowledge about these courses.
Summing Up
The purpose of astrology is to make the life of humans easy and to make them aware of all kinds of bad situations happening in their current situation.
In our Indian culture, astrology has a significant role and an impact on our society. We took the suggestions of pandits and asked them the correct time for any auspicious work like marriage, inauguration events, new home entry, or other things. Here in this article, we tried to sum up all about astrology in detail, along with its history and cultural importance. It is necessary to keep the instruction of astrology in mind or contact an astrologer to move your life in a positive direction.
Search
Recent Post
Monthly Archive