Astrological Combination for Transfer in Services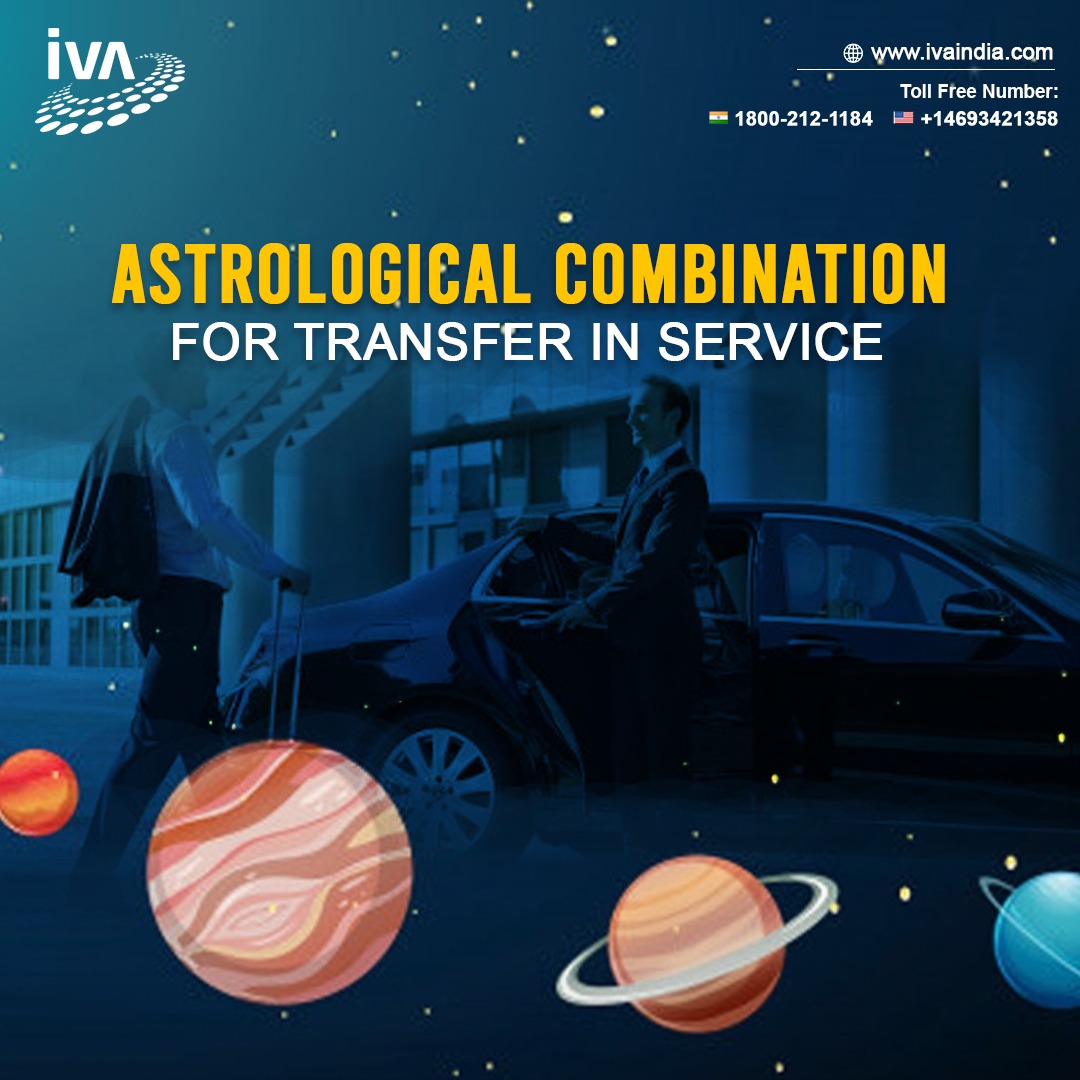 Astrology_courses,astrology,Vedic_Astrology,Astrology_online_Classes

By Institute of Vedic Astrology

May 26 2022

When you get a transfer from the office, which can either be government or private, it affects you in multiple ways. It can affect you mentally, physically, and financially. However, these transfers can be progressive, but any transfer to your services can affect you like it can make you unstable for a while as it affects your daily circle of work.

These transfers you get at work can often be undesirable or unwanted as well. But, as you are all working individuals or people who are reading the article and looking for opportunities to grow already know, transfers can also be two more things apart from the above mentioned. As you all know, transfers can be avoidable, inevitable, and even optional.

According to astrology, which deals with the events happening in the world or in an individual's life relating it to the relative locations of the stars or other celestial objects like planets, a few factors make the transfer happen.
Factors or stars responsible for transfer in service-
Sun – The planet known for its authority and Power
Saturn is the planet that determines obstacles or brings on obstacles.
Mars – This planet indicates that something happened to the individual's life all of a sudden.
Ascendant – This denotes Environment and sodality.
Second house or lord
This is the house that is denoted as the house of wealth, financial growth, and other desired resources.
Third house or lord: Just like the second house, the third house also has a lot of significance as it denoted the house of courage, short journeys, and efforts.
The fourth house or lord represents one's home life and thus, in a way, determines the afflicted residence.
It is the sixth house or lord actually, which denotes your current job life and authority under which you are working presently.
8TH house, on the other hand, can be called the house that represents the obstacles coming or already there. It also denotes the possibility of a break or being fired from services.
Now, we are going to tell you about the 9th house, which actually represents the house of transfer in service and long journeys.
10th house indicates job and career.
The 12th house denotes shifting from one place to another and represents some loss.
Astrological combination
If the lord 10th is found in the 12th house, then the situation indicates the possibility of jobless and frequent changes in jobs. Suppose the stars responsible are afflicted to the 4th house. In that case, an astrologist will make you understand the significance as the transfer or switch, whatever it is, will make you stay away from your family or separation from the family will be there.
Saturn, as you all read and already know that it is the star that causes obstacles, and when the obstacle-producing planet gets afflicted by the sun, it brings a loss of prestige and immediate transfer in an individual's life where some scandal is involved.
Although Saturn is afflicted with other houses of 4th, 7th, or 10th, under such a situation, the representation of such a network indicates that an individual will become more stable and can do the job in one place for more years together.
Also, astrology believes that if there is any relation or coordination between these pairs of houses, that is, the 9th and 12th or the 10th and 9th, then there is an immense possibility that the individual might be achieving success overseas or in different foreign countries.
Also, if there is a relationship that is formed between the 10th and 9th house, then the success of the individual or they will be getting in any foreign country is because of his own deeds.
It is also believed that when the ascendant and tenth house forms any relation with the 9th and the 3rd house, then the transfer can be expected soon.
If you want to know if your transfer, which is about to happen or expected, would be taking place along with the promotion, then it is possible only when the significators of other houses influence the 7th house like3 the 3rd, 12th, and 10th.
Suppose the 10th house is influenced by the significators of houses like the 3rd, 10th, and 12th. In that case, there won't be any changes to your residence as many professionals hesitate to keep changing their residence for work.
Astrology can tell you a lot about your doubts regarding your job transfers; it is also not easy for you and for us to tell you about other important technical details in just one article. Therefore, for those who we feel are really interested in reading our articles and have a keen interest in knowing about astrology in general, we keep on writing about these matters so that people can themselves arrange resources for them that can guide them well into the matters into which they feel they need help or need astrological advice.
Nowadays, students and working professionals don't get time to visit an astrologist, and with each day, their interest in relating events with respect to the planet's position is increasing. Therefore they are applying for Best online Vedic astrology courses, Best astrology online courses, and Astrology courses in India Correspondence.
Along with searching for courses, professionals are now becoming more interested in astrology certificate courses in India, which can help them help themselves and the others in need with the certificate of expertise that is going to prove their authenticity in the field.
Suppose you search out things like the Best astrology online courses on the web. In that case, you will receive plenty of options, but among those options, please keep in mind that you must choose wisely because these courses are very sacred and thus requires you to be utmost serious and stay focused on them.
In the real world, solvingAstrology has people's problems related to marriages, relationships, finance, health, and Jobs. It is no wonder science or rocket science requires you to know the basics about these planets and how their relative positions can affect the events happening in the world and an individual's life.
Search
Recent Post
Monthly Archive