Astro House Chart And Its Importance In Astrology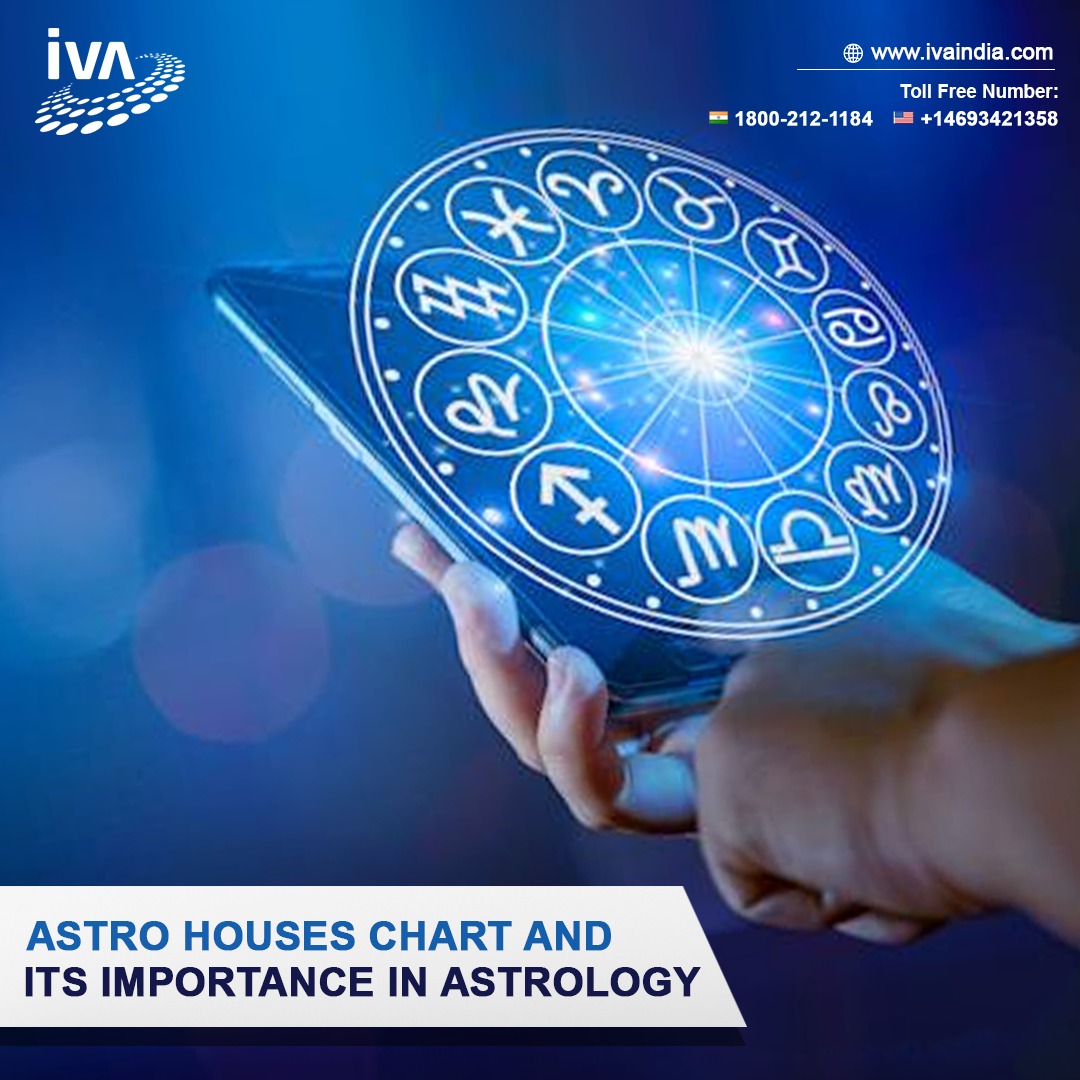 astrology_classes_online,Astrology_major_college,online_astrology_course

By Institute of Vedic Astrology

Jun 23 2022

Astro chart directly refers to our birth chart; we also call it as kundAstroli. It shows the position of the planets and stars at the time we are born. Each of these planets has its different effects on human beings. Studying their effects gives one a rough idea of an individual's life. We cannot say these are exact predictions but somehow are related to our life. These stars represent some conditions that affect individuals' life. In olden times these charts were prepared by astrologers (Jyotish), and they used to find out how these stars and planets would affect individual progress in life. And if any of them create a negative impact, how can it be reduced.

Astrology divides all the factors of nature under the twelve zodiac signs. These zodiac signs help us to study the horoscope of all human beings, which we call Rashi. All these zodiac signs depend on the moon's motion during the position of different planets. These zodiac signs and their nature impact the person falling under their jobs, and sometimes there might be exceptions also. However, these birth charts can mostly predict the nature and characteristics of the person. All the twelve zodiac signs have some unique features as per their nature. All the planets fall under the five major elements of the universe. So many astrology courses are also available, and anyone can pursue an online astrology course, or you can also do an astrology course online for free.

Every planet and star has its path, and they exist in a particular house, and that houses represent your personality, your behavior, and cooperation with society. With the help of these houses, it is easy to understand and find the past, present, and future of a person. You just need to calculate it by your birth date, time, and location. These houses are divided into 12 equal parts, and each part represents our Sun's moment; let us know about each part of this house and what it represents about a person. There are so many astrology courses in India that are also available.
Importance of Astro Chart
The first house tells about a person's physical appearance and personality, and the second relates to your job, earnings and family, and marital status. The third house represents the style of your communication, travel, and relationship with society's friends. The fourth house shows the status of the maternal relationship and your living infrastructure. The fifth house is related to your creative interest in children, and the 6 house the related to your help daily routine life in the 7th house explanation about partnership 8th house is associated with the transformation. Travel philosophy and education are all defined in the 9th house 10th related with your public figure amongst the people 11th out define about your friendship and personal networking—emotional attachment-related with 12th house. Astrology courses in college should also be available for students, and distance learning astrology courses. These all were the common relations and differences between each house and number.
With the excellent knowledge of astrology need to make a little extra effort like you can join or learn from online classes. With the help of these charts, it is easy to find the right path for your good and comfortable future life.
These things are very close to human life nobody can ignore this thing. Without spiritual power, no religion exists. For all religions, different rules have been created, but everyone believes in future predictions; whatever the situation presents, everyone wants to make it correct that's why people want to know about their future. It does not matter what his Karma was in the past life, but we want a good life and a better future.
For distance learning, you can add many books to your library and acquire great knowledge people wants just good prediction; it does not matter whether you have a pandit's certificate or not. We can understand the craze for future prediction nowadays when pandits of astrology demonstrate their skills of future prediction on TV shows, online platforms, and in public gatherings. General predictions related to Rashi's are the daily highlights of newspapers, so we can understand how people are crazy about future predictions. Sometimes people's current life depends on their past life; usually, we call it "rebirth" if someone did ferocious things and sins in his last life, he has to suffer in his current life. That's why when Kundli generates, they have specific planets and stars which carry their last life's due work, Karma, results, sins, and the welfare of people. People's future is related to their past Karma; if it is bad, you will have to suffer; if it is good, you will enjoy your future or current life. Jaimini's astrology course is also very beneficial for us.
These houses are defined in Vedic astrology. Vedic astrology is ancient and derived from the Vedas.
Without these houses, it would be impossible to calculate a particular person's position of stars and planets.
As we know how Jyotish vidya helps us in our daily routine life, it shows the correct path to make our life journey trip easy. If someone is facing a problem, they used to go to the Jyotish and ask them for the proper help to resolve their problems if there is any Kundali dosh.
The zodiac sign is also divided under these elements. They are air, fire, earth, and water. As per these elements, Aries, Leo, and Sagittarius fall under the fire element. Cancer, Scorpio, and Pisces fall underwater element. Gemini, Libra, and Aquarius are under the air element. Taurus, Virgo, and Capricorn are under the earth elements. All these elements have a particular power that gives them a special quality. These elements work together to balance each other, distributing their strength and weakness evenly for all the zodiac signs, creating a beautiful cosmic wall of interconnection.
The Astro chart helps us to study the zodiac by the positions of these different planets. A birth chart of a child is prepared when a child is born. If we study the birth chart, a major incident in life can be marked by the position of stars and constellations. For example, before marriage, the birth chart of both people who are going to get married is studied by an astrologer. If everything is good and the characteristics of their planets and signs match, they will have a good relationship and a happy married life as per him. There may also be certain issues, but the astrologer's measure can resolve them. All the planet and have a negative and positive effect. Suppose there are any negative effects of certain stars; the measure given by the astrologer can reduce them. As per astrologer, every zodiac sign has a certain precious stone related to it; these stones also provide strength as per their energy. The negative of a planet cannot be removed but reduced to a certain extent.
The Astro chart or birth chart is not only referred for marriage but also for career, relationship, family well-being, work, and health-related fields. Sometimes a person faces long health issues; this is due to the effects of those planets which are responsible for health. If properly studied and precautions are taken, their effects can be reduced, and a person can overcome them easily. Sometimes you may consider it as magic only, but these are just cosmic energy interrelated to each. Different parts of science can be related to different fields of Astrology.
As per the Astro chart, there are different houses for different planets in the chart of every human being. The position of these planets in different houses with planets creates different conditions in the life of a person and affects his overall life and progress. If the position is with friendly planets, it creates fruitful results and brings success, and if, with an enemy planet, it goes vice versa. We can take an example of the planet Saturn also called (Shani) when this planet enters a particular zodiac sign for seven and half years, called sadasathi. Sometimes for two and a half years, also known as Dhayia of Shani. Saturn is also called Lord of Justice and is a great teacher. He rewards the righteous acts and punishes those who follow evil paths and betrayal. He is also known as the Lord of Karma, who gives us a revert of our sins. He is the most unfavorable planet that brings restrictions and misfortune.
Conclusion
Similarly, all the planets have different effects and different characteristics. We need to provide the strength and worship them to have their blessings. For that one, all the astrology methods should gain this valuable knowledge with help of online astrology course and use them for the benefit of our life and future. It can always be helpful for the progress of our self, and also we'll be of another person.
Search
Recent Post
Monthly Archive