All You Need To Know About Sapphire Gemstone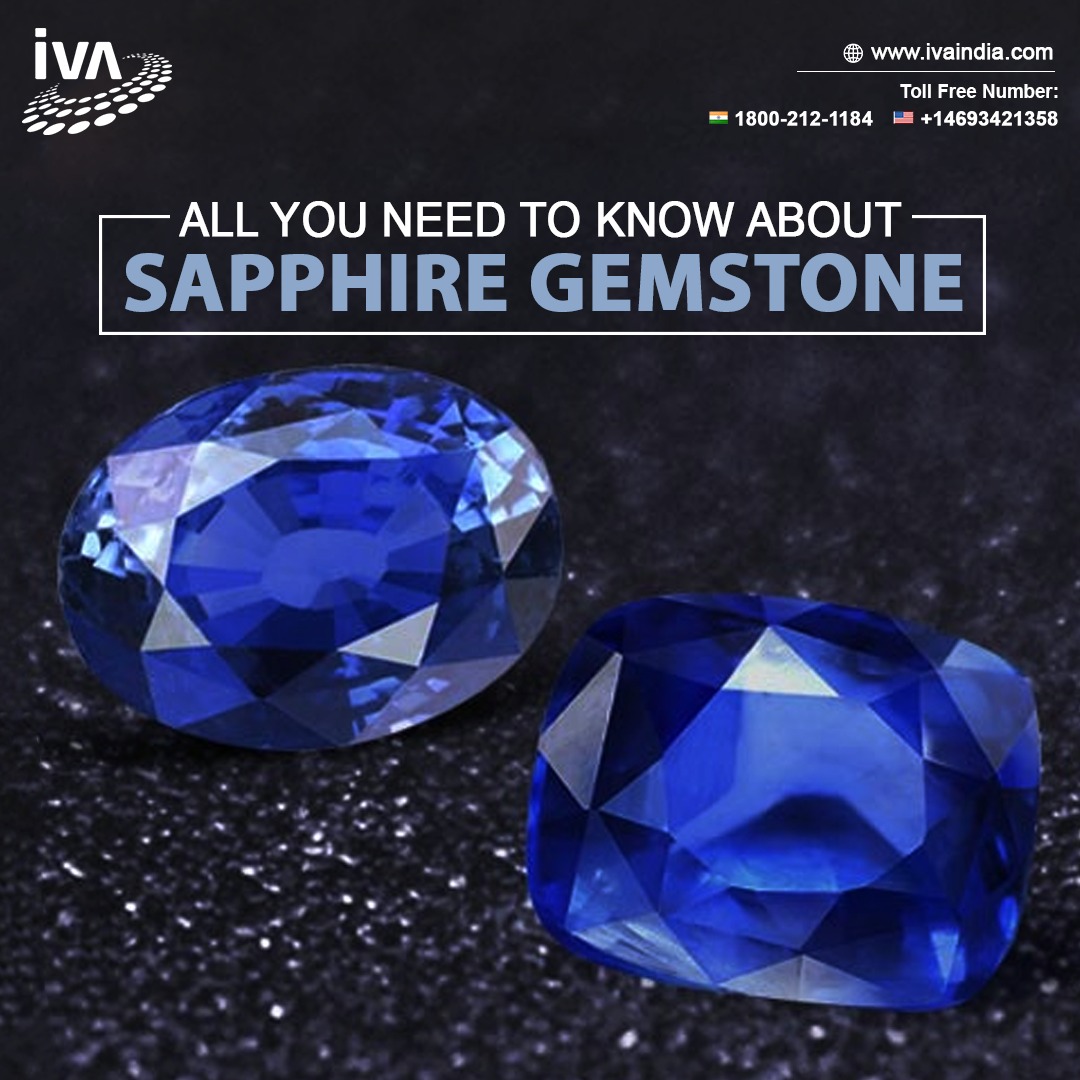 KP_astrology_course,KP_astrology_courses_online,learn_KP_astrology,online_KP_astrology_course

By Institute Of Vedic Astrology

Jul 25 2023

Gemstones have mesmerized humanity for ages, captivating us with their breathtaking beauty and mystical attributes. Amidst the vast array of gemstones, sapphire shines as an enduring and captivating gem that has transcended cultures and time. In this blog, we embark on a journey to explore the captivating realm of sapphire gemstones, unraveling their intriguing history, unique characteristics, and profound symbolism. Whether you are an ardent gemstone enthusiast or someone seeking to expand your knowledge, join us as we delve into the allure of sapphires.

While the allure of gemstones and their significance have intrigued humanity, another realm that has captivated human curiosity is the ancient art of astrology. If you find yourself enchanted by both gemstones and astrology, you may be interested in exploring a KP astrology course. Institutes like the Institute of Vedic Astrology offer comprehensive KP astrology courses, providing a deep understanding of this precise and systematic approach to astrology.

For those seeking flexibility and convenience, KP astrology courses online are available. These courses, from chart interpretation to predictive techniques, offer in-depth knowledge and practical applications. The Institute of Vedic Astrology also provides expert guidance and interactive learning opportunities, allowing students to engage with instructors and fellow learners.

Embarking on an online KP astrology course through the Institute of Vedic Astrology can be an enriching journey. It offers an opportunity to unravel the mysteries of the celestial forces and deepen your understanding of gemstones within an astrological framework. By exploring KP astrology, you will gain insights into the intricate beauty and significance of gemstones like sapphires, further enhancing your appreciation for their timeless allure.
A Brief History of Sapphires:
Throughout history, sapphires have maintained a prominent position, enthralling civilizations across the ages. Ancient societies, including the Greeks and Romans, held sapphires in high regard, attributing them with protective powers and divine connections. The allure of sapphires extended beyond belief systems, capturing the fascination of royalty and nobility. Notable figures like Queen Elizabeth II cherished and showcased breathtaking sapphire jewelry, further enhancing the gem's prestige. Today, sapphires continue to enchant gemstone enthusiasts worldwide, evoking a sense of timeless beauty, elegance, and regality. Their rich historical legacy, combined with their captivating allure, ensures that sapphires remain cherished and sought-after gemstones, connecting us to the ancient world while captivating us in the present.
The Science Behind Sapphires:
Sapphires, members of the corundum mineral family, are composed primarily of aluminum oxide. Their enchanting blue color is attributed to the presence of trace elements, specifically iron and titanium. However, it's important to note that sapphires come in a diverse range of hues beyond blue. They can exhibit stunning shades of yellow, pink, purple, green, and even colorless variations. The variation in color is a result of differing trace elements present within the gemstone. The remarkable spectrum of colors in sapphires adds to their allure and provides a wide range of options for those seeking a unique and personalized gemstone. Whether one is drawn to the classic blue sapphires or desires a vibrant alternative, the science behind sapphires showcases their extraordinary diversity and beauty.
The 4Cs of Sapphire Evaluation:
When it comes to evaluating sapphires, the 4Cs—color, clarity, cut, and carat weight—play a crucial role, much like they do in diamond assessment. Among these factors, color holds paramount importance, particularly for sapphires. The intensity and vibrancy of blues, in particular, command the highest value, but sapphires can be found in a spectrum of captivating hues, each with its own unique appeal.
Clarity refers to the presence or absence of inclusions or internal flaws within the gemstone. A higher level of clarity is generally preferred, as it ensures optimal transparency and brilliance. However, it is essential to strike a balance, as natural inclusions are often part of a sapphire's character.
The cut of sapphire is also a critical consideration, as it influences its overall beauty and brilliance. A well-executed cut allows light to reflect and refract optimally, enhancing the stone's sparkle and allure.
Carat weight, on the other hand, pertains to the size of the sapphire. Larger sapphires are typically more rare and valuable, but it is crucial to consider the other factors alongside carat weight for a comprehensive evaluation.
By assessing the 4Cs—color, clarity, cut, and carat weight—gemologists and buyers can gauge the quality and value of a sapphire, ensuring that each stone's unique characteristics are taken into account. This comprehensive evaluation process guarantees that sapphire enthusiasts can make informed choices and cherish these exquisite gemstones for their inherent beauty and individual allure.
Famous Sapphires:
Over the course of history, numerous sapphires have achieved worldwide renown and captured the imagination of many. One such legendary sapphire is the Star of India, an awe-inspiring gem weighing 563 carats. Renowned for its mesmerizing star-like optical phenomenon known as asterism, this sapphire continues to captivate all who gaze upon it.
Another famous sapphire of great historical and regal importance is the Stuart Sapphire. Set within the British Imperial State Crown, this precious gem holds immense significance. With a rich and storied past, the Stuart Sapphire has witnessed pivotal moments in history and adorned the heads of countless monarchs, symbolizing power and sovereignty.
These famous sapphires, among others, serve as enduring testaments to the allure and fascination that these gems have evoked throughout time. They inspire awe and admiration, highlighting the unique and enchanting qualities that sapphires possess. From their captivating optical phenomena to their historical and royal connections, these renowned sapphires are cherished as treasures of immense cultural and gemological significance.
Sapphire Mining and Sources:
Sapphires are discovered in diverse regions across the globe, showcasing the geological marvels of our planet. Sri Lanka, Myanmar (Burma), Madagascar, Australia, and the United States are among the significant sources of these captivating gemstones. Each location offers sapphires with distinct characteristics and hues, adding to the allure and desirability of these treasures.
Sri Lanka, renowned as the "Island of Gems," produces a wide range of sapphires, including vibrant blues and stunning Padparadscha sapphires with their unique pink-orange tones. Myanmar (Burma) is recognized for its rich deposits of deep blue sapphires, often exhibiting exceptional clarity. Madagascar unveils sapphires in a spectrum of colors, from vivid blues to fancy yellows and striking pinks. Australia, particularly Queensland and New South Wales, is renowned for its prized blue sapphires, known for their depth of color and superb quality. The United States, notably Montana, yields sapphires in shades of rich blues and greens.
These diverse sources contribute to the global supply of sapphires, each offering a unique fingerprint of color and character. Gemstone enthusiasts, collectors, and connoisseurs appreciate the distinctiveness of sapphires from different origins, adding to the fascination and allure of these extraordinary gemstones.
Caring for Your Sapphire Jewelry:
Taking proper care of your sapphire jewelry is crucial to maintaining its longevity and exquisite appearance. While sapphires are known for their durability, they can still benefit from regular and gentle cleaning. To clean your sapphire jewelry, use a soft, lint-free cloth to wipe away any dirt or smudges. Avoid using harsh chemicals or abrasive cleaners, as they can damage the gemstone or its setting.
Additionally, it's essential to protect your sapphire jewelry from exposure to extreme temperatures. Sudden temperature changes can cause the gemstone to crack or fracture. Avoid wearing your sapphire jewelry while engaging in activities that may expose it to rough impacts or high heat.
Proper storage is also vital to preserving the beauty of your sapphire jewelry. Store it in a soft pouch or a separate compartment of a jewelry box to prevent scratching or tangling with other pieces.
By following these care guidelines, you can ensure that your sapphire jewelry retains its stunning brilliance and remains a cherished piece for years to come.
Sapphires possess a timeless allure that transcends generations and cultures. Their enchanting blue hues, coupled with their rich historical significance and symbolic associations, continue to captivate both gemstone enthusiasts and collectors worldwide. Sapphires are a captivating choice for jewelry, enchanting those who appreciate precious gems with their beauty, intriguing history, and mystical qualities.
It's important to recognize that the appeal of sapphires extends far beyond their physical appearance. It lies in the stories they carry, the emotions they evoke, and the enduring elegance they lend to any piece of jewelry they grace. Sapphires are more than mere gemstones; they are a gateway to a world of fascination, allowing us to connect with history, culture, and the extraordinary power of nature's creations. Embrace the allure of sapphires and let them become an integral part of your own narrative, symbolizing beauty, wisdom, and a touch of enchantment.
While sapphires are cherished for their beauty, they also hold a significant place in astrology, particularly in the realm of KP astrology. If you are eager to learn KP astrology or wish to explore it further, the online sphere offers a wealth of resources and courses dedicated to this fascinating subject. By delving into the intricacies of KP astrology online, you can unravel the celestial mysteries associated with sapphires and their influence on various aspects of life. Embrace the allure of sapphires not only as captivating gemstones but also as powerful tools that can deepen your understanding of astrology and enhance your spiritual journey.
Search
Recent Post
Monthly Archive