Vastu - New Career Options in The Western Countries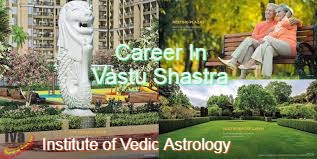 Vastu

By Institute Of Vedic Astrology

Sep 12 2016

Vastu Shastra is a very ancient and traditional method of architecture that is determined by astrological aspects. It is aimed to bring peace, harmony, prosperity and happiness in a home. Astrology and Vastu are not just popular in India but are also steadily rising its importance in occidental countries like the USA, UK, Canada, Europe, etc. More and more people in western countries today, are getting inclined towards designing their homes according to the science of Vastu that consists of the five essential elements - Earth, Fire, Sky, Air and Water.

Let's check out the influence of Astrology, Vastu and Yoga on the occidental society and how one can possibly make a career out of it!

Yoga is now a global phenomenon!

Statistics demonstrate how an ever-increasing number of people in Europe and the United States are practicing yoga and making it a part of their lifestyles. People often brush it off as a fad, but the countless psychological and physical benefits of yoga cannot be doubted. As yoga research expands every day, we see more and more people embracing this Indian form of body postures or asanas to lead healthier and more peaceful lives. Yoga has been known to heal people and cure a variety of diseases including but not limited to hypertension, arthritis, cancer, diabetes, anxiety, cardiovascular diseases, etc.

Make a career out of harmonizing people's lives!

As we discussed earlier, Vastu Shastra deals with spreading peace and tranquility within architectural structures, obeying the laws of astronomy. These days, people want their homes to be just perfect! Yet, only some give importance to natural lighting and ventilation. Vastu takes a holistic approach towards a home architecture that takes all the scientific principles into account like ground preparation, measurement, spatial geometry, space arrangement, etc. This is all aimed at harmonizing your home or workplace and incorporating scientific, astronomical methods to bring a balance in the space that surrounds you and your life at large.

With the increasing industrialization and urbanization, Vastu Shastra opens some of the most lucrative career options for people not just in India but also the western countries. With the right amount of knowledge and learning, one can work towards making people's lives better. Everyone looks for prosperity and peace in their lives and this is precisely why there is a huge demand for reliable experts in the art of Vastu Shastra. Even a beginner can earn an attractive remuneration in this career.

What's in it for you?

Well, looking at the highlights:
An attractive remuneration
A gratifying job
Social connectivity
Recognition and fame
Conclusion
It cannot be disputed that Vastu opens a lot of doors for people looking to find their true passions or career possibilities. Given the immense scope and perks of being a Vastu expert and its growing recognition in the western countries, Vastu is now a global phenomenon that can help you pave a new professional path and find a career in making people happy. How gratifying is that!
Make a great career

By learning Vastu you can start your own part-time career in Vastu by suggesting people Vastu tips and ideas, construction ideas, interior, etc. For that, you should Learn Vedic Vastu from the Institute of Vedic Astrology with their online distance learning course. Which will help you to become an expert in Vastu.
Search
Recent Post
Monthly Archive