The success of Movie Kesari – An Astrological Analysis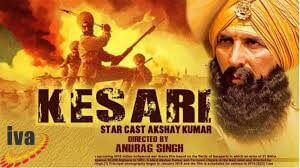 Astrology

By Institute Of Vedic Astrology

Mar 13 2019

Across the world, a large number of people have faith in the power of astrology and its prediction. Astrology plays a vital role in everyone's day to day life. In a similar way, astrology has a greater impact on the successful prediction of movies.

Generally, people assume the success of a movie based on the strength of the story, goodness of music, picturization of characters and so on. But the scenes behind the movie are totally different from the external appearance.

As film producers invest a huge amount of money for making films, they tend to predict the result before the release. You can predict the success of a movie when you Learn Vedic Astrology.

Success Prediction of Movie Kesari

Kesari is an upcoming Bollywood war-drama film which is directed based on one of the important battles in the History of India named 'The Battle of Saragarhi'. The famous Bollywood actor Akshay Kumar and actress Parineeti Chopra appear in the lead roles.

Kesari film is produced by Karan Johar, Aruna Bhatia, Hiroo Yash Johar, Sunir Khetarpal, Apoorva Mehta under the Dharma Production and it is distributed by Zee Studios Private Limited.

As per the astrology lessons, you can predict the success of a movie by analyzing the zodiac signs of the major contributors to the film. The director, actor, and actress are pivotal in a film and so so their zodiac signs are taken into account for prediction. When you learn more about the horoscope, you come to know that luck and Raja yogas are a must to attain success.

In order to know about astrology and its prediction methods, you can take the Astrology Courses in Distance Education and excel in it.

Akshay Kumar

The planet moon represents the actor and his horoscope to predict success. The zodiac sign of Akshay Kumar is Virgo and correspondingly you can analyze his career level. Jupiter is positioned in the 3rd house of communication and thus indicates that he can achieve success in all endeavors. Also, it explains that the work ethics and hard work of Virgo personalities can get the desired results.

The Institute of Vedic Astrology offers high-quality training in Astrology. You can master various astrology principles and make your own predictions.
Search
Recent Post
Monthly Archive