THE FESTIVAL OF KITES AND HAPPINESS- MAKAR SANKRANTI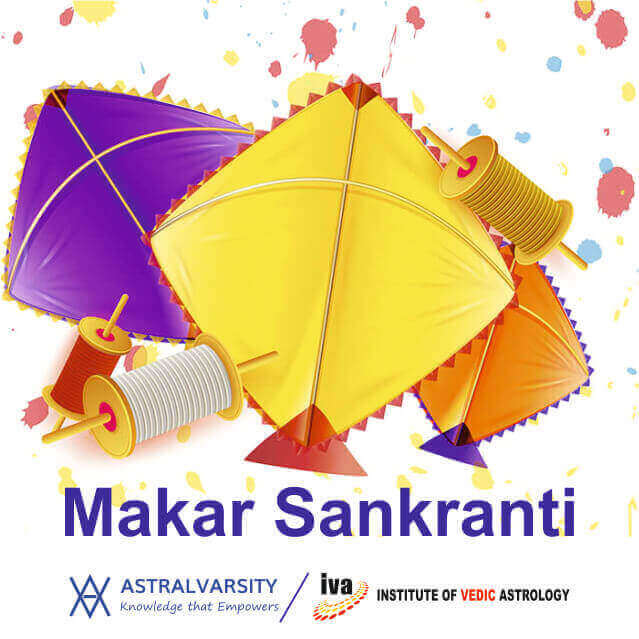 Astrology

By Institute of Vedic Astrology

Jan 14 2020

Kites and happy faces are the symbols of Makar Sankranti. If you are an Indian you have surely flown a kite in the sky but the main difference here is that people celebrate this activity in the face of Makar Sankranti in many regions of India, according to their customs and traditions.
The method and custom of celebrating Makar Sankranti are different in every culture and region of India. Makar Sankranti is celebrated mostly in the regions of Gujarat, Western Madhya Pradesh, Rajasthan, Haryana, Delhi, Karnataka, Tamil Nadu, and more states.

Why it is called Makar Sankranti?
Makar is the zodiac sign Capricorn in Hindi. At this time the sun transits to the new zodiac that is Capricorn (Makar) sign that is why it is named Makar Sankranti. Makar Sankranti is the harvest festival.

Makar Sankranti Festival-
Makar Sankranti is one of the most opportune days of the Hindu community and it is distinguished in almost all parts of India in countless cultural forms with immense fervor, joviality, and spirituality. This is the beginning of the month of Magh.
Makar Sankranti is the date from when the Northward moment of the Sun begins.
Before Makar Sankranti, the sun is in the Southern Hemisphere. Because of this reason in India, in winters the days are smaller and the nights are longer
As per the mythological concept, it is said that Goddess Durga killed Devil Kinkarasur and won a battel from him and saved many people, that is why on that day Sankranti is celebrated.
In many sections of the India Makar Sankranti is celebrated by making teel (sesame)
Makar Sankranti is also known as the festival of bath and charity, in this time period people take baths in sacred rivers like Ganga and donates food, clothes and many things to poor people. People mostly donate sesame, jaggery, khichdi, fruits, etc to needy people through they can get benefits in their life if they have any fault (Dosh) in their zodiac. The Sun God is pleased with the donations made on this day. Especially eating khichdi with jaggery and ghee is important. On this day, waking and bathing of sesame is done early in the morning.

People who have zodiac Capricorn (Makar) should donate things and should do a holy bath in the sacred river of Ganga to have auspicious effects in their life.


Commonly on this day, married women gift things to other married women near them. People use to eat things made from sesame and jaggery and children use to fly kites with their friends and family.

For more information and updates on such topics do keep reading our blogs on the Institute of Vedic Astrology and Astralvarsity. Join our Distance Learning courses and Video Courses on Astrology and allied subjects and become an expert in the field with our premium course material.
Search
Recent Post
Monthly Archive