Marriage Prediction by Indian Astrology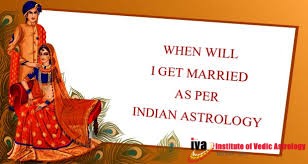 Astrology

By Institute Of Vedic Astrology

Jan 27 2017

Astrology is an amazing science that can predict many important things and happenings of your life if someone has the right knowledge regarding astrology. If you know the appropriate time of your birth and the place, then you can able to know the huge incidents of your life and get prepared in advance.

Marriage prediction is also one of the major parts of astrology, many people get curious and eager to know, that when they got married. Well, astrology can help you out. The astrology can also indicate to you whether; you will do love marriage or arrange marriage.

Although, you have heard the famous saying that the matches are made in heaven, so how come astrology can predict marriage? Well, the horoscope of a person decides his fate and destiny, astrology can't predict each incident or accident but from far it can indicate you in many ways.

The 7th House for Marriage and Relationships:

Whenever a child is born, there are many planets in space which are in changing mode, they always move on and never stop. So, according to astrology, a child's birthing time and the place where he had born, create special phenomena of the planet's direction and situation, which is responsible for destiny, physical status and mental status.

Each horoscope contains 12 houses and each house has own leader or Lord according to astrology. The planets keep changing their places but the Rashi lord remains only one. Your 7th house of the horoscope tells about your marriage and relationship status.

The 7th house is a major aspect of horoscope. It will decide about your love marriage or arrange marriage, or any delay in marriage or you will remain unmarried. Whether a person has a happy marriage life or he will go through a divorce, all the things can be predicted.

The 7th house and the position of planets:

So if you are still unmarried and waiting for your partner and marriage then you must take the help of astrology and be sure that choose the right person who has fine knowledge about marriage prediction and about the horoscope and sometimes you can also change your fate and destiny if you know it before.

Venus: the ruler of love and relationship:

The strong Venus is said to be the symbol of love and an attractive personality. If you have Venus mount in your hands or fine Venus condition in your horoscope then you will surely have the happiest marriage life and there are many chances of love marriage with high Venus mount.

Jupiter decides the success of marriage:

Your first finger of your hand is said to be the Jupiter finger, if the below area of the finger looks high it is the sign of fine Jupiter condition and it indicates the stable and happy married life, if there is a cross showing on the mount then you will get the perfect partner and satisfied married life.

Saturn in 7th house for marriage:

Saturn is said to be the karmic planet which gives the results according to your karma. If you have Saturn in your 7th house then it can be a delay in your marriage as well.

Get more information about astrology and mounts lines by Learning Astrology and Palmistry from the Institute of Vedic Astrology with their Online Distance Learning Courses.
Search
Recent Post
Monthly Archive