If You Suffering From Bad Dreams, Then Just Follow These Measures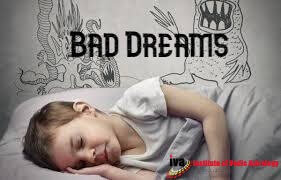 Astrology

By Institute Of Vedic Astrology

Mar 13 2018

Generally, dreams are connected with our inner thoughts, the more you think about something that will happen in your dreams. But some astrologers' view these dreams as various perspectives like good, bad, lucky, unlucky etc

Nowadays, most of the people are worried about bad dreams, don't worry astrologer who Learn Astrology that can resolve your problems. Let's look at the measures for bad dreams.

Timing and Dreams

According to the dream interpretation study, the dream comes between 12 am to 2 am that gives results within a year, 2 am to 4 am that happens within 6 months and 4 am to 6 am gives results within 3 months. If you had a dream about something every morning that gives results very quickly.

Follow these measures to avoid bad dreams

You should follow these measures to avoid bad dreams,

Keep a knife under your head position. People having recurrent bad dreams and have sleep disturbance should keep a knife under the pillow. In case, if you don't have a knife, you may prefer scissors, thorn, nail cutter, etc.

Keep a small yellow rice packet under the pillow or bed. You may add the turmeric powder to the rice; it will give a yellow color.

While before going to bed, you should keep small cardamom pods that are covered by cloth under the pillow. It brings peaceful sleep. Here, everyone Learns Indian Astrology for these premises. You can also learn astrology from Institute of Vedic Astrology formally known as IVA Indore. If you want to know further about this wonderful institute you can read the reviews on Google by searching Institute of Vedic Astrology Reviews.

At night, keep water in a copper vessel and place it next to your bedside, then in the morning pour the water to any plants. Don't buy any foods from a stranger and don't give it to your family or loved one, because it may try to harm through the item.

You may wear any lucky Gemstone that should be a lucky aspect of your life as well as acts as a protection shield. Keep an iron object under your pillow or bed; it helps to stay away from nightmares.

As well as, you can take a lemon, rotate it from the head of the affected person 7 times anti-clockwise and throw the lemon.

Keep river and sea salt water mixed in a bowl that placed near the north-east corner of your home. Change the water weekly and it will help you to stay away from negative thoughts. You may Learn Vastu for placing the water bowl.

Things to be kept in mind while before sleeping
Avoid dark color bed sheets as well as avoid wild animal printed bed sheet.

Footwear cause bad dreams and nightmare, so you don't place those things under your bed at all.

Before sleeping you should clean your bed properly and wash your feet before sleeping.
If women have bad dreams, they should always tie up their hair before sleeping. Sometime, it may also invite the nightmares. You may learn Jyotish Shastra online for avoiding the bad dreams.
Always keep your mind with positive thoughts that will reduce the bad dreams. You can Learn Astrology for resolving bad dream and nightmare problems.
Search
Recent Post
Monthly Archive