How Does Numerology Help in Decoding Behavioural Aspects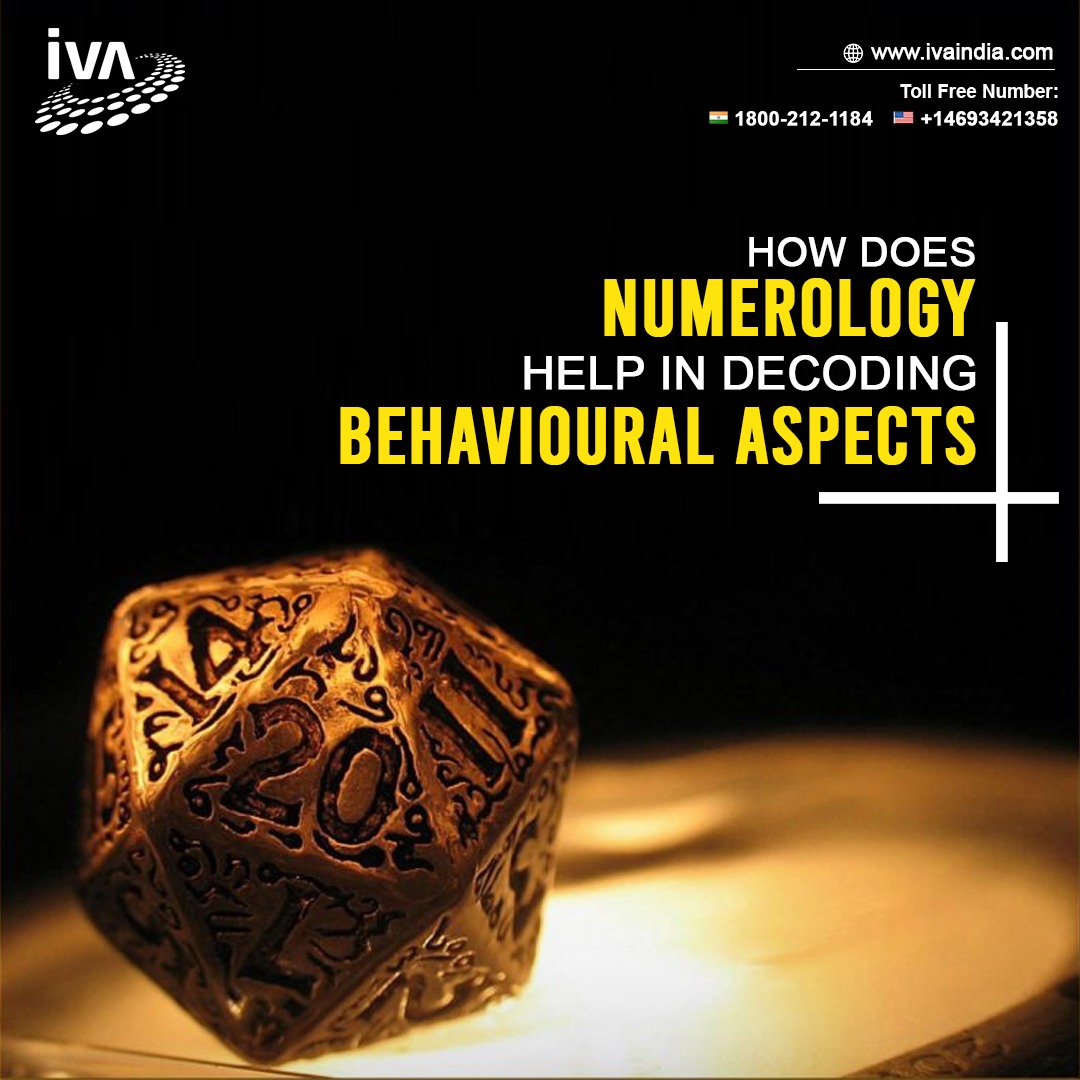 numerologyclasses,numerology,numerology_classes_online,numerologycourseonline

By Institute of Vedic Astrology

Apr 25 2022

Do you know about number powers, or have you ever heard about numerology? Do You see the exact number in repeating ways wherever you go and stay? Does the particular number influence you, or do you feel driven towards it? Since you are here to learn how to decode behavioral aspects with numerology, you might be interested in learning numerology online.

Here we will discuss what numerology refers to and how it helps decode behavioral aspects, and some interesting facts.
What is Numerology
Numerology studies the relationship between numbers and their dynamic impact on our daily lives. The number we interact with oftently are symbols that emit powerful vibrations or energy that impact us globally. Each number's radiation is distinct, and they uniquely affect us.
Numerology can help you determine the direction and purpose of your life. It is also beneficial to know and learn which type of energy affects your life shortly. You can learn numerology reading to do it by yourself without any help. A lot of people also make use of Numerology to help to name a child or business. The number of the alphabet in a name affects the overall character, and that's why parents make a lot of effort to choose names that will bring the desired outcomes.
There are numbers on your birthday and your address, phone number, and a paycheque. "All within you and even within you!" The most obvious way they impact your energy flow comes from your Numerology chart. The numbers you see in Your chart are similar to Your Life Path and other core numbers. They impact your life personally since they originate from your birth date and full name. Many online platforms offer to learn numerology for free, and you can find different numerology courses in India in which you can enroll.
How to Calculate Birth and Life Chart Numerology?
Personality number: The number that you choose to use is calculated by using consonants of your name. It's also known as the inner-dream or dream number. The number reflects your personality and gives you an insight into how others perceive you. Understanding how other people perceive your personality will help you get rid of false perceptions and let your true self shine through.
Destiny number: The number that you choose is calculated by using your surname and first name. It's also known as expression, name, or Namank number. It is a brief overview of the purpose you have in life. It outlines your personality, reveals your goals, provides you with an idea of how to reach them, and also reveals the obstacles that may be in your path.
Life path number: This is the most crucial number in your numerology chart. It is determined based on the date of your birth. It will reveal what your weaknesses and strengths are, your opportunities, and the lessons you're likely to encounter during your lifetime. This will help you understand the way ahead more clearly and help you identify opportunities.
Soul number: This number is calculated by using numbers that correspond to the vowels of your first name and your surname. It's also referred to as a soul urge number (also known as the heart number). It offers a glimpse into your own strengths, weaknesses, preferences, and other resources. It essentially reveals what you're like and exposes your inner self, which you might have a secret from the world.
Decoding the Significance of Each Number
Number 9: Anyone born between 9 and 18, and 27, falls under the base number 9 and is controlled by Mercury. Mercury. They are highly competitive and also are leaders. They put all their energy into completing a task. People in Base 9 do not care about their place in society. They are more focused on achieving their task. They are given assignments or new projects due to their leadership qualities. In some cases, because of their insanity, they are a victim of loss. People in the 9th position dislike solitude.
Number 8: The people born on the 8th, 17, or 26 of any month have base number 8. Saturn controls them. Saturn. They are quiet and serious. They enjoy working in a secluded location. Even when they're unhappy and angry, they will not tell anyone about their feelings. The number 8 individuals are self-motivated, and when they fail in their work, they attempt to do the same thing again to make it work. They don't have a massive circle of friends; however, they have an intense relationship with their small group of friends. They are open about their feelings only with certain close friends.
Number 7: Anyone born between 7 and 16 or 25, or any other month falls under the number 7; planet Neptune governs the base. They are knowledgeable, and their conduct with everybody is excellent. They admire all with their behavior. They don't believe in shortcuts to success. They believe in the importance of the hard effort to accomplish goals in their careers. They don't like those who make sweet promises to appear in the good books. Because of their exceptional intellect and sharp eye, 7 individuals achieve incredible heights in their professions. But, they are afflicted because of their soft character, and many think that their modesty is their weakness. Their most afflicted fault is overthinking a situation.
Number 6: They are born between the dates of the 6th, 15th, and 24th in any given month, are called base number 6, and are controlled by planet Venus. They behave well within society and are considered to be ideal. No matter what bitter feelings may exist about them, these individuals strive to be an excellent relationships with all people. They are looking for support from others to accomplish their tasks. If they don't receive this support, they continue by referring to other people. People with the number 6 love to look attractive and have good fashion sense. They tend to be known for their positive behavior. They're honest in their decisions and possess a sense of justice.
Number 5: People born between the 5, 14, and 23, or any other month ruled by planet Mars. The people of the base number 5 are composed, soft-spoken and articulate and possess an open and friendly nature towards other people. They have a very cordial behavior that they cover up the hurt even if they are embarrassed and do not confront the issue immediately. People are amazed at five people because of their soft-spoken manner. Leaders with five numbers are competent and are willing to examine their actions whenever they aren't working. They don't engage in defensive attacks when people discover flaws in their leadership; instead, they try to rectify their shortcomings.
Number 4: People born on 4, 13, or 22 or any other month are guided by planet Rahu. People with the base number 4 are determined and wish to have quick success. They are usually involved with their work so much that they lose track of their environment. Fourth, they do not want to be disturbed by their work. Even though they enjoy being in solitude at times, they are social.
People in number 4 are stable and allow them to stay focused on their work until the very finish. Although the 4th group of people is practical, they do not accept inconsistencies and can be somewhat rigid.
Number 3: People born on the 3, 12, or 30 of the month of their birth are subject to the rule of Jupiter. Jupiter. People born on three are severe and observant. They are highly aware of the world around them and are mindful of their image and standing. They believe that their dignity should never be impeded. They appear to be a mature person. Thirdly, they take particular care to be role models to youngsters. These individuals are very imaginative and can improve nearly any profession. On the job front, they attempt to prove their worth, and as a result, often they lose money.
Number 2: The planet of mastery Moon guides people born on the 2, 11, 20, and 29. People with base number 2 are peaceful by nature and are always joyful and content. However, they are quickly unhappy when they come into their lives. Two people prefer to fight for their dignity but do their best to avoid being involved in a petty conflict. In addition, the two individuals can work with others and can solve disputes. These individuals prefer to be in a light and fun atmosphere. Their natural disposition can put them in a position of loss. They also are prone to be scammed by their loved ones.
Number 1: Sun is the main planet for those born on the 1, 10, 19, 28, or any other month. People born at the top of the list are usually hard-working and egoistic. People with the base number 1 are also willing to fight for the own good of their image. But, they are also compassionate and of a caring nature. They don't want to be admired and will not like being with people who make a big deal of display. People with base number 1 are blessed with an unwavering idea of what they want to achieve. There is no obstacle in their way when they choose to take action. The first thing to consider is that people can be excellent leaders.
If you desire to learn numerology online, you can opt for a numerology study course from home by simply writing numerology classes near me in the search tab. Indian Institute of Vedic astrology (IVA) is one best numerology colleges in India that offers numerology classes online and offline.
Search
Recent Post
Monthly Archive