Desert Rose Stone and its properties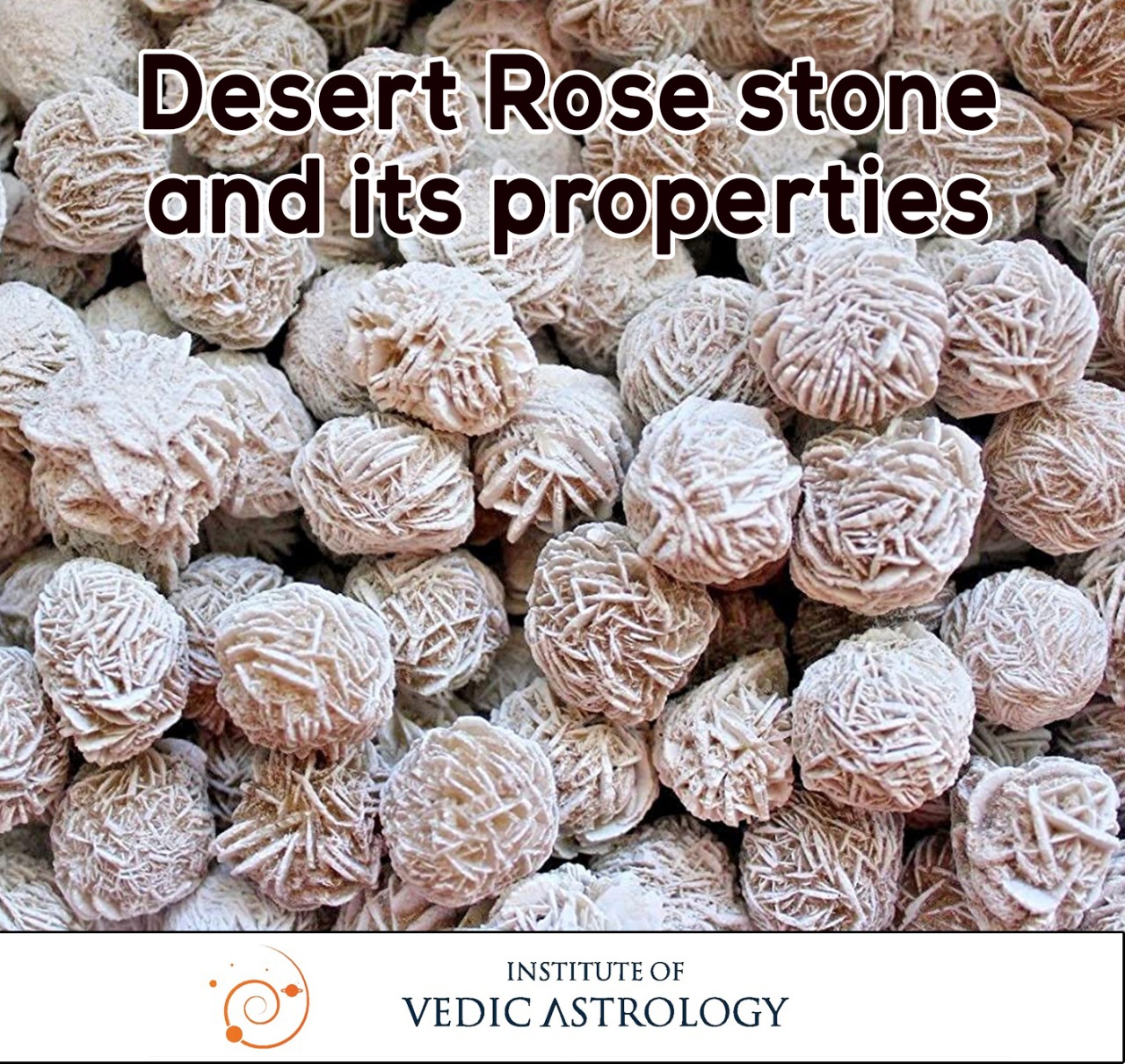 By Institute Of Vedic Astrology
Nov 30 2020
In the wide range of different gemstones, there are some interesting and rare stones which have unique benefits for mankind but are rarely used.
Here we are going to discuss one of those unique stones which are known as the Desert Rose stone. This stone is very strong and it is the activator of your third eye. The energies of this stone are to strengthen your natural intuition. The Desert Rose is also referred to as the Sand Rose, Selenite Rose or Gypsum rose stone. It is normally found in the dry and desert regions of the world.
This stone is highly used for protection and overcoming phobias and to help to increase and to boost your self-confidence. It can enhance your dreams and your past life recall as well.
The Desert Rose can enhance your psychic abilities and help you to recall your past life by using it regularly. The stone not only carries remedial properties but it is also so helpful to raise your vibrations so that you will experience white light and work with your guardian angels. This stone is the activator of your third eye in it will help you to bring your dreams and desires into your real life. The energies of this stone can enhance your inner strength and help you to achieve great things in your life.
This is the most influential stone that will mold character and help you to grow and help you to improve as a person. Desert Rose will help you to embrace your life, all its properties, and potentials. If you are facing any stagnation in your life it will help you to eliminate it by wearing it in different ways.
When it comes to healing this stone has the energy which will help you to treat chronic fatigue and release you from and healthy addictions and habits. This is also helpful for your skin because it can enhance and renew the elasticity of your skin cells and tissues.
This is also helpful to increase muscular flexibility and the regeneration of your tissues.
How to use Desert Rose Crystal is a common question. You can wear it in the face of a ring, locket, or bracelet, else you can also so keep that stone with you to take energies from it.
The best part about desert stone is that it is considered as the lucky stone because it has been known to combine the power of sky and earth. It will bring prosperity to your business and can increase your confidence in decision making. It can help you to remove the blockages that are interfering with the growth and progress of your career or business.
There is a lot more about this stone that one should know. So, to learn about the desert rose crystal benefits and its qualities and about other Gems and Crystals, one can also learn Gems and Crystals therapy.
The Institute of Vedic Astrology provides online distance learning course in gems and crystal therapy in English and Hindi language through which one can easily get to know about different gemstones and crystals and their therapies only sitting at their home and become their doctor or expert.
Search
Recent Post
Monthly Archive