Create A Workspace at Home as per Vastu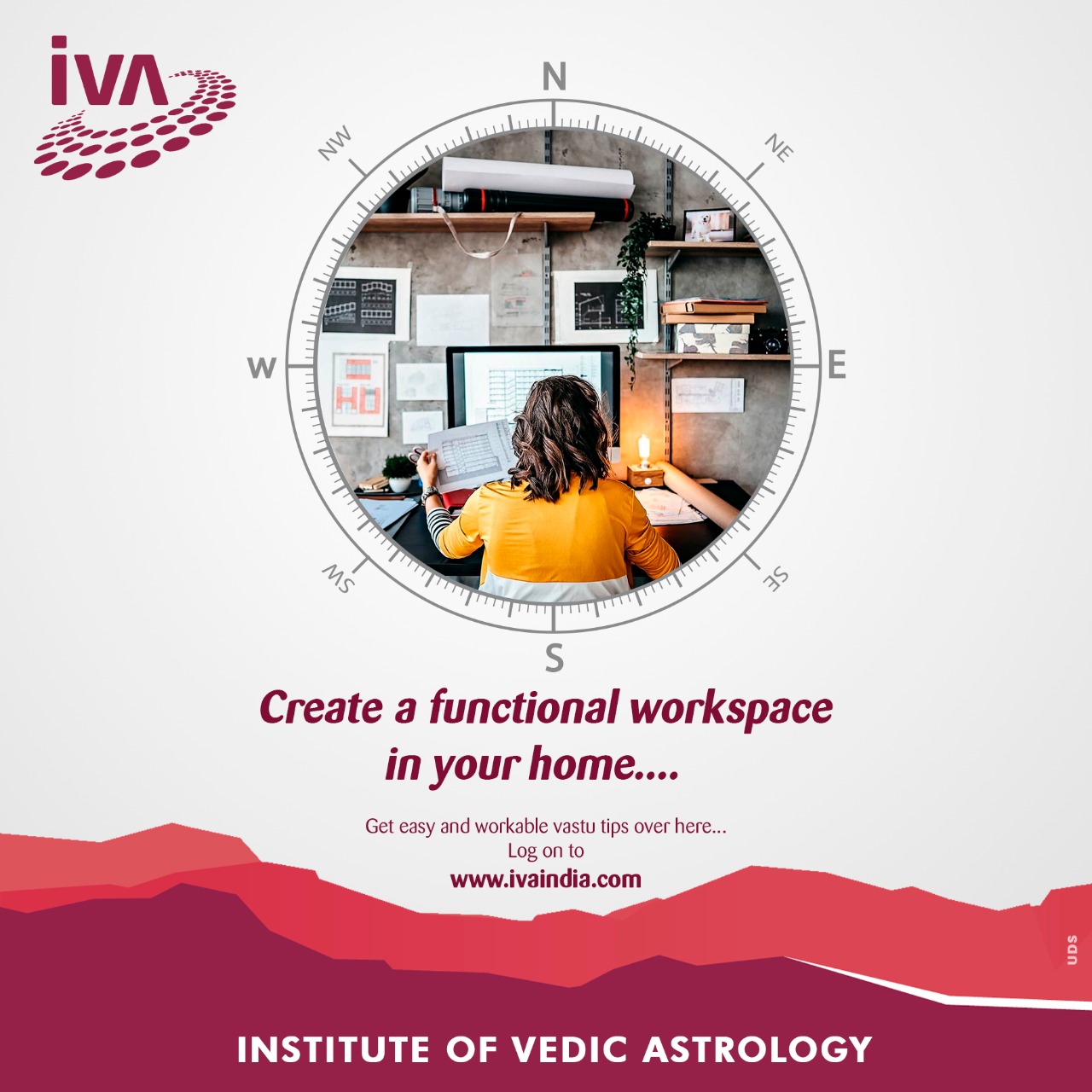 By Institute Of Vedic Astrology
Mar 25 2021
According to Vastu Shastra, the direction of your home office needs to be such that it can help you achieve maximum productivity. During this pandemic, work from home culture has become very normal. Number of professionals and entrepreneurs who are working from home are increasing every day but the major challenge faced or expected from them is productivity. Mostly such professionals choose to set up their workspace in the corner of their bedroom, in the corner of a passage, on the dining room table, and maybe even in the guest bedroom. However, to maintain a balanced environment with positive energies and ensure productivity, it is suggested to follow some important Vastu guidelines to attract good vibes and positivity in your workspace at your home office. Some of the Vastu tips are shared here to keep in mind for planning your workspace at home office.
Vastu for Workspace at Home Office
1) According to Vastu Shastra, the workspace at the home office should be set up in the west or south-west direction of the house as it is advantageous to business and helps to get astable career as this is the place where an individual takes the best business/ professional decisions.
2) As per Vastu Shastra, the best colours for your home office includes cream, light green, light yellow, and lightgold. Cream colour is like a neutral colour which helps in increasing engagement and also respect toward the work ensuring a balanced work environment at home. A light-yellow colour ensures good health. Light green color balances the mind, body and soul as it helps attract positive vibrations. Productivity and profits are ensured by a light gold colour.
3) As per Vastu shastra, the chair used for working at home should be comfortable, strong and spacious enough to cover the head of the person while sitting on it, as it represents supporting life.
4) The desk of workspace must be in the south-west direction, while the position during working should be facing north-east direction without any obstruction of door, window or balcony behind the desk of workspace. This will increase individual's concentrations and ensure less stress while working.
5) Drawers and wardrobes used for keeping important documents should be placed in the west or south-west section of the house and need to be ensured that they open up in the north, east or north-east direction. According to Vastu, keeping a gold pyrite crystal or a citrine cluster inside your drawer will help to attract prosperity and multiply wealth.
6) Always avoid using colours like black or blue while setting up your home office. Black represents negativity. Blue is not suited for entrepreneurs as It represents water, which can destabilize your emotions and can also lead to medical issues.
Join Today and Learn Vastu from the Institute Of Vedic Astrology, One of the finest Institute to Learn Vedic Vastu and allied subjects through Distance Learning and Video Courses. These courses are available in Hindi and English language and are specially designed for beginner to advance level. You can join the Institute and learn this divine artat the comfort of your home and become a Certified Vastu Consultant and others like Astrologer, Feng Shui Expert, Numerologist, Palmist, Face Reader, Tarot Card Reader, Gems and Crystal Healing Expert through all Specialized and Certified Courses.
Search
Recent Post
Monthly Archive