Best Vedic Vastu Shastra Tips For A Perfect Home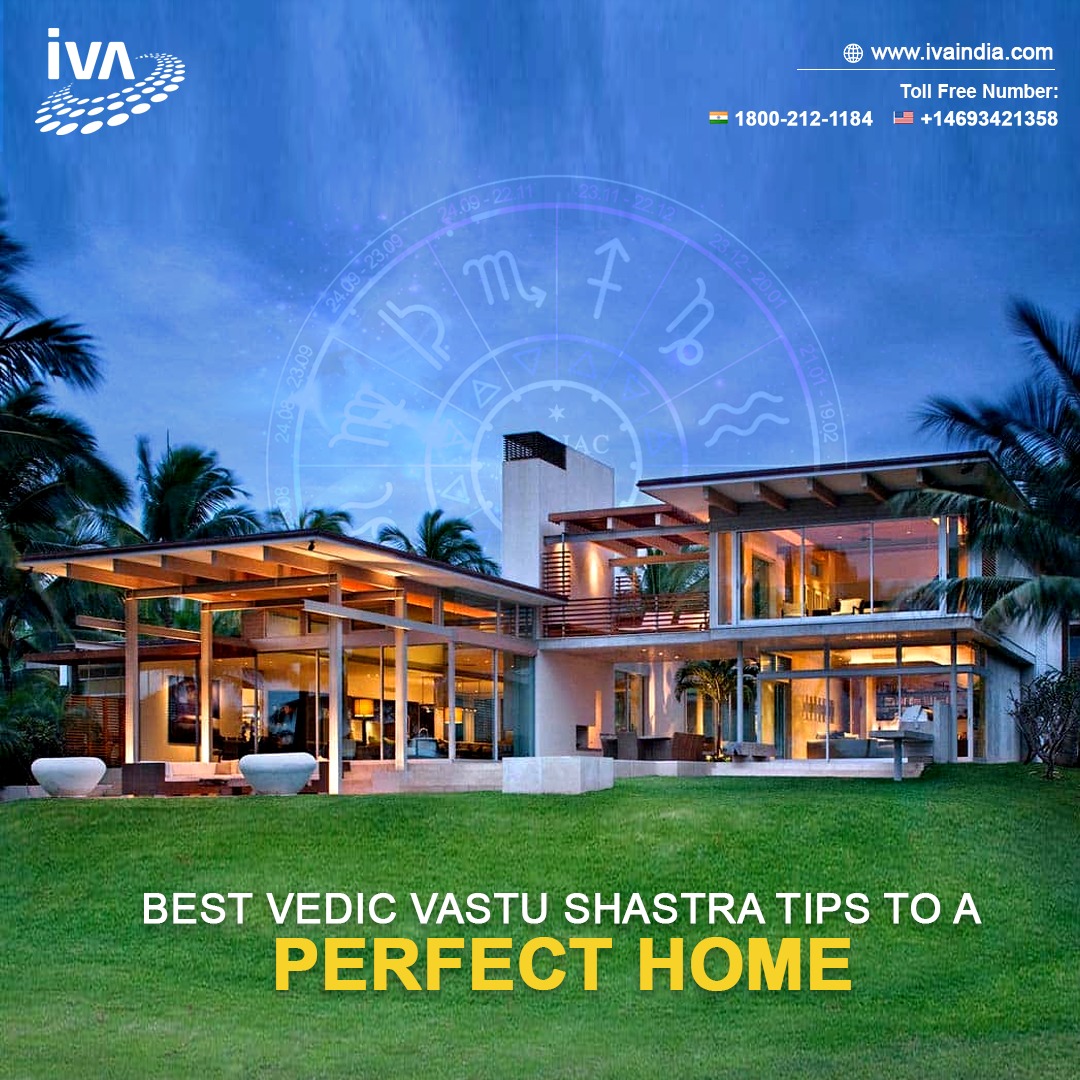 Vastu_online_classes,Vastu_Shastra_classes,degree_course_in_Vastu_shastra,Vastu_Consultant_course

By Institute of Vedic Astrology

Jun 15 2022

Vastu Shastra, in simple words, means the science of architecture. Vastu is a text on the traditional Indian architecture system, which describes the principles of design, layout, measurements, ground preparation, space arrangement, and spatial geometry. As per Indian mythology, Lord Vishwakarma is the creator of Vastu, crafts, and architecture. Even today, the architect continues the tradition of worshiping Lord Vishwakarma for the well-being of their work. It is described in the Vedic Vastu Course.

Our universe is full of positive and negative energies; Vastu Shastra helps us understand these energies because every land and building has a vibration of energy associated with them. Vastu aims to eliminate this negative energy and enhance the positive energy for our positive growth and well-being. We must go to a person who has done the Vastu Architecture course and who can give us the correct information about it.
Some tips to make your house lucky for you:
Let us learn about some Vastu tips for a perfect home. As we know, all the places around us contain vibrations of negative and positive energy. To convert this energy into positive and use them for our benefit, we can follow these tips: The house's entrance door should face North, east, or northeast directions. Through this, we ensure optimal energy entering our house. When one steps out of the house, one should face the North, northeast, or east direction; according to Vastu, it is an archway to victory. Other than that, these main doors should be properly lit during evening hours. The main door should look more appealing than the other doors of the house. We can make it attractive by using different decorative torans and beautiful nameplates. We can also plant a floral climber outside the house's main entrance that gives a stunning look to the house's entrance. One should not keep shoe racks at the main door, and we should not paint the main door in black color. If anyone desires to know about Vastu Shastra, they will get the best Vastu Shastra course in our country only.
For the kitchen, the southeast direction is considered an Idyllic space. Light color v paints should be used to activate fire elements. Make sure the gas burner or stove should be southeast facing, and the sink should be in the North-East direction. You will get all this information in Advance Vastu Course.
The bedroom is our place for relaxing and rejuvenating ourselves. The bed should be placed in the South or west direction as per this position of the bed, and your legs will face the North or East direction, which will help you in sound and better sleep. This ensures our mental well-being. The bedroom walls should be painted in red, pink, orange, white and brown colors. These colors indicate warmth, ambition, peace, and stability, promoting prosperity in the bedroom and house. We should avoid having beds near the windows. As per Vastu, windows should be on the northern or eastern walls for positive energy flows. Vastu Consultant course is also available from a lot in our country.
We should keep our house well ventilated so that there is enough fresh air circulation inside the house. There should be ample sunlight. If not possible bright lights should be lit. We should keep all the house windows open for at least two-three hours per day. We should light a diya near the source of water in the evening, which will protect and improve the general well-being of everyone in the house. You can also pursue a degree course in Vastu shastra.
Nowadays, most people live in flats or already constructed villas. In such cases, we think about how we can check the Vastu. But it is possible while selecting a house in a villa or flat you can consult a Vastu consultant who will suggest to you about the energy of that place. If there is any negative energy, many types of steps are mentioned in Vastu books to resolve them.
A Vastu consultant can tell us about the positioning of different things in the house. Certain changes can be made to the house's interior as per Vastu. It is always good to consult a Vastu consultant if we plan to build a house. His help can be taken during the map of the house so that position of different places can be done as per Vastu only.
Sometimes we have seen people face problems while constructing houses, and all these problems can be solved through Vastu. Many people face health problems after shifting to a new place and cannot live peacefully; all such problems can be solved by checking the energy and making positive changes in the house.
Vastu can be quickly followed in modern housing; also, it is very easy. Only we need to have proper knowledge about it. Vastu also tells us when to move into a new house by checking the PANCHANGA (Hindu calendar), known as Ghana Pravesh Pooja.
According to Vastu, while entering a new house, only a gas stove is introduced into the kitchen, and coconut is broken at the house entrance. We should always keep our right foot inside the house while entering the house for the first time. A havan should be performed to get the blessings of God.
The color of different walls, entrances, the shape of rooms, windows, and ventilation of the house are considered while checking the Vastu of the place. The position of Pooja Ghar impacts prosperity and peace in the house. Placing a mirror in distinctive places also supports health and happiness. The correct amount of water is essential for maintaining good health and hygiene. Also, the outer space of the house should be pleasing and well maintained. The design of the plot where the house is also built matters. Right-angled shape plots like rectangles and squares bring financial growth and prosperity. At the same time, irregular or curved shape structures like oval, circular or semi-circular is not convenient as per ancient beliefs.
Many such small changes and positions of different things can help the house flow positive energy. One can attract money by following specific Vastu tips. We should not keep any unnecessary and broken things in the house. Violet color attracts prosperity; one can keep a money plant in the violet color pot at the entrance to make it look attractive and follow Vastu's tips.
Nowadays, people are making it complex to follow Vastu Shastra, but it is very simple and easy to follow if we try to understand it. Such simple tips can help in living a peaceful and healthy life. These days, people face financial, mental, and physical problems because of the energies around us and our understanding of them. If we have proper knowledge of such valuable science, it can be helpful for us.
Vastu Shastra is 5000 years old science. From the very olden days, people used to follow such simple tricks for a healthy life. So why can't we make our life beneficial by using these tips and tricks in life? The vital source is knowing how to use these tips in our life.
Since today's youth is keen to learn about different fields of ancient science, vast Shastri is also one of them. The popularity and awareness of vast Shasta are increasing day by day. Numerous institutes are imparting courses in this field. There are various degrees and diploma levels. Apart from regular academic qualifications, practicing and studying books can also make a person a good Vastu consultant. With the help of the internet, you can also find Vastu Classes Near Me.
Conclusion
A Vastu consultant gives us tips on keeping the position of infrastructure and what should be built at which place and position of the house. Because we have learned that different kind of position of a bedroom, kitchen, and entrance leads to energy transformation around ourselves; thus direction should be noted while building a house and any other construction. This energy directly affects the health and mental and physical well-being of the person living in the area or place built.
Vastu is not just designed for houses but also for offices, different workplaces, and even small shops. Workplace and offices are the primary income sources for our lively hood. If such small tips can bring prosperity to us, we should follow this science and benefit from it.
Many books are written on Vastu shastra like Samproon Vastu mantra, Fundamentals of Vastu, etc. Many universities have also started courses based on Vastu. One can research it online also; many sources are available to gain knowledge and become a Vastu consultant. We can easily take degrees and diplomas in these courses through our university. Every person should go to Vastu Shastra classes.
Vastu shastra is such a boon for us. All the ancient sciences are beneficial to us. People in ancient times we very knowledgeable, but their knowledge was based on spiritual beliefs. Thus we should also learn about them and benefit ourselves and even the people around us. In today's time of convenience, you can also do Vastu online classes.
Search
Recent Post
Monthly Archive