Astrology For Job – Facts, Insights, And The Importance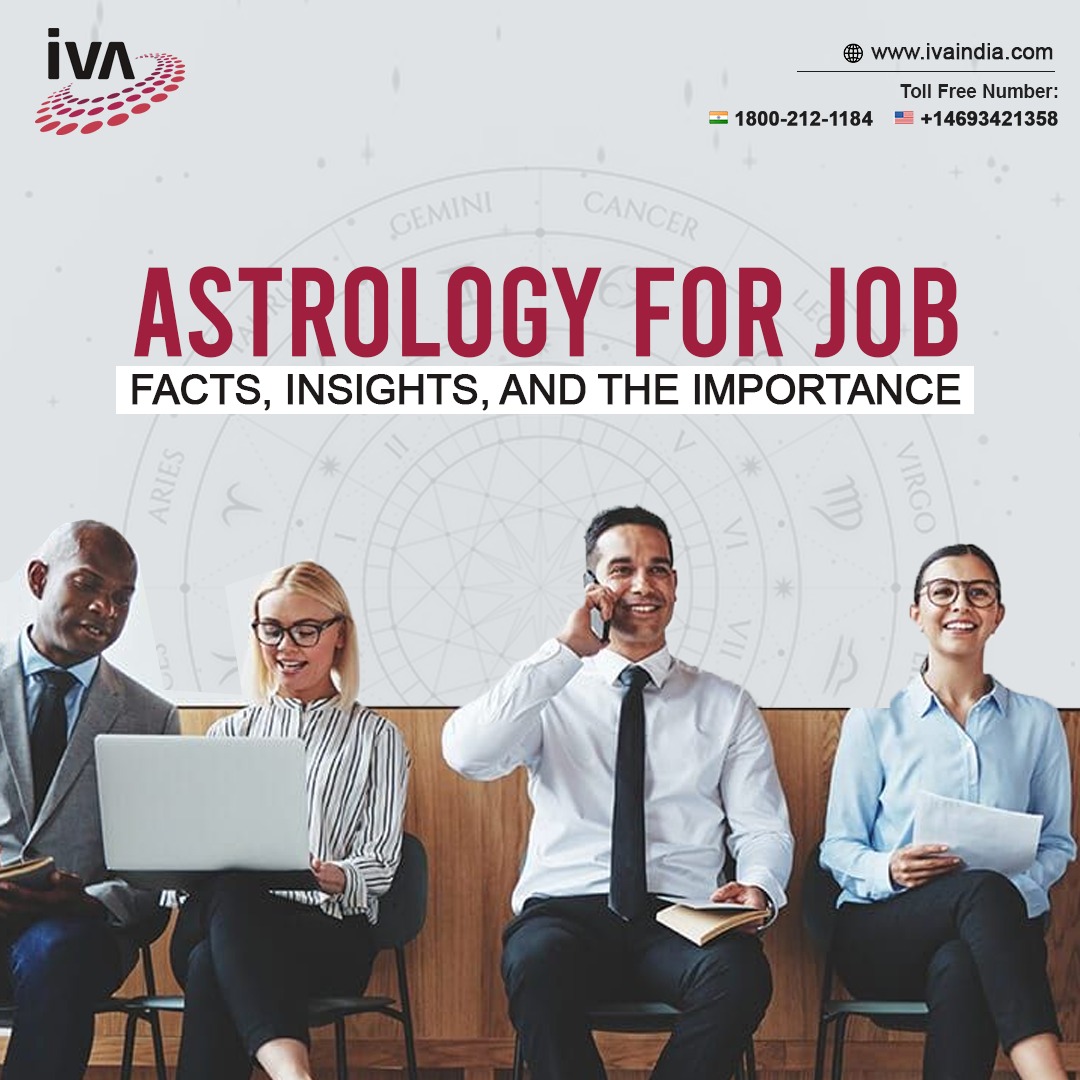 Vedic_astrology_courses,astrology_courses_in_India

By Institute of Vedic Astrology

Oct 31 2022

Astrology is beneficial in knowing the different aspects of life, and one can predict the future and career prospects through which they flourish. You can learn all about it if you have searched about it online or have in-depth knowledge by learning from different Vedic astrology courses online. The tenth house of the horoscope plays a vital role while deciding any person's job prospects and career insights. It doesn't only tells about the job or career prospects but also lets you know about the growth of the business. The job market and opportunities are growing exponentially with the introduction of digitalization in the new era. However, getting a job is not easy nowadays because of so much competition and hurdles like inflation, recession, economic fluctuation, and more. The prediction of a job and its insight are other sides of the coin with Vedic astrology. If the science of astrology attracts you and if you wish to learn more about it, you can apply for the distance learning astrology courses in India, or they can simply search about the Vedic astrology online courses at their convenience.
Job Prospects & Its Prediction According to Its Astrology
If you are confused about your future and want your job prospect's answers, then what's better than astrology? It gives you all the answers. Astrology provides you with valid reasons for the different hurdles you are facing. Astrology and predictions will let you know the issues and limitations that are stopping you. It also solves your query about promotion, change in location, or job position, and the 10th house of astrology will resolve all your doubts and answer accurately.
The movement of planets is responsible for the person's character and professional growth. Let's learn why planetary motions affect a person's livelihood. Astrology can be a deadly weapon and the best guide to making your career the right way. It will let you make choices that empower your career growth and ultimately allow you to be prosperous and progressive in your job. There might be chances that one can have great career opportunities waiting in an astrology career. They can simply search for astrology courses in India and enroll in the best online Vedic astrology courses to flourish in their career.
Astrology and Its House Calculation for Jobs
According to Vedic astrology explanation, the 10th house is responsible for the growth of career and job in a person's life. Many people restrict themselves or another person from checking the 10th house, which sometimes comes with an untimely or late conclusion.
Not only in the 10th house but in the combination of the 2nd house you get to know about the earnings and income of other's person.
It is also necessary that people must take care of the eleventh house along with the 2nd house & 10th houses. The 11th house in the birth chart reveals gains through different sources, birth chart, and how your professional life is ahead in your business and jobs.
So here we are mentioning different houses and the nature of the information it holds about the particular person
2nd House: It tells about the source of income
7th House: It means business partnerships and planning for business in professional life.
10th House: It will let you know about the job's nature
11th House: It gives different sources of gains in their livelihood
Different Planets that Explore Different Professions
All the planets govern some of their own features and conduct different areas of life. Every planet rules some of the other characters that help them to regulate and influence the individual's life. For the same, we have compiled a list of the houses mentioned, i.e., 11th,7th,10th, and 2nd, respectively. These houses will let you know what profession is favorable for a person's career growth. Let's explore the different professions with the help of sign that different planet indicates:
Mercury:
The planet mercury explains about different career prospects of a person. It explores the career options like bankers, accountants, journalists, publishers, engineers, and more. It plays an essential role in career choices, but the actual results can be observed with different planets or others.
Sun, Mars, and Moon:
These altogether indicate a sign of public sector/government services
Sun is responsible for getting a job in the administrative sector, and Moon is responsible for people services and placements.
When it comes to mars, it ensures military and police-related services.
Venus:
The person governed by the planet venus is creative and can flourish in such a career.
For example, people from the zone of venus can go for the job of architects, automobile owners, artists, and fashion designers.
Jupiter:
The planet Jupiter is responsible for those who can excel in the career of teachers, philosophers, astrologers, judges, lawyers, and more.
Rahu and Ketu: It is responsible for everyday work or daily jobs
Saturn: The job for people governed by planet Saturn can go for the job that involves hard work and labor.
Effects of Planetary Transition: All You Need to Know
Different planets and their movement transit individual career choice and influence their growth. As mentioned above, a total of 5 planets help people with their career choice and give the desired direction to their career outgrowth. The action of these planets influences the jobs prospect, facts, and insights according to their position in the natal or birth chart. Lets us know about each of them in detail:
Uranus transit
The signifying thing in astrology for a dynamic or new role is making way for a whole alternative in your career. These are exciting times with masses of freedom best to start a new commercial enterprise or a new activity. However, a crisis can strike at any moment, and you need to be greater cautious and make releasing modifications to welcome new stories.
Saturn transit
All the tough paintings can pay off handsomely, and a massive promotion comes your way. Your business enterprise will examine your performance. A viable crisis pushes you to trade your task and push aside unproductive factors affecting your expert life.
Jupiter Transit
It is a first-rate sign of having a fruitful time in your expert sphere. It's the time to flourish and, additionally, to land a brand new task or business. You will find folks willing to hear your thoughts, and networking enables you to scale greater heights.
Pluto transit
Pluto transition predictions pull you toward enhancing people's lives with business or entrepreneurship. You will most ignore or haven't been involved in any task that doesn't serve this reason. This period is prolonged, and you want to understand your career choices. You can change jobs pretty frequently in the direction of discovery. However, you have the drive and strength to peer through, assume the duty, and acquire honors.
Neptune transit
You can begin a career that allows you to serve society and provide your professional existence with a reason. Neptune transit lets you enter a larger sphere of factors, and there are probabilities you can sense dilemma regarding your selections. You may probably encounter the company of cheaters, which ultimately results in false impressions. You need to believe your instinct completely to peer thru those intricate instances.
Is Government Job or a Private Job Career Option Available?
Most people are curious to learn whether they will move toward the private sector or get a government job through astrology predictions. These two sectors are extensive and widely accepted by job prospects. However, government jobs are considered secure, but now people are enjoying the benefits of private sector jobs, and lay off are not a concern anymore as they are regularly working for employee benefits.
The position of the planet sun and the 10th house of Vedic astrology not only give insight about jobs but also let people know about the transfer of jobs. To have a government job person needs to have a ruling planet and the sun in the 10th house, whereas the sun isn't placed firmly in the people's birth chart who flourish in private jobs. That is why someone doesn't stay happy in private jobs, and many others quit government jobs and flourish in their careers.
Know About the Different Effects of the Planet in Astrology
As discussed earlier, the planet's position in different houses plays a vital role in understanding people's job prospects. Like they can also let people learn about their business and contract prospects. The mercury planet needs to be more vital to make you successful with your business dealing and targets. In the same way, other planets affect the career aspect and job insight of individuals.
Both planet Mercury and the sun are good signs for success and conditions that let you flourish and have a rewarding future. Meanwhile, Saturn and mars, along with Rahu and Ketu, will let you know the job's success.
Actions of Saturn: The person can enjoy success in business after they attain the age of 35 if the planet Saturn is situated in the 3rd house, and that's why Saturn is symbolized as the slow-moving planet that connects with hard work only
Frequently Asked Questions
Q: How can one tell whether a person will work for the government or a business?
A: The primary goal of astrology for careers is to make future career predictions for individuals. The two primary sectors are the public and private ones. Despite the perception that government jobs are secure, people choose private jobs over them.
Astrology for job transfers considers the sun's position and the 10th house. If you desire to work for the government, the 10th house and the ruling planet should be in that sign. On the other hand, the sun's position matters. When the sun and the 10th house are not in a strong place, it is best to flourish in the private sector.
Search
Recent Post
Monthly Archive