Astrological Benefits Of Yellow Sapphire (PUKHRAJ) Stone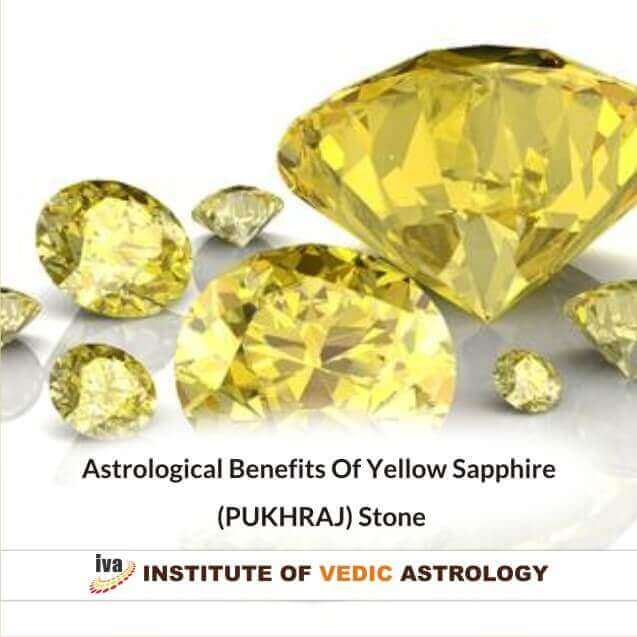 Gems_&_Crystal_Therapy

By Institute Of Vedic Astrology

Mar 16 2020

The Beauty of Stones Or Crystals

Crystals or stones are present in a wide variety of color, texture, and shapes. Stones are the precious gift of nature to us. Each one of them represents a unique, beauty, shape, and power. The value of stones mostly depends on its cuts and color form. Gemstones are made naturally and some of them took 100 years to make. The older the stone will be, the more valuable and precious it will be. Yellow sapphire is one of the precious stones that represent different meanings and it is treated as an important stone in Hindu astrology.

"Yellow Sapphire" The Magical Stone

Yellow sapphire is the most promising and beneficial stone out of all other gemstones. It is well wide known as Pukhraj stone that means the stone of Jupiter. It is a very precious and rare stone. In Hindu astrology, Jupiter is responsible for wealth and wisdom. Pukhraj stone helps to reduce negative effects from the mind. Yellow sapphire is recommended to that person who has Jupiter in malefic position. It contains the highest quality of purity and the minimum number of inclusions. Yellow sapphire is found in Tanzania, Australia, Madagascar, and Sri Lanka. Yellow sapphire is found in Kashmir also and considered as the best in the world.

Astrological Benefits of Yellow Sapphire

There are lots of benefits to worn yellow sapphire. Here below some main advantages of yellow sapphire are listed

The yellow sapphire (Phukraj stone) brings wonder and prosperity into your life. It provides martial happiness and the necessary amount of satisfaction to the wearer. If a woman wears the yellow sapphire than it could give her a loving and charming groom.

The Pukhraj stone provides a high amount of positive energy, as it is a stone of Planet Jupiter. Also, Jupiter is known to be the highest planet that contains numerous amounts of energy.

The stone is best for an ambitious and goal-oriented person. It provides continuous positive thought into the mind and also, provides a vast majority of knowledge that helps you to achieve your dreams and goals.

Jupiter is the remarkable symbol of wealth, health, knowledge and overall wellbeing. The stone is also best for relationships and reunites the separated lovers and guides them to start a new journey of life.

Yellow sapphire provides determination and courage into yourself to accomplish anything. By wearing Phukraj stone your health conditions improve and it protects you from any type of disease. It is recommended to the patients of liver problems, skin problems, and fat accumulation.

Yellow sapphire reduces your anger and brings peace into your life. It gives you a clear vision for the future. It removes obstacles from your path to success. Jupiter is treated as the Guru planet among all other planets in Hindu astrology. therefore, it is greatly beneficial for lawyers, judges, teachers, etc. as they all are Guru in their particular fields.

How to wear Yellow Sapphire

Yellow sapphire is the best works with metal like gold or it can also be lodge with Panchdhatu. The prominent day to wear it is Thursday as it the day of Jupiter and Guru planet. The best time to wear yellow sapphire is in the morning between 5 am to 7 am in the index finger of the right hand. You can also confirm the time to wear yellow sapphire from expert astrologists.

How to learn more about Crystals and gems stone

If you want to learn more about crystals and gemstone, you can learn it from the best platform INSTITUTE OF VEDIC ASTROLOGY, INDORE. The institute is best known for its online distance learning courses in India & USA.
Search
Recent Post
Monthly Archive