Ace Your Exams With These Easy Vastu Tricks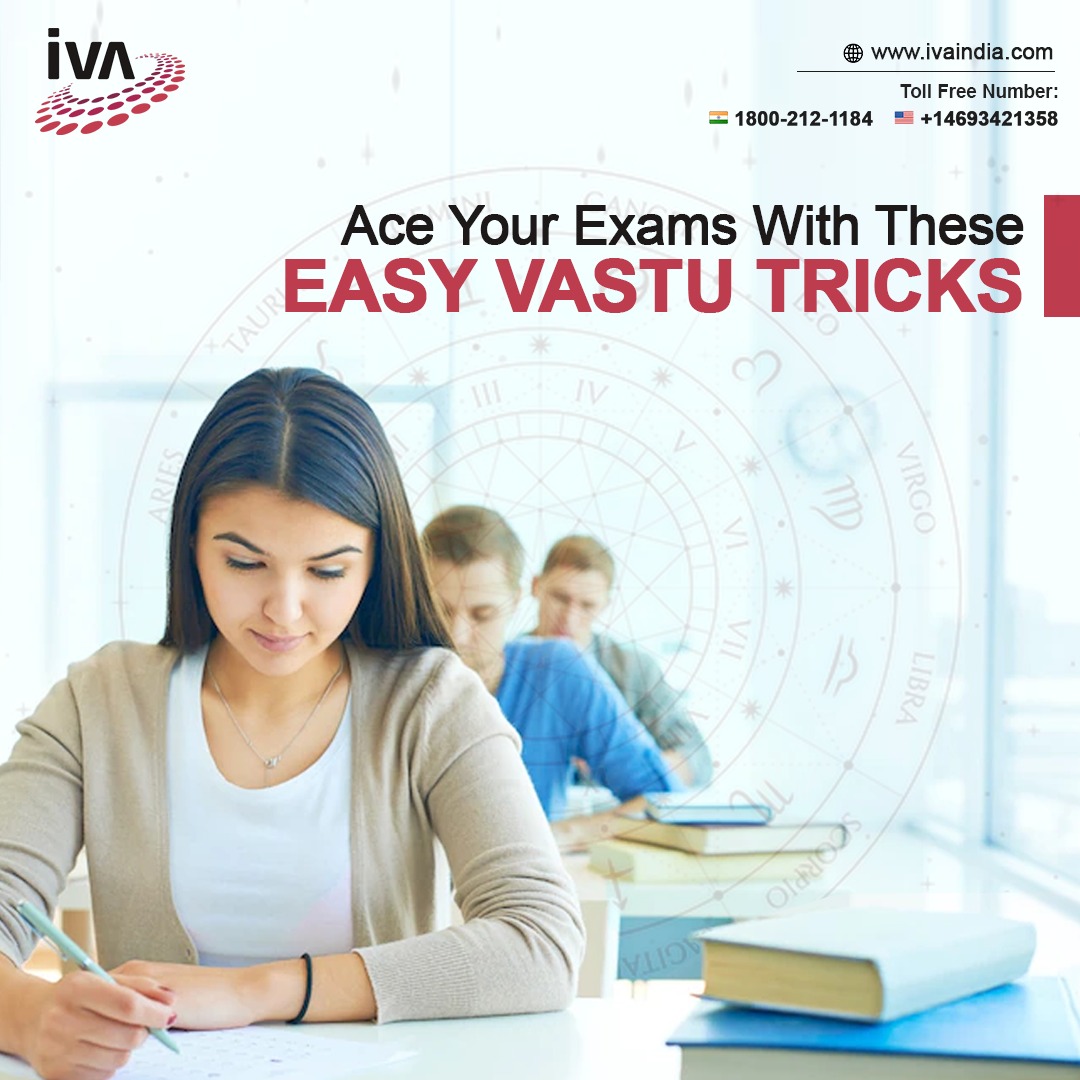 Vastu_course_online,Vastu_shastra,vedic_vastu_online

By Institute of Vedic Astrology

Oct 19 2022

Every student's life has a phase where they encounter many difficulties or obstacles, be it academically or elsewhere. Academic examinations have a lot of importance in a student's life. Sometimes the students work hard, yet they don't get favorable results. In such a situation, parents get tense and try to figure out the cause behind the unfavorable outcome.

Vastu dosha might be the reason behind the architectural defect that can be either at the home, workplace, or somewhere else. Education can only help a bright future for a student (academically) but cannot develop a student's personality as a whole. Suppose the result is not up to the mark, despite adopting new and different studying patterns. In that case, Education Astrology or Education Horoscope could be the best option to count upon. You can learn about the Vastu course online from different platforms providing the free online Vastu course with a certificate.

If a Vastu Consultant examines the student studies, there is a possibility of better results. The student's concentration and focusing power are enhanced, which results in more accurate outcomes. Every student's future depends on their academic qualifications. Lack of educational qualifications will affect the student's future and can be an obstacle to success in life. Despite being capable of achieving something in the future, a lack of education will be the reason behind the misguidance or failure. One should take care of the student's study room arrangement to avoid such a situation. It will help achieve a student's academic breakthrough with a great start and intelligent initiative. Vastu Shastra can give better results with less hard work, and there are various degree courses in Vastu shastra online that one can attend to know more about it.

According to Shastra, the northeast direction is considered the best for studying. If the correct position or orientation is ignored, a student might experience problems while studying and give up on the subject or topic, leading to discouragement. However, if you are curious about Vastu, you can learn it with plenty of online Vastu courses, which make it easier to learn about Vastu. Vastu course online gives you the comfort of learning everything at your home without any hassle.
Get Your Education Report Right with Vastu Shastra
If the place where the student is studying has Vastu dosh, then it could be a challenge to concentrate and focus on their studies. The students willing to top the exam should consider their direction and the area where they sit for study, as per the Vastu Shastra. Instructions are as follows:
According to Vastu Shastra, studying in the east can also be fine if the study table is not in the northeast direction. If this is also not possible, then while studying, a student's face should be in the northeast direction.
Suppose the direction of the study table is in the west as per the preconstructed architectural structure of the room, which cannot be changed. In that case, the pupil should sit facing the east or northeast direction for studying, as it is considered the most effective direction to have the best study results.
According to Vastu, the northeast direction for studying is better than the north/east direction. If the aforementioned is not possible, then the west direction is the last option. It is worth noting that the study should not be done in the southwest and southeast direction to avoid any obstacles while learning.
While studying, a student should sit facing towards the door and avoid showing back to the door.
It is suggested that the student's position while studying or resting is good to be in the directions mentioned earlier. The study table should preferably be placed in the student's bedroom.
The door and the window of the room in which the study table is present should be in the north, northeast, east, the west direction. It is worth noting that both should not be done in the southwest and southeast direction.
To have a sound sleep, the head should face the south or west side to keep students interested in the study work. Also, it is good for health.
A study table, an idol of God, and drinking water should be there in the northeast direction of the room.
The bookshelf can be kept in the southwest direction, considered the best direction for its placement. According to Vastu, a bookshelf should never be placed in the northwest direction. If bookshelves are placed in the northwest direction, students start losing interest in their studies and might misplace the books.
After studying, books should not be left open. That might spread negative energy, resulting in students' poor health.
This guidance will probably help you in having better results in your studies. Still, for faster results and proper surety, you can Consult Education Astrologer in India available at Indian Astrology. To know/ask anything about Vastu Shastra in detail, you can Talk to Astrologer. You'll be good to go with effective astrological remedies in no time!
10 Powerful Vastu Shastra Tips to Increase Concentration and Score High in Your Exams
Always choose the Southwest corner of your house or your room to sit and study. Additionally, face towards the northeast while studying.
Make sure to remove all distracting paintings or pictures that are hung in front of you while studying. Additionally, keep away the Mobile phones, WhatsApp messages, video games, and all distracting things that can break your concentration. You can add soothing and calm pictures to be hung on the wall.
Always create a positive atmosphere in your studying area by choosing a clean place for studying. Your study place needs to be free from clutter and with good sunlight and air, as this will keep your mind fresh and away from distractions while studying.
Never choose to sit under a beam or a loft while studying, as it might spike your stress level.
Always choose only East, North, and North-East directions for studying as they are the only favorable directions quoted by Vaastu Sastra.
Choosing a study table made of wood is always better since it absorbs cosmic energies and helps you evade any negative thoughts that might arise while concentrating. Additionally, sitting on a wooden chair while studying will increase its benefits.
Vaastu Sastra insists on Placing a study lamp on the left of your study table to enjoy increased concentration while you prepare hard for your exams.
One can keep a small crystal pyramid, or another pyramid-shaped object can be on the study table. It enhances the positivity in your studying area since it has the power to attract universal cosmic energies. If possible, you can also keep an aquarium in the northeast direction of the study room.
To increase your concentration power while studying, it is a better choice to cover the study table with a green color covering. Never choose too much dark or dull color wall paint for the study room. The best color choices for the study room are blue and green wall paints.
Lastly, always inculcate a positive attitude by thinking you can study well and score well. Try to calm yourself by practicing meditation for a few minutes daily to face your board exams with a calm mind and without panicking.
Summing Up
Generally, concentration problems arise during exam times, and it influences the results adversely. However, practicing these robust Vastu Sastra guidelines allows you to quickly redirect your effort for good results.
Apart from following these guidelines, one essential thing that each student needs to do is "loads and loads of Revision." Do as much revision as you can to Score well in your exams.
Search
Recent Post
Monthly Archive