7 Reasons why learning Astrology at IVA India is best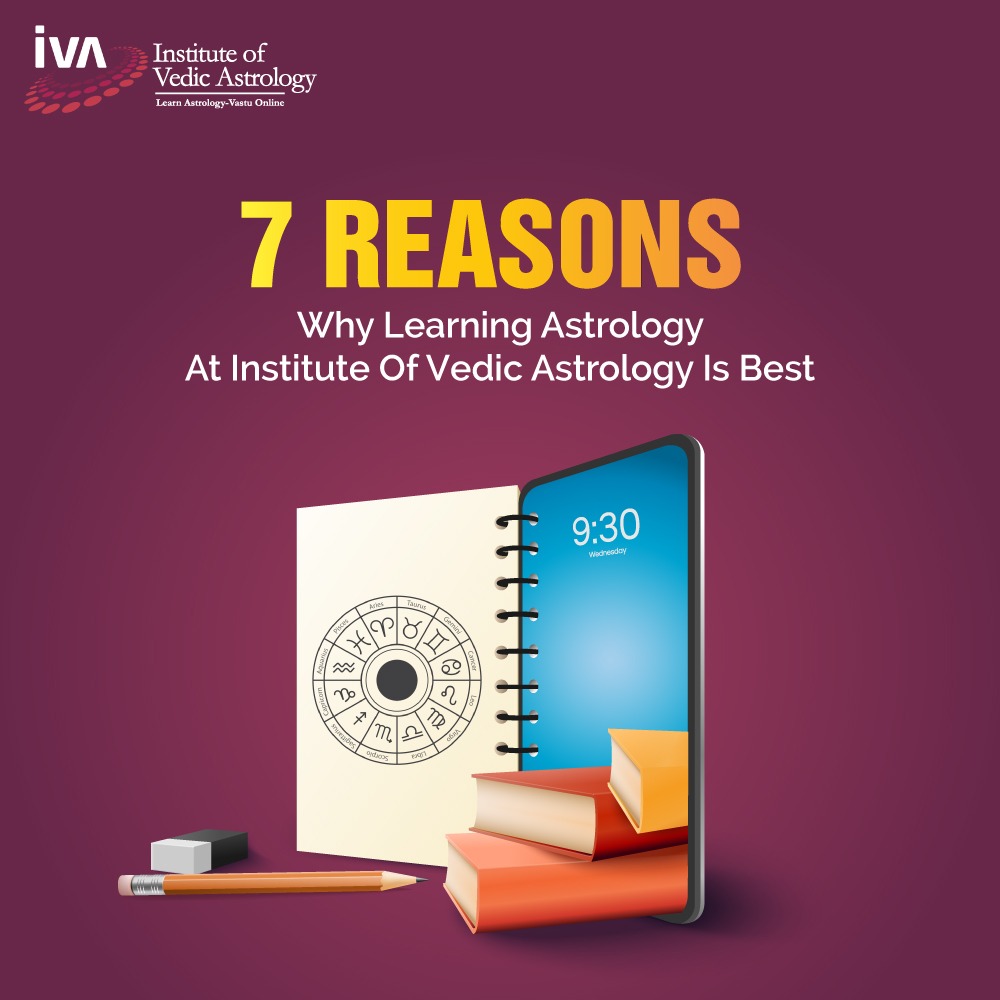 By Institute Of Vedic Astrology
Aug 27 2021
Astrology is a very old method to examine cosmic objects influence on our lives. The position of cosmic objects like the sun, moon, stars and planets at the time of our birth determines and shapes our personalities.
Institute of Vedic astrology provides online training in astrology which helps you to master skills required to foresee what life has in store for you. Vedic astrology provides you with the knowledge to foresee economic, love and various other fortunes.
Choosing astrology as a profession to make it your source of income can be quite rewarding as well. You can consult people and solve their problems through Vedic astrology remedies. Let us talk about why learning astrology at the Institute of Vedic Astrology is best for you.
1. Detailed study material: To build perfect practical knowledge you need a build a strong theoretical foundation and hence IVA provides you with detailed 1000+ pages of study material that helps you to master your art.
2. Systematic elaborative and detailed course: To reach the summit, you need to have a systematic road map with detailed instructions. This makes the journey easy and hassle-free. Similarly, IVA has created a systematic exhaustive course to help you climb your mountain and reach the stars.
3. Wide variety of courses: Every personality has their different approaches towards life so why should everyone learn the same thing? IVA has various courses for different people and their preferences. Focusing on a single goal initially will help you to master the art and help you to move forward with ease and confidence.
4. Expert educators: Teaching is incomplete with a Guru. Teachers are like the guiding lights similar to the stars. They shine to show you the right path so that you can shine for yourself and someone else. Guiding figures play a major role in building a good foundation and we are honored to work with these experts.
5. In-depth specialization: Once you complete your initial certification and wish to pursue it further and deep, IVA provides you with the platform to move forward with your chosen specialization. Our experts are always ready to provide you with any and sufficient knowledge.
6. Flexible assessment: IVA helps you to learn and not impose learning on you. Students can take the online examination on their own time. Exam pattern makes sure you clear it only with proper knowledge but gives you flexibility at the same time.
7. Easy payment: IVA has provided you with easy payment and EMI options to decrease your burden. All the courses have EMI option, which makes sure that you do not strain yourself and keep your mind focused on our teachings.
The Vedic Astrology course provided by IVA, helps you to learn one of the earliest teachings of Indian civilization. It benefits you in many ways. You can apply our teachings in your personal and professional life as well. Follow your stars, let them lead and shine your path!
Visit our website https://www.ivaindia.com for complete details on Vedic Astrology courses and allied subjects like KP Astrology, Vastu, Tarot, Feng Shui, Numerology, Palmistry, Face Reading, Gems and Crystal Therapy.
Or talk to our experts to know more and get the details of the best course for you.
Callus at (Toll-free India): 1800-212-1184
USA(International Toll-free): +1 206 452 3451
‍
Search
Recent Post
Monthly Archive