5 Ways How Gemstones Make Your Life Better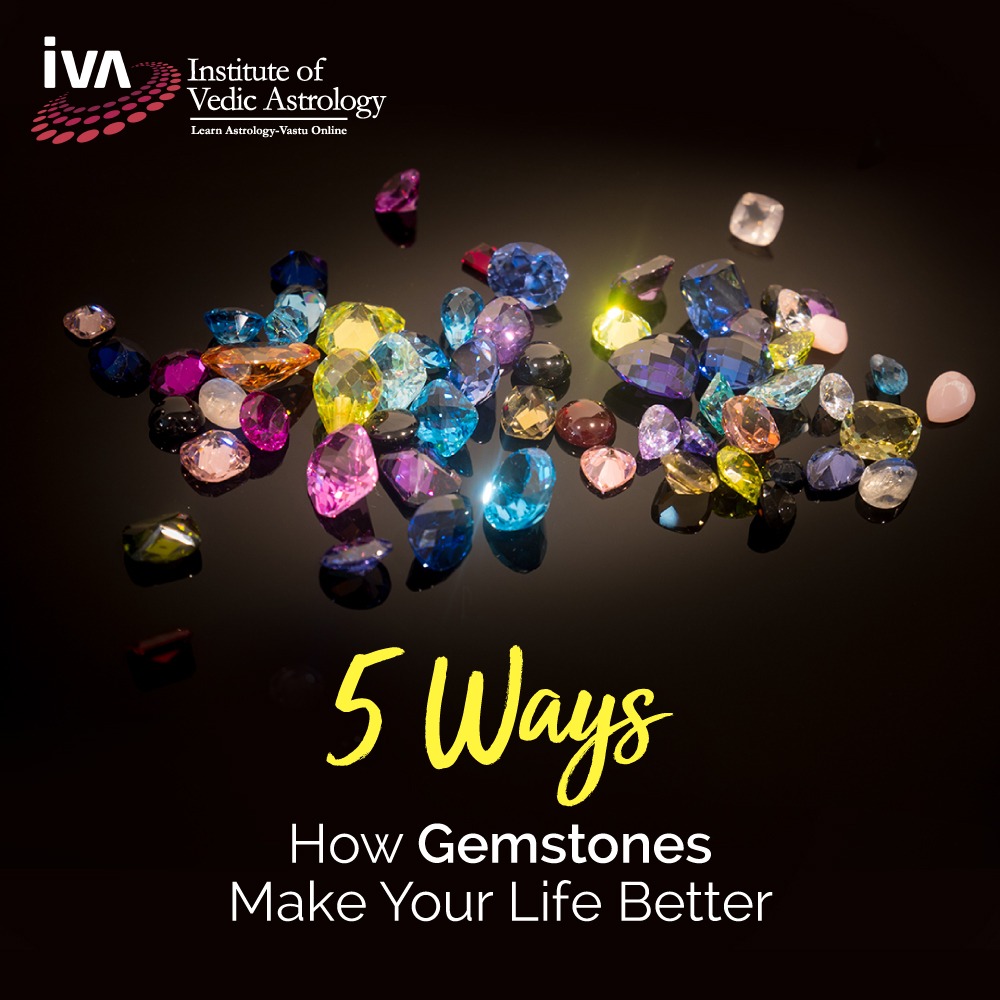 By Institute Of Vedic Astrology
Sep 13 2021
These sparkling treasures are not only sought for their physical but also psychological benefits, luck and fortune they trigger. Gemstones are used for multiple purposes, including wellness therapies, as they provide peace, calmness and other benefits to the wearer. They boost positive energy which helps to deal with negative energy, depression and reduces stress. Let's look at the 5 primary things gemstones can do for the wearer.
Attracts positive energy- Healing crystals contain purifying energies that cleanses negativity from the life of the wearer. Wearing the right gemstones impacts the negative energy keeping the glumness and dejection at bay and attracts positivity and optimism. Some gemstones are powerful enough to remove all the negativity. They influence the wearer and also the people around them.
Improves concentration and creativity- Certain gemstones such as Blue Quartz, Green Quartz, Hematite etc., clear the unnecessary thoughts from the wearer's mind, which helps to improve the concentration and hence creativity. To achieve your goals, you need to keep your mind concentrated, and these gemstones will help you to do that.
There are other factors involved too in choosing the right gemstones for you. To avoid fraud, you should always consult with a certified Vedic science expert or an astrologer. You can opt for the Gems and Crystal course provided by The Institute of Vedic Astrology to gain in-depth knowledge about gemstones.
Evokes calmness and keeps the wearer composed- Among the large pool of benefits, gemstones and crystals have also been known for their calming effects and peacefulness. They have the ability to provide warmth and a poised personality to the wearer. Suitable gemstones can guide the wearer with a brilliant presence of mind. Blue Sapphire, Lapis Lazuli, Moonstone etc., are few examples that specialize in this category.
Physical, Emotional and Spiritual healing- As individuals, gemstones possess distinctive and unique abilities too. With the right usage, one can leverage the power, which makes it easier to heal physically, emotionally and spiritually. This is achieved when the right gemstone positively mixes itself with the chakras. Amethyst, Opal, Rose etc. are some of the stones which can trigger physical healing and reduce stress or anxiety.
Power to transform life- Healing stones or crystals have various abilities that transforms the life of the wearer. Some gemstones are so powerful that they also influence the lives of the people around the wearer. No matter what problems you are facing or struggling with, gemstones can help you in every situation as almost every problem is related to physical, emotional or spiritual well-being. Citrine, Blue Aventurine, Black Onyx etc., are some of the healing crystals that can have a great impact on your life.
Gemstones, without any doubt, are the most precious things one can possess. Surrounding yourself with positive energy and calming vibes can result in great achievements. However, to get the best possible results, make sure to have in-depth knowledge about these sparkling treasures. Institute of Vedic Astrology (IVA India) has Distance learning courses dedicated to Gems and Crystals Healing Therapy and other courses which provides you with in-depth knowledge about astrology and Vedic science.
Get your Diploma in these courses to help yourself and help people around you.
Visit our website: - https://www.ivaindia.com for complete details of all courses available.
Or can connect with our team for more information and guidance.
Call Us at (Toll-free India): 1800-212-1184
USA (International Toll-free): +1 206 452 3451
‍
Search
Recent Post
Monthly Archive