3 Ways to Bring Positivity in Your Home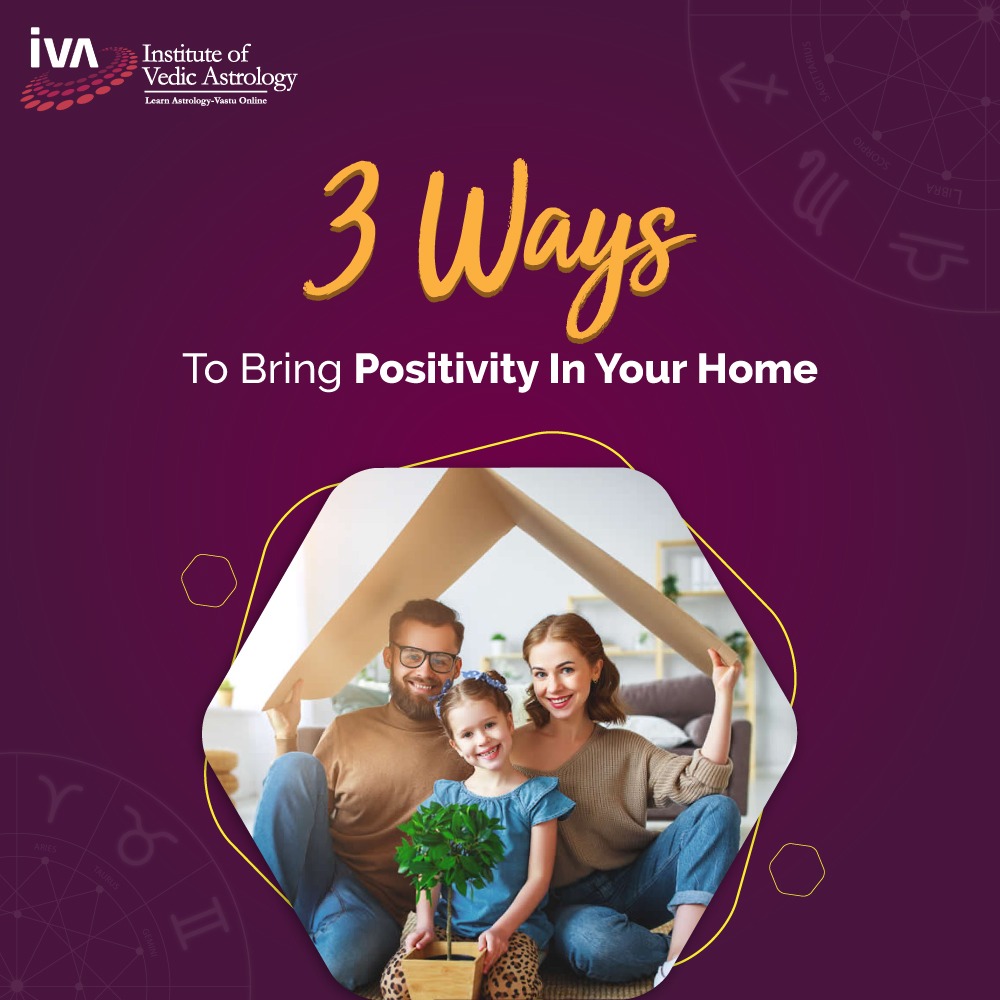 By Institute Of Vedic Astrology
Jun 27 2021
Every household needs positivity to survive through the worse times & studies how that the household setup has a lot to do with it. But, how exactly does one know how to make your home more positive?

It's something to ponder upon!
In the end, we just need to feel more positive about everything that goes on around in our house. And, to achieve that, we need to make some changes to the setup. So, to start with here are first three changes you can do to feel more positive in your house.
1. Focus on Natural Sunlight
For such a simple tip, this one really packs a punch. Natural sunlight helps the human body with Vitamin D, which revamps the mood and makes people feel happier almost instantly. In addition to that, ample access to natural sunlight helps with depressive symptoms. Natural Sunlight also helps people with any illness, feel better.
As it being a natural disinfectant too; let it into your room to do its work, organically. Clean glass windows and remove obstructions that block light to make the room feel brighter and more positive.
2. De-Clutter
Clutter just invites stress & drives away the positive energy. In addition to being unwanted, clutter can often prove to be dangerous. Clutter leads to chaos which is the breeding ground of mismanagement. De-cluttering any area helps the space feel calmer & more open & receptive to new ideas. It also helps getting rid of things that are no longer needed.
Even de-cluttering a single drawer in the kitchen or bedroom can help you feel better positivity in a room or space. Make sure that common areas such as kitchen tables, night stands, coffee & side tables, kitchen counters stay clean &clutter-free.
3. Incorporate House Plants or Flowers
Plants to a household offers dozens of benefits in addition to bringing liveliness. They improve air quality, beautify the space & add personality to an area. Living houseplants & freshly-cut flowers have also been shown to improve the emotions & mental states of ill or elderly patients.
Easy-care plants like succulents or ferns should be your choices. Arrange them around the house complementing the sunny windows. If you have gardening skills; try Lilies or orchids to go with your centre table. Flowering plants give out the vibes of positivity, abundance & resourcefulness. There is nothing quite like a beautiful bloom to make a space feel happier and more positive.

With these tips you can start with filling positive vibes into your homes. Make sure you take on that much which you can manage. In just a second, you will start feeling positive about your house. It will work in any case, and it just needs to be done.

Take your first step, today!
Follow us for more such information. To learn about Vastu & how can you use the knowledge of Vastu to your advantage and others; visit our website: https://www.ivaindia.com. Join us for the Diploma and Professional Diploma Courses in Vedic Vastu Shastra and become a Certified Vastu Expert with the Institute Of Vedic Astrology.
Have a conversation with our experts for more details and choose the best course for you!
Call us at (Toll-Free India): 1800-212-1184
USA (International Toll Free): +1 206 452 3451
‍
Search
Recent Post
Monthly Archive