3 Reasons Why Commercial Spaces Should Follow Vastu Tips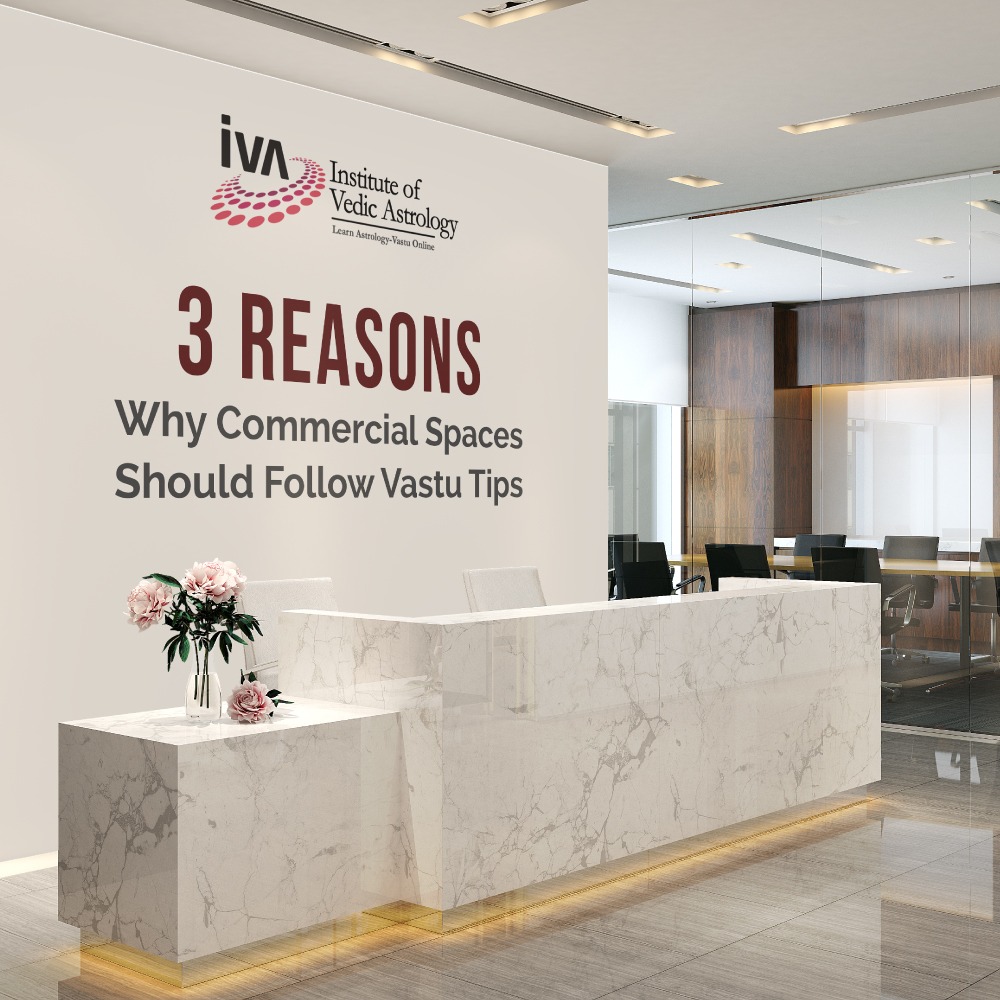 By Institute Of Vedic Astrology
Jul 23 2021
The energy encircling us and our environment has a great impact on our lifestyle and our mind. Negative energy caused by Vastu doshas around us may cause countless bad effects. Vastu Shastra itself may not be essential for living, but it plays a major role to make your life prosperous and healthy.
Vastu Shastra is a tried and tested method for bringing positive energy to your life and the place you live in. Similarly, Vastu Shastra for commercial spaces leads to progress and the business flourishes day by day. Being the science of architecture and environment, following Vastu rules is necessary to leave no stone unturned. Learning Vastu shastra is a great skill and so the same is to be learned from professionals only. You should learn Vastu and apply them in your personal and professional life.
Let us see some of the reasons why even commercial spaces need to follow the right Vastu guidelines.
More happiness-
Following the perfect Vastu tips for your commercial space, you can create a more peaceful and happier environment. The right tips can make you feel relaxed in your working environment. It will decrease the amount of stress and increase productivity which will eventually lead to prosperity. A simple east-facing window will let the cool breeze enter your commercial space during summers. More relaxing environment boosts your energy taking the pressure and stress off you.
Financial growth-
Correct Vastu application can uplift the economical condition. Building a good flow of money is a lot of struggle and money is an important part of our lives which should not be neglected. Vastu Shastra has the potential to improve and retain your financial growth. Hard work will always be the king nevertheless, Vastu Shastra aids you as a catalyst and increase the flow of wealth in your life.
Loss reduction-
A better flow of money and financial stability will not be gained only by financial growth. Facing loss is inevitable; however, you can reduce the risk of losses. Unanticipated losses can be avoided to a certain extent helping you to grow and prosper. Faulty plumbing, leaky faucets and taps denote money loss, hence these minor and many other things collectively impact your financial growth.
With Vastu Shastra certification courses you also can learn to modify your own commercial space. Apart from the above-mentioned reasons, Vastu Shastra enhances knowledge. It promotes internal peace, calmness and cooperative relationships among the people living in the structure.
By providing a clean and clutter-free environment in your commercial space, can also improve mental skills to a large extent. It promotes happiness and healthiness of the mind which increases the awareness of the mind. This keeps you alert all along the day. The right implementation of Vastu is the key to most of your problems. Follow us to get more Vastu tips and prosper!
Institute of Vedic Astrology is the best platform to learn Vastu Shastra through distance learning and Video courses while staying at the comfort of your home or anywhere in the world.
For more details of courses visit our website: https://www.ivaindia.com
Or have a conversation with our experts for more details on the best Vedic Vastu Course for you!
Call us at (Toll-Free India): 1800-212-1184
USA (International Toll Free): +1 206 452 3451
Search
Recent Post
Monthly Archive